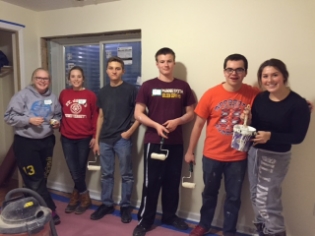 Twin Cities Habitat for Humanity is celebrating its 30 year anniversary this April, and one high school in the Twin Cities has been volunteering with Habitat for half of that. Cretin-Derham Hall has been involved with Twin Cities Habitat for 15 years. Cretin-Derham Hall is a Catholic high school located in St. Paul and puts a great emphasis on service in the community.
Cretin-Derham Hall students volunteer with Habitat once a month through their campus ministry. The school sends out an email to all students and the first ten students, over 16, to complete waivers get to come. Peter Gleich works with Cretin- Derham's Campus Ministry and has been organizing the groups since they started volunteering; he could not believe it had been 15 years. Gleich loves coming out to volunteer with Habitat, and especially loves having the youth learn about the work of Habitat.
Gleich was introduced to Habitat by coincidence. He had a friend who was organizing a two week Habitat build at his church, but was having a hard time finding enough volunteers to fill the time. He reached out to Gleich to see if students would be interested in volunteering, and Peter found enough student volunteers to fill a whole week.
Throughout the years Cretin-Derham Hall has been involved in many big projects with Habitat including the Jimmy and Rosalynn Carter Work Project in 2010. During one year the group worked on the same Habitat house throughout the whole school year. They saw an empty lot turn into a Habitat house for a hardworking family.
February 5 marked another major Habitat project for Cretin-Derham Hall. The school brought 30 sophomores as part of their sophomore school retreat. The students got to pick from a variety of retreats with topics on diversity, writing and nature. Teachers said volunteering with Habitat was one of the most popular options. The students said they picked volunteering with Habitat for their retreat because, "it sounded a lot more fun than the other projects." The students were at three of our homebuilding sites on Thursday in North Minneapolis and South Saint Paul. Gleich along with other teachers and counselors were out volunteering alongside the groups.
The volunteers were involved in a variety of projects including putting down flooring in one house, painting walls in another and finally painting doors and trim in the final house. The students enjoyed being out of the classroom for the day and were discussing which class they would have been in if they weren't volunteering. During lunch the groups all participated in Build Think Act activities to get them thinking about poverty housing issues on a larger scale. AmeriCorps member Mark Nystrom loves having the high school students on site. "These students are young and tough," Mark said, "Cretin-Derham Hall students work hard!"