May Term at Edina High School is an opportunity for seniors to work on projects off site for their final days of high school. The projects are a chance for students to self-design a project in their area of interest. Many students pick internships that spark their interest, but Laura and Autumn decided to volunteer for a week and a half with Twin Cities Habitat for Humanity!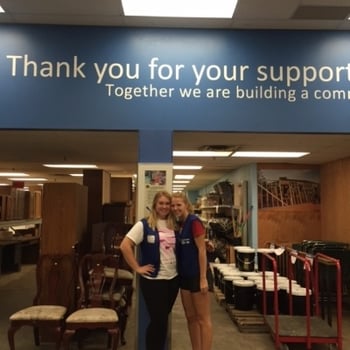 Laura Nierengarten and Autumn Shively volunteered on our Women Build site and at our ReStore in May. Their first whole week was spent on site; this was only the 2nd week of building on this home, so the girls were working alongside regular crews and individual volunteers to frame the house. Putting up the walls of the house was both Laura and Autumn's favorite part of the build, but they did acknowledge this was very hard work as the walls are really heavy.
The girls enjoyed working alongside the regular crews. They were amazed with how much energy and strength the mostly retired men had. They also liked hearing all the regular crew's stories from throughout their lives and careers; they thought this was really insightful as they are just graduating from high school and beginning their lives.
The girls learned a lot of new skills working on a Habitat home. For example, on their first day the girls were taken off hammering duty and instructed to use drills instead, but by the end of the week they were hammering like professionals! With the skills learned on site, the girls went back to their school and taught students the right way to use tools during the May Term Service Fair.
Over the summer, Laura is going on a global village trip this summer to Malawi with Habitat. She is excited to see how different the building is and glad she got some experience before going on the trip! In the fall, Laura will be attending the University Of Denver, and Autumn will be attending the University of Boulder Colorado.