Every neighborhood matters and every neighborhood deserves to have strong internal and external partnerships that support it. Those beliefs are at the core of Twin Cities Habitat's Neighborhood Revitalization efforts, which were on display during the Jordan Week of Kindness in July. The week brought together residents, volunteers, Habitat staff, financial sponsors, and many community organizations to paint and repair homes and cleanup streets and beautify green spaces.
The repair work was all coordinated by Twin Cities Habitat's A Brush with Kindness (ABWK), which has been the model for Habitat's repair programs nationwide since it was created here in Minnesota in 1998. But even with all that expertise, repairing four homes on one block in one week was a big task.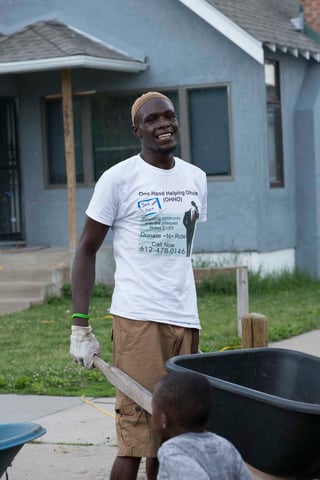 Mike Robertson, ABWK Construction Program Manager, has many memories from the week.
"The Jordan Week of Kindness was an opportunity for ABWK to try something different and expand the way we deliver our program," says Mike. "Partnering with community members on this initiative required hearing our partners and learning how to give them the space to lead. At times, there were moments of uncertainty and we were getting ready to pull the plug on taking on additional project. Then, when we least expected it, community groups, local contractors, and residents stepped up to volunteer and help."
Mike expressed how the entire event was successful because of strong partner involvement from start to finish. "We had a short amount of time to reach out to potential families whose homes needed a little bit of TLC work. The Jordan Area Community Council helped get the word around and hosted a resident gathering. Members of four families who lived on the same street showed up and it was the first time they'd all really got to know one another. Sometimes, residents need a little push like this initiative to reconnect with one another."
Mike also embraces Habitat's Neighborhood Revitalization philosophy that residents must be involved, and leading, from the beginning in order for projects to have an impact. "When we asked residents how they would like their block to look, some residents were concerned about planting the median," says Mike. "They believed that the kids who live in the area would destroy the plants. However, during the week, everyone participated in the planting, including the children who live on the block. They planted the flowers and learned how to properly water them. Before the event ended, those same kids organized a weekly watering schedule to continue to care for the plants long after the event."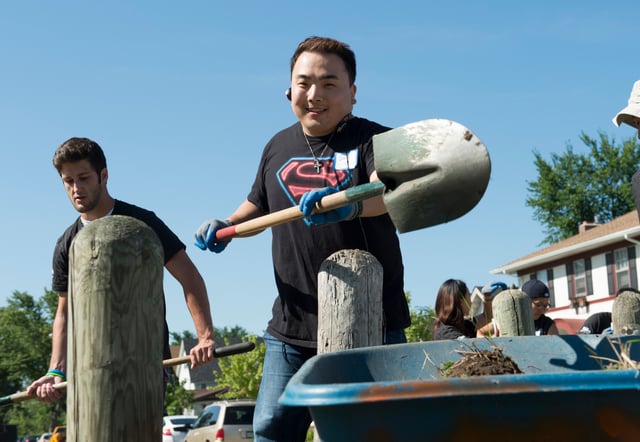 Brenda, one of the homeowners who partnered with Twin Cities Habitat to get some critical repairs made, couldn't be happier with how her home turned out. Volunteers working with Twin Cities Habitat's A Brush with Kindness program replaced broken windows, painted the house, extended the gutters, fixed a leak in the roof, and built a new porch. They also completed landscaping work and planted new trees.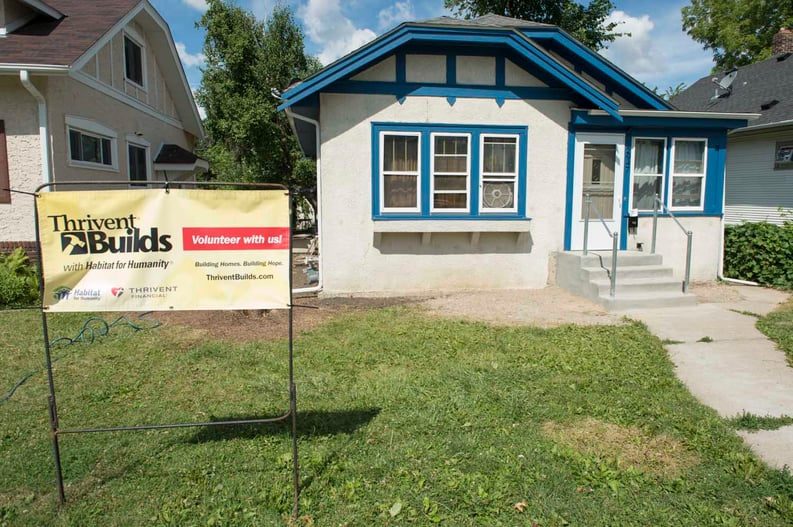 "I feel like I'm in a new place," says Brenda. "I feel like I'm in my home again. The volunteers did such an excellent job. I could go on and on about how they were such a blessing and really fun to be around."
Work on Joni's home actually started the week before the Jordan Week of Kindness. A contractor came in and replaced her crumbling front steps with new concrete steps.
"I'd gotten a quote but it was not in my budget," says Joni. "And everything else was waiting for that. Habitat came to the rescue. I feel really good about how the house looks now. I couldn't really do the yard stuff until the steps were done. I feel like I can move ahead and do landscaping myself a little at a time now. I really enjoyed working with everybody and it was great how everybody came together to do these things."
There's a strong connection between the residents of the Jordan neighborhood in North Minneapolis and Twin Cities Habitat. It goes back decades. Thrivent Financial, which has sponsored more Twin Cities Habitat homes than anyone, was a top sponsor of the Jordan Week of Kindness in part because it fits perfectly with the goals of the Thrivent Builds Repairs program.
Twin Cities Habitat's new strategic plan, Impact 2020, calls for further strengthening partnerships between neighborhoods, volunteers, and sponsors over the coming years. Consideration will also be put towards whether the resources exist to bring Neighborhood Revitalization efforts to more communities. If raising the overall quality of life for people in a neighborhood is important to you, please consider partnering with Twin Cities Habitat in this important work.