When most people think of Twin Cities Habitat for Humanity, the first thing that likely comes to mind are our homebuilding and home repair programs. However, in 2011, Twin Cities Habitat broadened its focus from working with individual families to also include work done in partnership with communities. Through our Impact 2020 strategic plan, we hope to continue this investment in our focus communities, and look toward possible expansion of the Neighborhood Revitalization (NR) program over the next several years.
A Brief History of Neighborhood Revitalization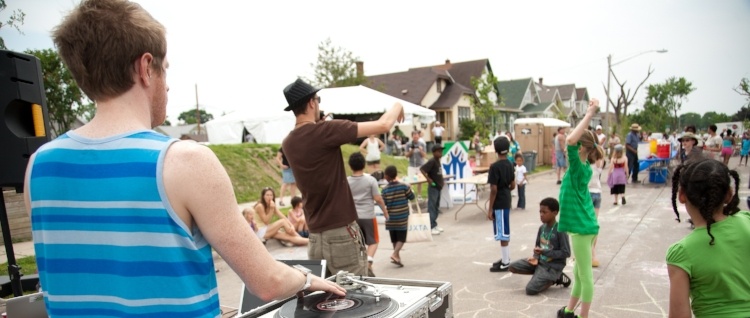 Twin Cities Habitat's NR work has been focused on two historically disinvested areas in the metro—the Frogtown neighborhood in St. Paul, and the Jordan neighborhood in Minneapolis. In partnership with neighbors, residents, community organizations and associations, Habitat selected eight to sixteen block areas for each community in an effort to invest more resources in the selected areas. In Jordan, the eight-block neighborhood was selected, in part, because it had suffered some of the most devastating damage from the 2011 tornado that ripped through North Minneapolis. Both the Jordan and Frogtown neighborhoods were hit hard by the recent foreclosure crisis, and both are federally designated Promise Neighborhoods that are focused on providing support for families and a focus on early childhood education.
Initial findings from neighborhood and partner surveys are showing that collaborative efforts in repair, cleanup and community work is making improvements and showing progress in the Jordan and Frogtown neighborhoods, but we know there is more to be done. Special projects like the Jordan Rebuilding Block Party in 2012, and the "Garage-a-palooza" repair project in 2015 are just two examples of Habitat's involvement in the local community.
"The focus of Neighborhood Revitalization work is on community," said Polina Montes de Oca, Neighborhood Revitalization Program Manager at Twin Cities Habitat. "We are working to understand what impact we are creating and leaving in the neighborhoods where we build and do repair work. Being in tune with residents and community members is critical, and we are working alongside them to improve neighborhood conditions and incorporate their dreams and aspirations into how we deliver our programs."
A Look Ahead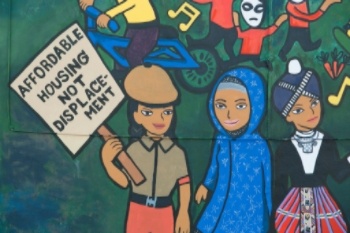 In the years ahead, Habitat will continue to evaluate the impact of its Neighborhood Revitalization initiatives and work in partnership with local community organizations. Habitat is also a strong supporter of work being done by our partners in these neighborhoods, and is invested in initiatives currently being implemented to understand and address the racial and financial disparities in these neighborhoods. Work is already underway to facilitate collaboration and strengthen partnerships among area organizations offering programs and/or services dedicated to closing these opportunity gaps.
"Right now, we are working to strengthen relationships with other housing and financial support organizations, to make resources accessible to all families living in the Jordan and Frogtown neighborhoods," said Polina. "Through this effort, we hope to be able to better support all families, regardless of where they may be at on their journey toward financial stability and/or homeownership."
Another community-led project that Habitat is supporting later this summer is the Jordan Week of Kindness. This collaborative initiative was developed as a response to resident feedback, and will entail a number of home repair projects, combined with block cleanup and boulevard planting work, as well as a neighborhood celebration with family-friendly activities.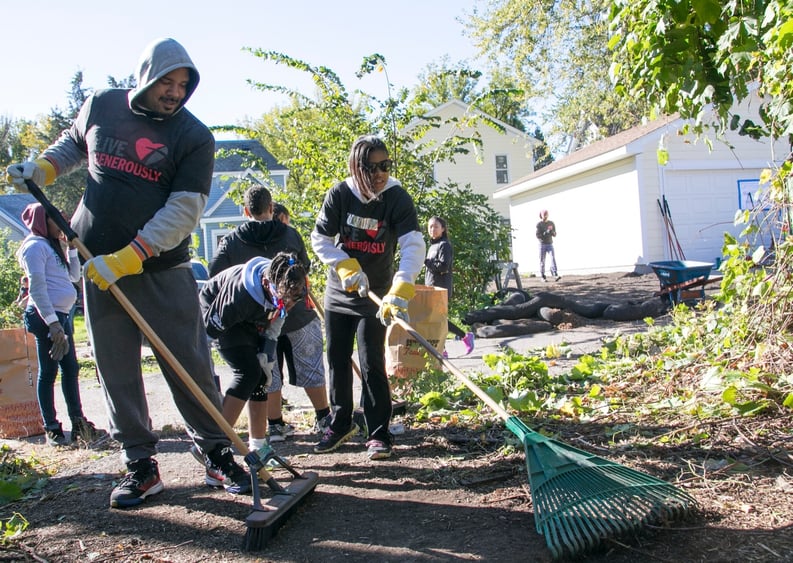 Looking to get involved in Habitat's NEighborhood Revitalization work?
Residents of the Frogtown and Jordan neighborhoods are encouraged to attend monthly meetings of your respective Neighborhood Associations
Volunteer with local community organizations
Donate to Habitat and/or community partners
Volunteer during the upcoming Jordan Week of Kindness (Please email Sarah.Harris@tchabitat.org to express interest in these opportunities)
Attend the Jordan Week of Kindness block cleanup and neighborhood celebration on July 16th (details coming soon!)