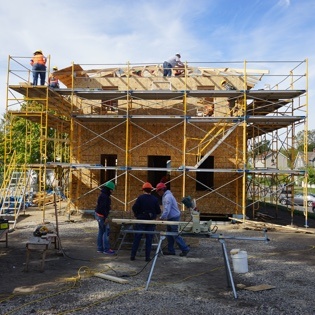 Twin Cities Habitat for Humanity (TC Habitat) launched its Neighborhood Revitalization (NR) work in 2011 in coordination with Habitat for Humanity International. The focus on impacting individual families was broadened to a goal of improving quality of life in an entire neighborhood. The Jordan neighborhood was one of two neighborhoods selected to be a part of the program. The Frogtown Neighborhood in St. Paul is the other focus area.
So what were the goals of the NR project?
Expand our traditional model of focusing on one family/home at a time
Build relationships and trust with community members
Partner with community members to improve overall quality of life
Concentrate our work to see a greater impact
Work in partnership to support and strengthen community-led initiatives
Integrate community feedback to improve our services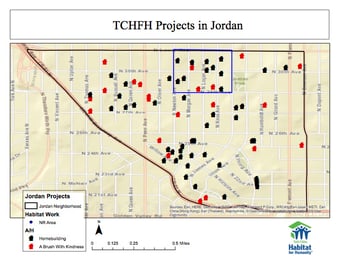 What Are Some of the Impacts?
In 2012, prior to NR, there were 13 vacant lots in the area. Today only 5 remain. Habitat built 11 homes in the focus area and completed A Brush With Kindness (ABWK) projects on four more. (Since TCHFH first started working in the Jordan Neighborhood in the 1990s, Habitat has built 50 homes and completed 22 repair projects with ABWK).
Habitat hosted a number of community events that gave neighbors a chance to connect to each other, city council members, local clergy, and neighborhood association representatives alongside house sponsors, homebuyers and volunteers. In addition, we held two events—the Rebuilding Block Party and Heroes for Habitat—specifically to highlight NR partnerships.
Rebuilding Block Party
As the anniversary of the May 22nd Tornado approached, an event was planned to mark the occasion and refocus on the task of rebuilding. Several hundred residents came out to show their resilience. A dozen community organizations attended to provide residents with connections to services.
Heroes for Habitat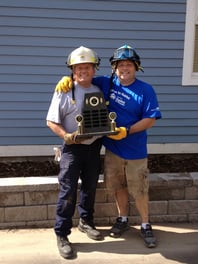 Working on safety issues, the idea of a police and fire volunteer day was born. The event attracted neighborhood residents and connected them with each other, with police and firefighters, their neighborhood association, council member, and local clergy. Best of all, crime is way down on this block since the event and there are three new Habitat homeowners who are ready to start a block club.
Neighborhood Partners
Neighborhood Revitalization takes partners. Key partners in the Jordan neighborhood work included the Jordan Area Community Council (JACC) and the Northside Achievement Zone (NAZ). The effort also helped us forge new ties.
The bottom line for Habitat homeowners, and all of their neighbors in the Jordan neighborhood, is that they are now living in safe, affordable homes. In the process, the entire area is being improved in terms of safety, property values, and most importantly, the building of community connections that will continue to positively impact the neighborhood for years to come.
None of these outcomes would be possible without dedicated partners, generous sponsors, committed volunteers, dedicated homebuyers and people like you supporting the Habitat mission of eradicating poverty housing in the Twin Cities.