Guest Blog by Shannon Twiss
Resident Outreach Coordinator
Over 70 volunteers came to Morgan Avenue in the Jordan neighborhood of North Minneapolis as early as 6:30 a.m. on Saturday to set up for the 2017 Jordan Week of Kindness celebration. Coffee in hand and ready to work hard, they prepared a resource fair, block clean-up, and planting projects.
Throughout the week leading up to the celebration, volunteers also worked with A Brush With Kindness on four home repair sites located in the same two blocks of Morgan. They helped to replace a deck, repair a fence, paint trim, install hand rails for steps, install storm windows, and patch holes in a foundation.
Planting projects and a block clean-up kicked off at 9 a.m. with a welcome from the ever-energetic Cathy Spann, Executive Director of the Jordan Area Community Council, Habitat's major community partner in organizing Jordan Week of Kindness. She welcomed volunteers to the neighborhood, and emphasized that there is a lot more to Jordan than the negative things we tend to hear about in the news. It is a strong, vibrant community that knows how to come together – a fact demonstrated by the overwhelming success of last year's Jordan Week of Kindness. This is the second year Twin Cities Habitat for Humanity's Neighborhood Revitalization Program has worked with local partners to host this community building project.
As DJ Alfred Jerome Coleman played an upbeat soundtrack to get everyone pumped up, residents of the two blocks chose flowers for their front yards, met volunteers who were ready to help dig and plant, and discussed ideas and tips with a volunteer master gardener. Other volunteers built and filled a garden bed, and planted vegetables and herbs. The South Metro Minneapolis Evenings Rotary Club donated trees, and their members worked alongside residents to plant them. In total, nine families living on Morgan completed planting projects. At the same time, residents joined volunteers from Republic Services and conducted a trash clean-up throughout a twelve-block area surrounding Morgan Ave.
Before everyone gathered for lunch, there were performances by the Minnesota Internship Drill Team, the Kalpulli Ketzal Coatlicue Aztec Dancers, and youth from Appetite for Change. Emcee Shvonne Johnson led the program thanking our major sponsors, Thrivent Financial and Republic Services. An acknowledgment was made to the Family Housing Fund for sponsoring one of the home repairs. Council Members Barb Johnson and Blong Yang, and State Representative Fue Lee, who represent the Jordan area, greeted community members and thanked volunteers. The Jordan Area Community Council recognized the four families participating in home repairs, and gave each of them a lawnmower and other gifts as a thank-you for their active involvement in Jordan Week of Kindness.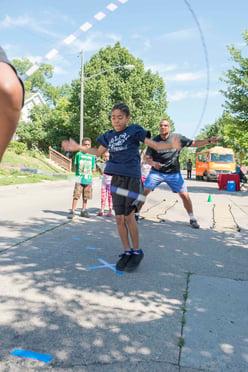 Volunteers and community members alike stuck around to eat lunch together, get to know their neighbors, and visit the twenty organizations tabling at the health and resource fair. Kids were entertained by Pickles the Clown and activities from sPARKit, Pros of the Rope, and Juxtaposition Arts.
The Neighborhood Revitalization program partners with local community partners, such as the Jordan Area Community Council, to plan events like the Jordan Week of Kindness with the goals of bringing neighbors together, building community, and ultimately supporting residents. This means both connecting residents to the resources that already exist in their communities, and making Habitat's programs and resources more accessible. It also means creating space for community partners to lead, and relying on their expertise and capacities. Neighborhood Revitalization has been invested and involved in the Jordan neighborhood for the past six years. We are looking forward to what the coming year will bring based on the relationships we have built and strengthened.