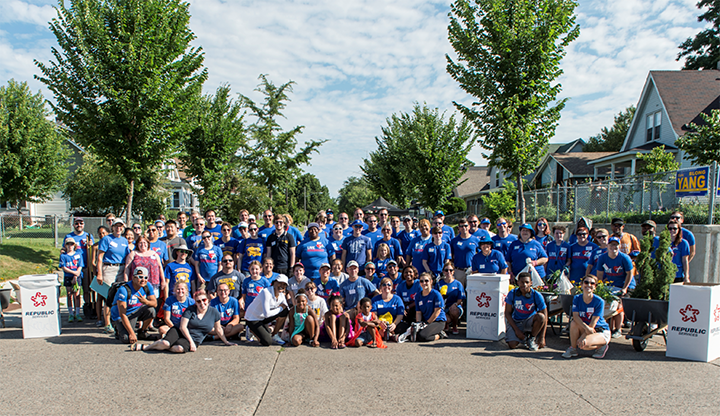 Twin Cities Habitat is proud to partner with the Jordan Area Community Council to bring the 3rd Annual Jordan Week of Kindness. We're celebrating our long-standing commitment to North Minneapolis and investment in the Jordan neighborhood through our Neighborhood Revitalization program. For the past months, we have been working alongside outstanding residents and the neighborhood association to beautify this block through home repairs, a clean-up, and flower planting.
The event is about coming together to have fun and celebrate what we've accomplished as a community! This annual celebration will feature over 20 local vendors, several performers, activities for kids, and free food for all. Below is a preview of what you can expect during the celebration. Join us!
Saturday, June 30, 2018
12:00 p.m. to 3:00 p.m.
Irving Ave North
(between 30th Ave. N. and Lowry)
More about Jordan Week of Kindness
Speakers (program begins at noon)
Audua Pugh, Resident/Board member, Jordan Area Community Council
Chris Coleman, Chief Executive Officer, Twin Cities Habitat for Humanity
Emily Schmitz, Community Engagement Leader, Thrivent Financial
Cathy Spann, Executive Director, Jordan Area Community Council
Pam Wheelock, Chief Operating Officer, Twin Cities Habitat for Humanity
Mayor Jacob Frey
Council Member Phillipe Cunningham
Council Member Jeremiah Ellison
Performers
Tiyumba African Drum and Dance
Unlimited Next Level Drill and Dance team
Activities
Bouncy house
Activity and games by sPARKit
Professional double dutch training
Caribbean hip-hop Zumba and African dance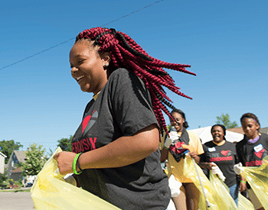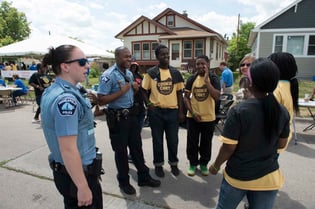 Food
Free delicious wraps and rolls by local vendor Wendy's House of Soul
Vendors & Resources
Caring Heart Home Healthcare
Center for Energy and Environment
City of Minneapolis
Cleveland Neighborhood Association
Cookie Cart
FreedomWorks
Great is Thy Faithfulness
Hawthorne Neighborhood Council
Hennepin County Teen and Child Checkups Program
Jordan Area Community Council
Leady Eddy Van
Make Homes Happen
Neighborworks Home Partners
North Point
One Family, One Community
Restorative Justice Community Action
Thrivent Financial
Twin Cities Habitat for Humanity
Twin Cities Habitat for Humanity ReStore
Xcel Energy
Open House
New this year is an open house featuring a home rehabbed by Twin Cities Habitat for Humanity and staged with furniture from Twin Cities Habitat for Humanity ReStore. During the celebration, attendees can learn more about Habitat homeownership, Habitat programs and services such as A Brush with Kindness and Twin Cities Habitat ReStore.
Located at 3014 Logan Ave N., Minneapolis (There will be signs directing people to the home from the main celebration area).
Thank You
Many thanks to all of the volunteers that make this event a reality! Let's bring neighbors together in a fun and meaningful way during the Jordan Week of Kindness and every day in between!