Last week, the Minneapolis community gathered to celebrate the addition of two new Twin Cities Habitat homes to the Jordan neighborhood.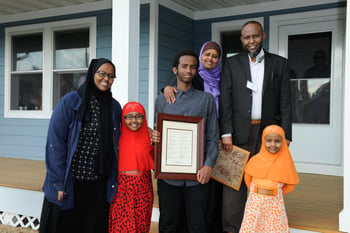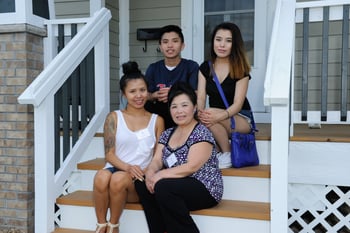 Tue and her daughter Mai are excited about purchasing their home, because it will mean their family will finally have a place to "call home." With three generations living in the new home, this stable environment will allow Tue's grandchildren to focus on school and give them greater opportunities for college and careers. Jamila and her brother Abdullahi are also excited, and shared that being part of a community is important to them. Between the two siblings there are seven children in the family, and having more space for everyone motivated their interest in Habitat.
The new neighbors stood side-by-side and thanked the volunteers that came out to build with them. Jamila's daughter spoke for her mom and uncle: "Thank you for taking the time to support us. Having a home is something we dreamed of."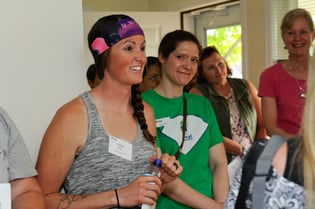 Twin Cities Habitat Site Supervisor, Ashley Rose, spoke about working with Tue & Mai on their home. "Tue was first onsite when it was just empty studs, no walls or anything. I jokingly asked her 'so does it feel like home?' and she looked around and said 'yes, it does.'"
Ashley shared that her "favorite part of Habitat's work is the impact on the community and the impact of each individual volunteer hand on the house." Ashley also shared a story about an older volunteer that came every day to work on one house. "He is in his eighties and had just lost his wife of 62 years. I know working on your home was part of his grieving process. Your house means more to this community than you know."
McKinsie Clyde, Site Supervisor for Jamila & Abdullahi's home, spoke about working in Jordan. "This is an amazing neighborhood. I was counting it up the other day and discovered that I know more of these neighbors than I know in my own neighborhood." She thanked Health Partners & Park Nicollet, a Partnering Sponsor for this build, and Doctors Jeff Mandel and Randy Warren for their incredible support.
Jamila and Abdullahi's house was sponsored by Women Build 2015. McKinsie thanked the Crew Leaders and volunteers that showed up to build. "Women Build always brings a lot of people together."
Jim and Carmen Campbell sponsored Jamila and Abdullahi's home. This is the second Habitat home they have supported, but they have had a longstanding partnership with Twin Cities Habitat.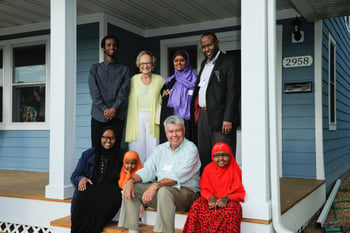 Together, Jim and Carmen have devoted their lives to volunteering and serving the community. They work closely with several Twin Cities organizations including University of Minnesota, Abbott Northwestern Hospital, United Way, and the Alzheimer's Association.
Jim, retired Chairman and CEO of Wells Fargo Minnesota, recognizes the importance of housing, "We know that life is not as good as it could be when you don't have a home. It is most important for a family."
Blong Yang, Minneapolis City Council member for Ward 5, spoke about the need and impact in North. "There are over 800 empty lots in North Minneapolis and 350 of them are zoned for single-family homes. We need all of these to be available for families." As a longtime resident of the area, he has seen the community change and grow, through the efforts of Twin Cities Habitat and other community-run organizations. "In just a few years, this neighborhood is going to be transformed."
Twin Cities Habitat's work in Jordan includes more than homebuilding. Through our Neighborhood Revitalization program, Habitat works in partnership with residents and community organizations to invest more resources into the Jordan and Frogtown neighborhoods. In early July, Twin Cities Habitat will host a neighborhood clean-up event called Jordan Week of Kindness. Neighbors, supporters and volunteers will gather to repair homes, pick-up trash and plant boulevards in two blocks along Knox Avenue N between 29th and Lowry.
Sue Haigh, President & CEO of Twin Cities Habitat spoke about this upcoming event.
"We are excited to work with the Jordan neighborhood and the city to support residents. We want families to stay in their homes as long as they can, which makes maintaining a property vital. We are blessed to have so many supporters, neighbors, volunteers and friends to share this work with."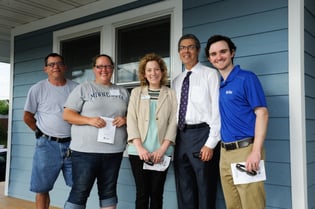 Thank you James & Carmen Campbell, Wells Fargo, Women Build 2015, HealthPartners & Park Nicollet, Nsight Connect, JP Morgan Chase and RSP Architects for your tremendous contributions. We couldn't build better futures without you.
Find more photos from this dedication on Twin Cities Habitat's Flickr page.