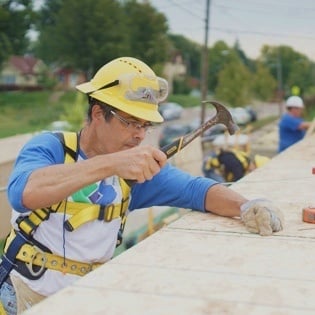 If you visited a Twin Cities Habitat for Humanity (TCHFH) build site in North Minneapolis in September, you might have felt like everyone on the site was somehow familiar. You wouldn't have been experiencing déjà vu; the sense of familiarity would have come from the fact that all 27 people on the build site were related.
Dr. Jeffrey Mandel, a Doctor of Internal Medicine with Park Nicollet, loves working with Habitat so much that he arranged for family members from all over the country to spend the day together to build a home for a low-income family. His relatives came from California, Louisiana, Kansas, Chicago, Washington DC, Wisconsin and the Twin Cities.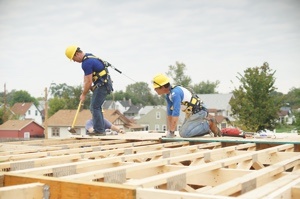 Dr. Mandel and Park Nicollet started working with TCHFH about 15 years ago. Park Nicollet volunteers would donate one week of their time on a build site. HealthPartners employees had also been volunteering with Habitat before the two companies merged in 2013. Since the merger, the partnership with Habitat has continued to grow. This year, over 300 volunteers from HealthPartners and Park Nicollet worked on Habitat homes in Hugo and North Minneapolis.
Dr. Mandel is such a passionate supporter of Habitat that he wanted to get his family involved, too. He invited his brother and sister to join him on site two years ago. Last year several first cousins who live in the Twin Cities joined in volunteering. They all had so much fun they decided to invite the entire extended family to join a build this year.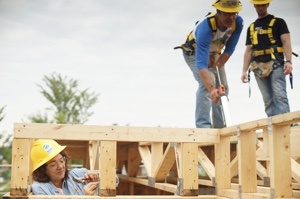 McKinsie Clyde, the TCHFH site supervisor, and Joe Siedschlag, her AmeriCorps member and assistant supervisor, expertly guided the big crew. They made sure everyone had jobs to do and had the proper training to do them safely. McKinsie enjoyed working with this unique group of volunteers and said "The give and take with this crew is fun to watch. They obviously enjoy being around each other."
Since 2001, HealthPartners and Park Nicollet volunteers have logged over 10,000 hours building Habitat Homes. This year they spent four full weeks on build sites in North Minneapolis and Hugo, adding over 2,000 hours of labor to their already impressive total.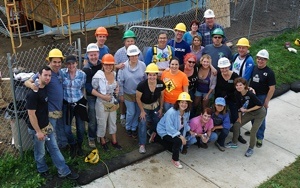 Volunteers like the Mandel family, and all the volunteers from HealthPartners and Park Nicollet, are the backbone of the homebuilding model at Twin Cities Habitat for Humanity. Without the 17,000 volunteers who step up to help each year, we would not be able to continue to build houses for low income families.
We are grateful for committed community partners like HealthPartners and Park Nicollet, and individual donors like Dr. Mandel who bring our mission to life through their generous gifts.
We invite you to volunteer or donate to support the Habitat mission of eliminating poverty housing from the Twin Cities and making decent, affordable shelter for all people a matter of conscience.