A few years back, the housing market collapse hit North Minneapolis hard, leaving houses abandoned and many residents in financial despair. As if that weren't tough enough, a tornado tore through the area damaging homes and trees along the way. Since then, Twin Cities Habitat for Humanity has been working in the Northside through its Neighborhood Revitalization Initiative (NRI). We have focused more homebuilding and repair efforts in the Jordan area and have worked to engage the community and better understand the needs of the neighborhood.
Among others, the Jordan Area Community Council (JACC) has become a key partner for our work in the neighborhood. We collaborate on outreach and facilitate discussions with neighbors to align Habitat's goals with the goals of the community. Together, we aim to determine what residents like, where improvements can be made, and what perceptions there are about living in Jordan.
NRI and JACC have co-hosted neighborhood events including a Rebuilding Block Party to kick off the initiative, a holiday party, and a lemonade stand event to welcome new families to the area. In addition, Habitat has been fortunate to have Cathy Spann, Executive Director of JACC, join our home dedications to celebrate new homeowners. Cathy is enthusiastic about Habitat's work in Jordan and is always excited for new homes and new faces.
Just in the last few months, Twin Cities Habitat has dedicated four new homes in the area and gathered with countless homebuyers, volunteers, sponsors, supporters, and staff to mark each occasion. Last Saturday, we hosted a home dedication for two families: Among Vang and Sue Her (pictured below) will move into a home on Morgan Avenue and Abshiro Hassan, Hussein Mohamed, Faduma Kite (pictured below in front of their home) will be purchasing a home on Logan Avenue.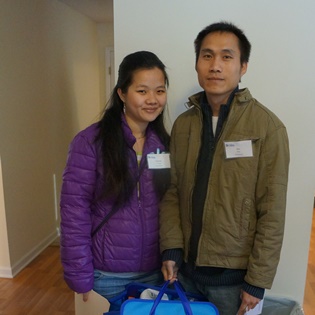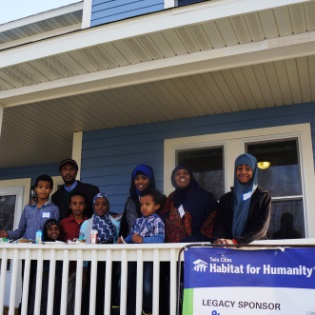 The event brought together not only these two soon-to-be neighboring families, but also two other Habitat families in the area: Mai Kee Lee, who has moved into her home with her five children since her November dedication, and Mohamed Aden, who is helping to build his home just a block away.
Sue Haigh, President & CEO of TCHFH, spoke proudly about Neighborhood Revitalization and expressed immense gratitude for partnerships with groups like JACC, Wells Fargo, and General Mills who make this work possible. "With many partners, we can make new beginnings for families and transform neighborhoods." Sue thanked the families for their hard work, bravery, and determination to build their own homes and change their lives.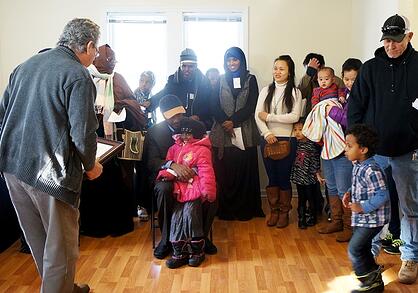 Sue also recognized the construction staff who are the heart and soul of our work in the area. Tony Beckstrom, a site supervisor for the Logan Avenue house, said, "It really doesn't get any better than this. These were two empty lots in the spring with debris and weeds, and now there are two homes for two families here."
The site supervisor for the Morgan Avenue home, Dave Madzo, who said he's extremely proud to be working on the Northside, put it best: "Footsteps of children are what make our lives worth something."
Twin Cities Habitat's safe, stable housing relies on the generosity of corporate sponsors such as Wells Fargo, General Mills, and the many others who support work in North Minneapolis and the entire metro area. Collaboration with groups like JACC helps us better understand the areas where we work and to engage communities. Habitat's neighborhood revitalization strategy is powerful when we can work with many others toward a shared vision: to transform neighborhoods one home at a time.