Affordable homeownership is a multi-generational game changer for families and communities. And nobody does it better that Twin Cities Habitat for Humanity. The data shows that Twin Cities Habitat homeowners are strong, stable and self-reliant. Now it's time to multiply the impact!
Twin Cities Habitat is forming new banking and community partnerships to dramatically expand Habitat homeownership opportunities for families in the years ahead (this is the #1 goal of Twin Cities Habitat's new strategic plan Impact 2020). One piece of this work was the creation of the Habitat Home Loan Impact Fund 2020. This fund will provide financing for hundreds of affordable Habitat mortgages in the Twin Cities.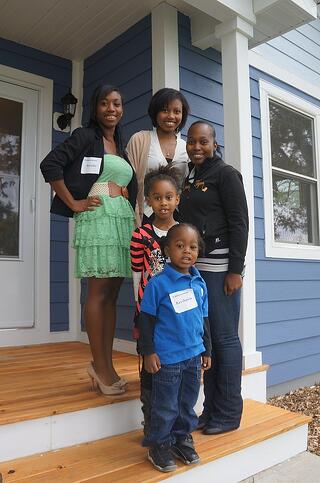 This means Twin Cities Habitat can continue to do everything it's done in partnership with families over the past 30 years, plus much more. Some families will continue to partner with Habitat to buy homes built by volunteers, Habitat staff, and licensed subcontractors. And now, for the first time, a family can use an affordable Twin Cities Habitat mortgage to buy an existing home on the open market. These families will work with realtors and may get Habitat's help with necessary repairs to their new house. This will mean significantly more choices for families when they're deciding what affordable housing option is best for them.
Every family that partners to buy a home with Twin Cities Habitat (no matter which option they choose) will still be set up for success through a rigorous combination of financial coaching, sweat equity hours, and homeowner training courses. Every family's mortgage will have a low interest rate that won't change for 30 years. Every mortgage will still be calculated so that families are not paying more than 30% of their income for housing each month (at the time of their closing). And every family must still meet Habitat's income guidelines to be eligible for the homeownership program.
Families that are interested in partnering with Twin Cities Habitat should begin by working with one of our community referral partners. These organizations will work with families to become financially ready to start Twin Cities Habitat's homebuying process.
Twin Cities Habitat saw the need to innovate because more than 2,000 families are on our waiting list, each hoping and praying for the chance to buy a home that they can afford. At the same time, the gap between what low-income Twin Cities families earn and the cost of housing in the metro is growing much too fast. More and more families are being left behind when it comes to homeownership opportunities.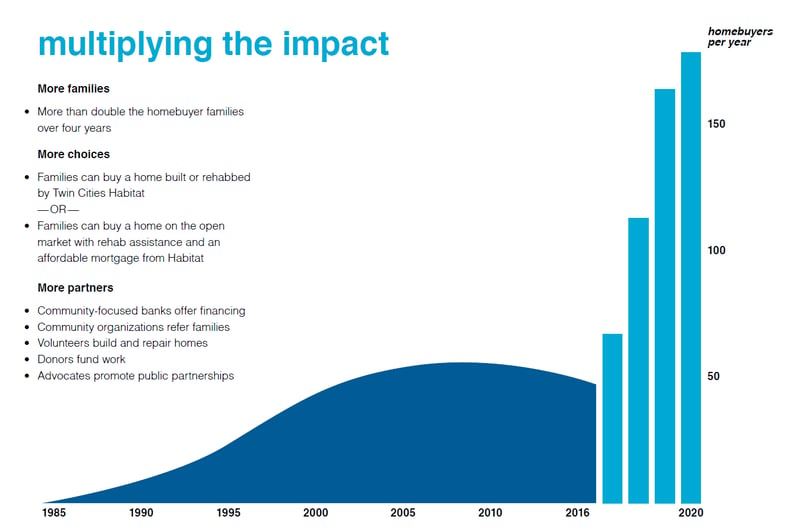 This plan for growth is bold and ambitious and will require significant involvement from all the generous and caring people who give their time, their talents, and their money to the mission of eliminating poverty housing from the Twin Cities. Please sign up to volunteer or make a monthly gift today and you'll be helping ensure more families have the opportunity to buy a safe, decent home where they can raise their children.