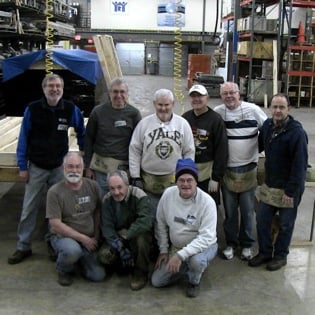 Doing good, learning skills, having fun, and keeping busy – these were the shared reasons why a group of retirees from Cargill volunteers regularly with Twin Cities Habitat for Humanity. On this particular volunteer day, eight men known as the Cargill Spice Regulars were at the Habitat wall panel plant in Northeast Minneapolis. Other members of the crew were doing snowbird duty in warmer climates, but that didn't slow this team down.
"Most of the time we're out on building sites," said Mike Lilly, member of the Cargill Spice Regular Crew, "but in the winter time, we really love coming to the panel plant. It's easy to see the progress we're making, and that makes it a lot of fun." Lilly used to travel all over the country as a member of Cargill's Salt Division, but decided to stay in the Twin Cities after retiring. "I like it here and I like the guys on the team," Lilly said.
Jim Kane, another team member, made quick work of driving several nails home as his group was building a wall section for a home to be built during warm weather. Grinning, he held up the air hammer he was using, "Out on build sites we'd have to swing a hammer to get all these nails in. Here, we get to use tools like this! It makes it a lot easier on the arms."
The panel plant is set up inside the Twin Cities Habitat warehouse in order to build the framing panels for new homes. A modified assembly line, the plant has three platform tables, each large enough to hold one entire wall section. Utilizing precut lumber, the volunteer crews assemble the wall sections, framing out doors and windows in the process. When a section is done, it's numbered and stacked with other sections until every section for a new house is completed.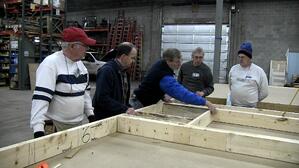 "Over the winter we get all the panels for about thirty complete homes put together," said Panel Plant Supervisor Mike Ellison. "Without the volunteer crews and this plant, we'd fall way behind the summertime construction timetables."
Ellison started with Habitat as a Site Supervisor out in the field before becoming Panel Plant Supervisor. "I get to be a little more hands on than when I was in the field," he said. "I have to make sure all the lumber the volunteer crews use to build the panels with are pre-measured and pre-cut. It's a lot of work, but I like being hands on."
Ellison said many of the crews he works with already have a high skill level, so they make a lot of progress each day. He added that when a volunteer is new, or doesn't know how to use a piece of equipment, or a group hasn't laid out and built panels before, he simply teaches them what they need to do each step of the way. "Once I show them how to do something, they usually get it and get up to speed quickly. None of this is hard, it's just a matter of showing them and keeping an eye on what they're doing."
When asked why he volunteered, Doug Moseng grinned and said, "Golf!" He clarified the statement by adding that besides volunteering with Habitat, most of the men in the Cargill Spice crew play golf together. While they worked, the group chatted about visiting another crew member who winters in San Diego to play golf. "It's just a good group of guys. We enjoy doing this work together, and golf is just another way to spend time with friends."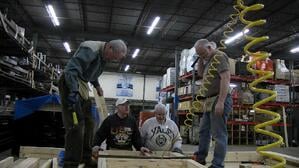 Gene Moen listened in and added, "I got recruited to start building as soon as I retired. Now I look forward to volunteer days."
Clint Schroeder was spending his first volunteer day at the panel plant. When asked what he'd done at Cargill before he retired, he said, "Nothing." He went on to explain that his wife was retired from Cargill, not him. "My wife isn't as interested in volunteering as I am, so I asked if I could volunteer in her place. She said yes and Cargill was good with it, so here I am." He said he used to volunteer with Habitat, but his old company stopped supporting his time, so he stepped in with Cargill. "They're wonderful to their retirees," he said. "They have staff and offices at their headquarters to support the retirees, and I think that's great."
Chuck Crues started doing Habitat build days long before he retired. "It's different than being in the office," he said. "It was nice to get out, meet some new people, learn new skills I could use in my own home, and do some good." He said he continued volunteering after he retired for the same reasons.
Gary Koelsch said this was his first time volunteering in the panel plant, too. "It's nice not having to worry about the weather," he said. "We can get a lot done."
Mike Lilly added, "In the summertime, we get more Vice Presidents and Execs coming to build sites, and that's really great. Especially when they get energized and kind of drive the crews. Everybody moves fast and we fly on the builds."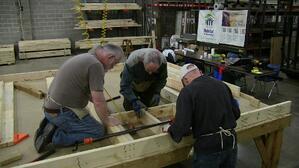 "We have two crews of regulars who are here every month," Plant Supervisor Ellison said, but most of the crews are like these guys. They're out on builds most of the time and two or three times a year they spend a day here." He was quick to add that they could always use more volunteers at the plant. "I need volunteers year around. Without them, house builds would end up falling behind schedule."
Ellison also commented that he especially likes having retiree groups like the Spice Crew. "When there's a regular crew here things just hum. They all know what they're doing and they get to be good friends. For them, it's almost a social thing. For me, it's the kind of help that makes my job easier!"
Watching Andy Byrne swing a hammer and drive home long nails in two or three swings, you'd think he was a professional carpenter. "I just like to build things," he said. That seemed to be a shared sentiment with every member of the team. Building things, doing good, learning skills, having fun, and keeping busy was what brought them all to the panel plant and it's what drives them to be part of a regular crew. (And golf!)
Thanks guys, you make a big difference for a lot of families. We hope it helps your game, too!
If you're interested in volunteering personally, or creating volunteer opportunities for your companies employees or retirees, use the link below and let us know. All skill levels are welcome, whether you've never handled a hammer or you're a professional carpenter, we can get you started right. It's fun to learn new skills, meet new people, and impact the lives of a family forever!