Twin Cities Habitat is fortunate to have an army of volunteers (more than 16,000 a year!) who give tons of time to our mission (28,000 days a year!). We're also fortunate that ours is such a philanthropic community, and more than 6,000 people make financial gifts each year. You overwhelm us with your giving and truly make Habitat happen for so many families. Thank you!
But even in this community of amazing generosity, some people rise above by going that extra mile, pounding that extra nail, giving that extra dollar. Dozens of these special Habitat supporters came together for a Builder's Circle Build earlier this month.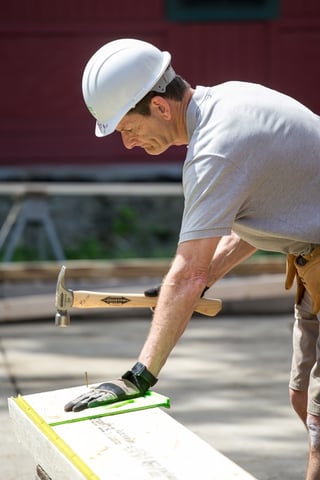 Every person who gives at least $1,000 a year to Twin Cities Habitat automatically becomes a member of the Builder's Circle. Among the benefits members enjoy is the chance to build together on a home each summer.
This year they worked alongside Almaz and her teenage son and daughter on the home the family will be buying in St. Paul. Under the guidance of Site Supervisor Bryn Chambers, the volunteers put up drywall, painted siding, and (to the delight of Barry Mason) framed the garage.
Barry, Twin Cities Habitat's Board Chair, had recently received a framing hammer as a gift from his wife Sharon. Together, the Masons have built Habitat homes around the world and been involved in the mission in so many ways. Sharon is one of Twin Cities Habitat's top Housing Hero advocates. She hosts Women Build days, attends events, and is always ready to share her passion for the work of Habitat.
This Builder's Circle build brought out people like the Masons who've volunteered a lot and first-timers as well. All our Site Supervisors, like Bryn, and the AmeriCorps who manage volunteers are great at finding construction tasks that match every skill level. So, no construction experience is necessary to become a Habitat volunteer.
One of the Builder's Circle members brought their teenage son out to volunteer with them. He quickly hit it off with Almaz's son. Building with Habitat is an amazing way of breaking down barriers and connecting people at a very personal level. You meet new people and really get to know them as you focus on accomplishing an important task together. On the second day of working together, the boys took their lunches off to the side and ate together, away from all the stuffy adults.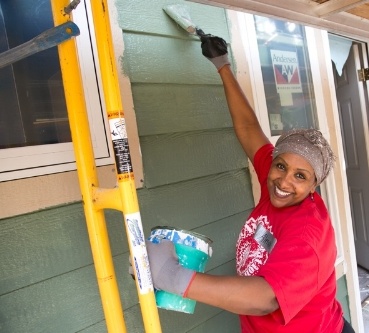 Right now, Almaz is raising three kids in a two bedroom apartment. She says buying the home she's helping build will give her whole family a great sense of freedom. A big part of that is knowing her mortgage payments will be affordable (plus, each one of her monthly mortgage payments helps other families reach for their dreams of homeownership with Habitat).
The volunteers got a great week of weather (with just a few raindrops in the middle). During lunch each day, Habitat staff members came out to visit the site and share details on Twin Cities Habitat's strategic plan—Impact 2020—to multiply the impact of our work in the community.
On Monday, Mike Robertson, Construction Manager for A Brush with Kindness, updated everyone on Habitat's paint and repair program.
Tuesday was a Housing Hero update on recent funding successes at the State Capitol from Pam Johnson, Policy and Advocacy Manager, and Caitlin Magistad, Advocacy Associate.
Wednesday the volunteers heard from Polina Motes de Oca, Neighborhood Revitalization Manager, and Shannon Twiss, Resident Outreach Coordinator, about ongoing partnerships Twin Cities Habitat has with residents in the neighborhoods of Frogtown in St. Paul and Jordan in Minneapolis.
Thursday was all about the dramatic expansion of Twin Cities Habitat's homeownership program. Cristen Incitti, Senior Director of Programs and Services, and Marjorie Grevious, Homeowner Development Manager, explained how homebuyer capacity can more than double by 2020. They talked about the one-on-one financial coaching every family receives, plus the new option that allows some families to buy homes on the open market using affordable Habitat mortgages.
A lot of growth is going on at Twin Cities Habitat and a big part of making that happen is the ongoing support of Builder's Circle members. If you're looking for a way to multiply the positive impact you're having in our community, considering stepping up to the Builder's Circle level of giving.