You don't have to search too far to come across someone in the Twin Cities area who has volunteered with, donated to, or supports Habitat for Humanity. Each supporter has been crucial to this astounding number of families served. Where would we be without the volunteers who labor to build safe homes, or the generous donors who make Habitat's work possible? Probably still working out of a church basement serving only a few families a year.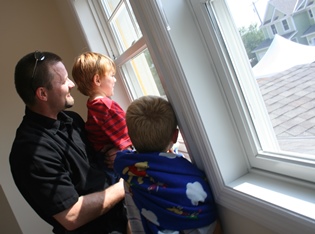 The desire of our supporters to see a brighter Twin Cities has helped propel our affiliate to serve more families. The generosity of our donors to invest in the future of local families has made Twin Cities Habitat for Humanity one of the top Habitat affiliates in the nation. Our donors are the foundation of Twin Cities Habitat's success. Individual donors provide nearly 50% of the funding needed to build 55 homes a year and repair 125 more through A Brush with Kindness.
It takes donors who are committed to seeing change in the Twin Cities to produce results. If you are ready to be a part of our journey, please consider becoming a Sustaining Donor. As a Sustaining Donor, you are taking the next step in building a better future for our community. Sustaining Donors pledge to make a monthly gift to Habitat, which in turn works to support families for years to come. Just as a partner family's monthly mortgage goes into helping more families, a monthly gift to Habitat does the same.
Sustaining Donors receive discounts to the Habitat online store, Habitat's ReStore and a discount to Habitat's premier Hard Hat & Black Tie Gala. Most importantly, Sustaining Donors cut down on administrative costs by giving secure automatic monthly payments, meaning more of the monthly gift is able to be used for our programs and services.
If you are a Habitat supporter and wish to be a part of Twin Cities Habitat moving forward, please consider becoming a Sustaining Donor at any level. A gift of $20 a month can provide a set of windows for the house a local family will call a home. Sustaining Donors are a crucial part of the work done at Habitat and continue to strengthen our community. Please consider turning your gift into a monthly donation to support hard-working families in your neighborhood.