Guest Blog by Grant Gray
Leadership Giving Officer
With hot coffee and fresh donuts in hand, Builder's Circle volunteers gathered at a Habitat build site for a morning safety talk from Twin Cities Habitat for Humanity Site Supervisor Dave Madzo and AmeriCorps Matt Benson. As they wrapped up the talk Dave reminded the volunteers that at the heart of everything we do, "Habitat is about building communities."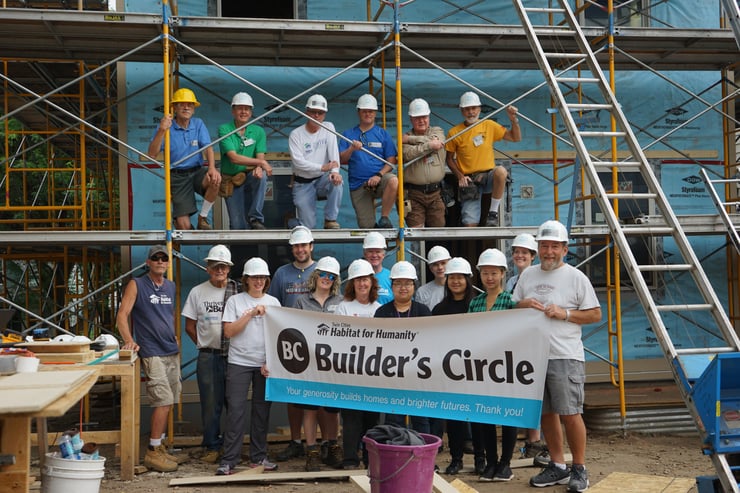 Builder's Circle volunteers on the final day of Builder's Circle week.
The Habitat family is blessed to have so many amazing communities with whom we partner. In the last year alone, more than 16,000 people volunteered with Habitat. These tireless volunteers include individuals, corporate teams, and faith groups working alongside Habitat homebuyers.
Twin Cities Habitat also has a remarkable community of more than 7,000 individuals, congregations, corporations, and foundations making generous contributions towards our mission of safe, affordable housing in the last year.
One group of individuals who play a vital role in helping build foundations for a brighter future is our Builder's Circle. Twin Cities Habitat's Builder's Circle members are individuals or families who donate $1,000 or more throughout the year, leading the way in philanthropy. They understand that homeownership is the key to so much for a family and our community, including improved health and educational outcomes, economic prosperity, and community connectedness.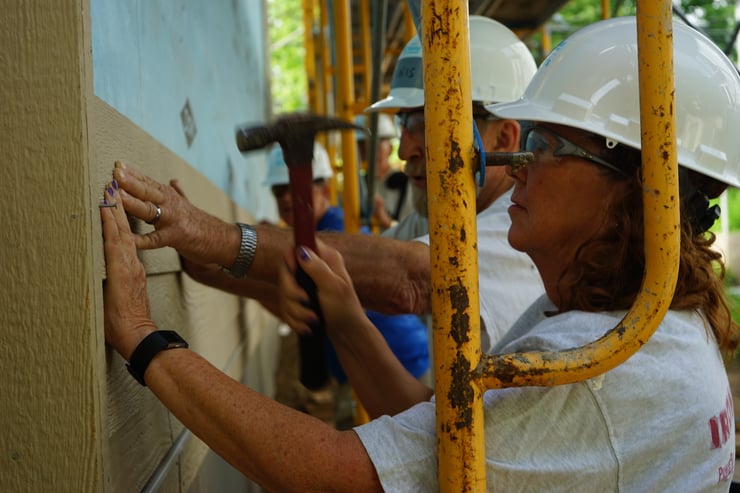 Builder's Circle volunteers installing siding.
Builder's Circle members are also invited to see the direct impact of their generosity, while taking a hands-on approach to giving, by building a new Habitat home. From June 11-14, dozens of Builder's Circle members, both returning and first-time volunteers, came together in St. Paul as part of the annual Builder's Circle Build.
Volunteers enjoyed a week of perfect Minnesota summer weather. Throughout the week, Builder's Circle members completed sheathing the roof, installed and sealed windows and doors, and did much more on the new Habitat home. The culmination of the week came on Thursday, as volunteers began siding the home while working alongside a Habitat homebuyer, Ying and her family, and new President & CEO of Twin Cities Habitat, Chris Coleman.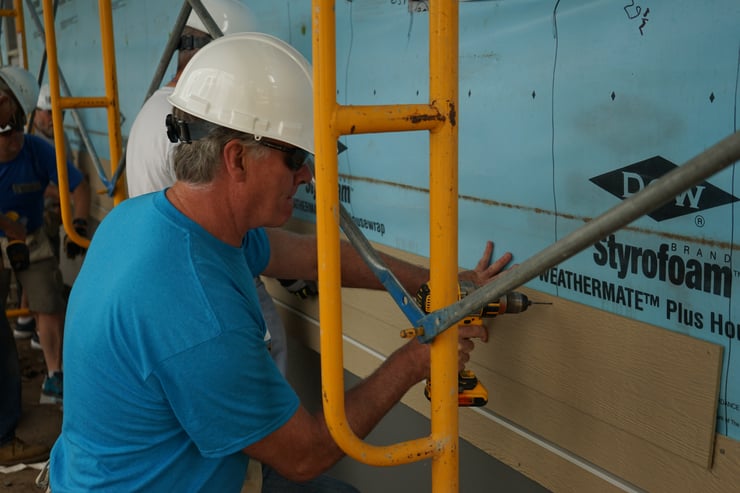 Chris Coleman, President & CEO of Twin Cities Habitat, drills pilot holes for siding.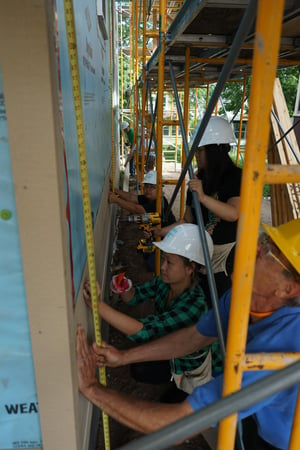 Ying's family has been matched to a new Habitat home under construction, not far from the Builder's Circle Build. They look forward to starting this new chapter with their four children, as well as their grandma and uncle. This is an exciting step for the family who could not qualify for a regular mortgage. Now they're looking forward to decorating and making their new home their own.
The week was a fitting reminder that Twin Cities Habitat could not exist without the time and talent contributed by the vast array of volunteers, as well as the financial contributions provided by donors, all coming together as one united Habitat community.
As Twin Cities Habitat for Humanity continues toward our goal of doubling the number of families with whom we partner in safe, affordable homeownership, we continue our appreciation for Builder's Circle members as they lead the way in their generous giving. If you're looking for a way to multiply your impact, consider joining the Builder's Circle and volunteering at next year's Builder's Circle Build (or sooner!). You'll see first-hand how your generosity is impacting our communities.