This past Saturday, we celebrated Gabi and Alime's family, and the completion of their Habitat home in South St. Paul.

"I had never put one nail in before," Gabi said, recalling his first time performing sweat equity hours building his home. He said he knows that these skills he learned during the construction process will help him as a new homeowner. He also shared how he struggled at first to understand why people come for free to volunteer and work with his family, as he had never before experienced this form of community back in Ethiopia.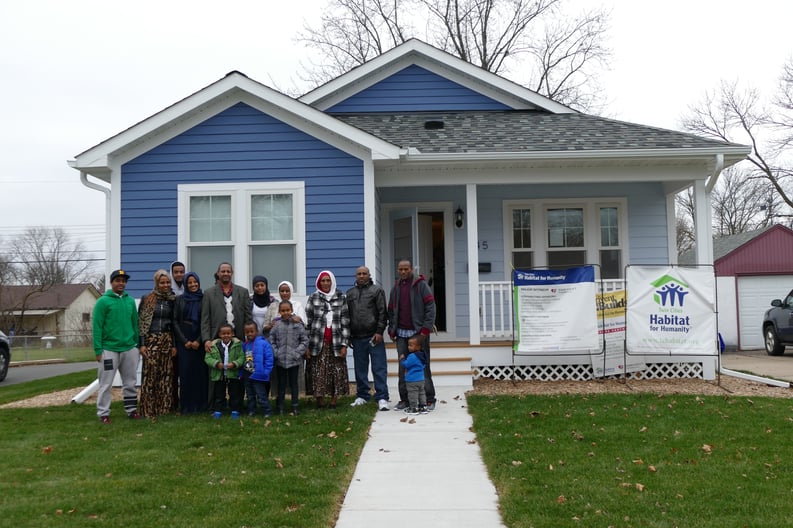 "When volunteers came, they worked hard, were serious, and were careful in their work. They treated the house as if it was their own," Gabi said. "This is a true gift."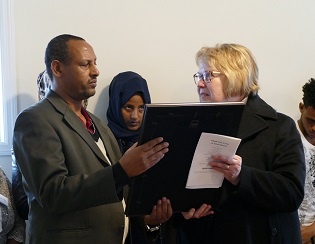 Both Gabi and Alime are looking forward to the financial stability that goes along with owning a home, something that resonated with the Major Sponsor of the build, Thrivent Financial, who presented the family with a framed Golden Rule gift. This financial stability will help Gabi and Alime send all of their children to college, as they have already done with their older children.
After the formal ceremony, guests toured the new home and ate wonderful food provided by the family. One guest who had volunteered with her sons remarked how fun it was to see it completed and meet the family before they moved in. Downstairs, Gabi and Alime's children each enjoyed a piece of cake, while joking and arguing with one another, as the siblings began discussing who would claim each room.
In a few short weeks, Gabi, Alime, and five of their nine children will be moving into their new Habitat home just in time to celebrate the New Year!