This week, Anna and Petro Pogrebnyak will become Habitat homeowners and start to see their dreams come true.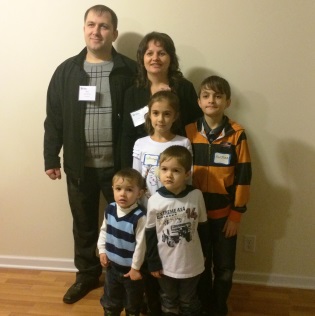 Their Journey
Up until 2008, Anna and Petro Pogrebnyak lived in central Ukraine, but for many years hoped to come to the United States. Petro's older sister lived in the U.S., in a place called Minnesota. Petro and Anna wanted better opportunities for their children, Ruslan and Viktoriya, now 12 and 8, respectively. In schools in Ukraine, parents needed to bribe the teachers.
In May 2008, Petro, Anna, Ruslan, and Viktoriya left Ukraine and much of their family for Minnesota, bringing one suitcase each, and lived with Petro's sister for the next three months. The 2008 economic collapse made it difficult to find work, but Petro was willing to do any job he could find, including jobs in construction and installing siding in the middle of winter. Believe it or not, winters are colder in Minnesota than they are in Ukraine.
Since their arrival in Minnesota, Anna and Petro have had two more children, Maxim and Michael who are now 4 and 2, respectively. Petro and Anna speak Ukrainian and Russian and are learning English. In addition to learning a new language and culture, they had to learn to drive. The couple did not have a car in Ukraine—they walked anywhere they needed to go.
Petro and Anna always hoped to own a home, but they were not able to afford to buy a house. However, when Petro and Anna learned about Twin Cities Habitat for Humanity, their dreams seemed to be in reach.

The Next Chapter
Anna and Petro Pogrebnyak will close on their new home in Shakopee this week after completing the Habitat homeownership program, including the application and interview process, attending homeownership classes, and fulfilling 500 sweat equity hours. The Pogrebnyak family is about to begin the next chapter of their lives.
Their Habitat home will have more space for the children to play, study, and grow and they can't wait to get a trampoline for the backyard! The kids look forward to picking bedrooms and choosing the paint color for each room. Anna and Petro hope to have a garden at their new house so they can grow some of their own food. Petro is especially thrilled to have space in the garage for one of his favorite hobbies—woodworking. The whole family is excited to invite their relatives and friends to their home to celebrate holidays!
On November 13, the Pogrebnyak's gathered with friends, house sponsors, and elected officials to dedicate their home and celebrate this momentous milestone. State Senator Eric Pratt and Representative-Elect Bob Loonan welcomed the family to the district and praised the community's efforts in making the house possible. Eric Elliott, CEO of the sustaining sponsor Prime Therapeutics, thanked Petro for his high energy on site. He said many volunteers from his company were inspired and motivated by Petro's positivity, enthusiasm, and hard work.
Mary Schumacher, COO of Twin Cities Habitat, extended a warm welcome and congratulations to the Pogrebnyak's on behalf of the community. "It takes a village to raise a child and it takes a community to build a home."
During the home dedication program, Anna shared that she has dreamed of owning a home since she was 6 years old. She explained that when her Habitat application was accepted and the matching process began, "I was thinking my dream was coming true!" She discussed that building a home was hard work, but she stayed positive because she knew it would be for her family. "I know my kids' dreams will come true in this house."