On January 19, we celebrated two Habitat families and their homes in the Phillips neighborhood of Minneapolis.
Ahmed and Khadija are looking forward to moving into their home in a week, where they will have more space, and perhaps even a bit of peace and quiet, with their ten children. When asked by Dedications Committee volunteer member, Win Curtiss, if they were excited for their new home, all the children answered with a resounding "yes!"
Zoua and Theng are Amed's and Khadija's neighbors, moving into the Habitat home right next door. Although they will not be closing on their home until March, they are excited about their new home, and are counting down the days until they move in. Currently Zoua, Theng and their eight children share a home with another family, which means they are definitely lacking on space and privacy. "Having more room will mean better health and less stress – it will also make it easier to cook," said Moua.
Dave Madzo, one of the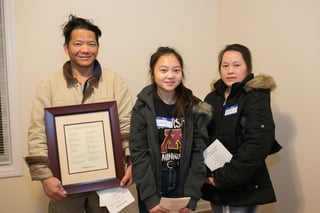 Habitat site supervisors, welcomed the families to their new homes. "Between these two houses, 22 new people are moving into this neighborhood. Thank you, families, for the impact you had on our volunteers. It is so nice to have our volunteers work hand in hand in hand with families. Volunteers, all your efforts will have an impact on families for generations."
That impact also resonated with the Sustaining Sponsor of the build, Bank of America. A representative of Bank of America, Peter Kellenberger, spoke of his organization's emphasis on serving the community where they live and work. "We spent three full days on this site, we only hope to build on that time in years to come."
After the dedication ceremony, guests toured both new homes and ate delicious food provided by
Ahmed and Khadija.
Good luck to each family as they move into their new homes and enjoy the space that will, undoubtedly, impact them for years to come!