Ranked Choice Voting is growing in popularity both within Minnesota and across the country (see every place in the United States that uses Ranked Choice Voting). Currently, there are five Minnesota cities that use this system of voting: Minneapolis, St. Paul, Minnetonka, Bloomington, and St. Louis Park. While it's been used in municipal elections since the late 2000s, there is still some confusion about Ranked Choice Voting. That's why your Twin Cities Habitat Advocacy Team is here to make it easy and explain the benefits of this popular voting system.
How does it work?
Traditional voting makes you choose just one candidate for each office. With Ranked Choice Voting, you're allowed to pick a first choice, second choice, and third choice (some ballots allow even more choices). You also are able to decide between ranking one or two candidates if you prefer. Your ballot will typically have a column for your first, second, and third choices.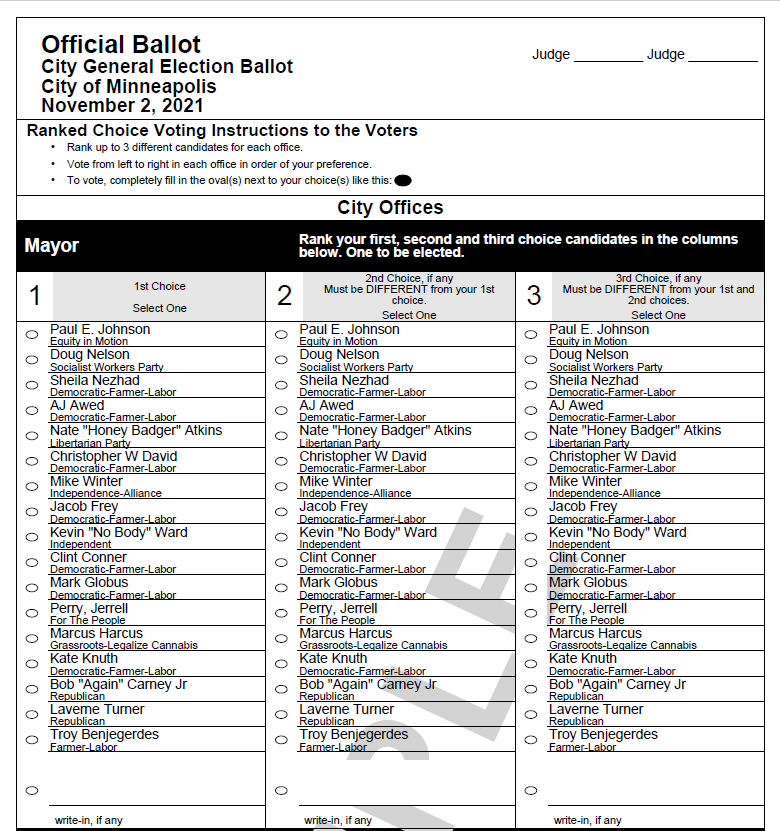 An example of the 2021 Minneapolis ballot with Ranked Choice Voting for Mayor.
When the ballots are counted, Ranked Choice Voting is like a runoff election. First, everyone's first choices are counted. If one candidate has a majority of the first-choice votes, they win. If there is no majority for a single candidate, then the candidate with the fewest first-choice votes is eliminated. Voters who ranked the eliminated candidate ranked first will have their second-choice votes counted. This continues until there is one winner with a majority of the votes. Check out this video from MPR for a fun demonstration of Ranked Choice Voting in action.
Ranked choice voting, explained: Learn more about Ranked Choice Voting, including Frequently Asked Questions, in this MPR article.
The Benefits of Ranked Choice Voting
Ranked Choice Voting has been successful in Minnesota. It has produced higher turnouts, greater voter engagement, and outcomes that better represent the community.
First, Ranked Choice Voting has given voters a wider range of choices in who can represent them and their communities. This is especially true when it comes to competitive elections. Through this system, voters can choose the candidates who best match their values and priorities even if they seem like a longshot to win. Because if their favorite candidate is eliminated, then their votes will go to their second favorite.
Additionally, Ranked Choice Voting elections have brought in more emphasis on voter engagement. It has required candidates to reach out to as many voters as possible to try to get ranked. With traditional voting, candidates might think "that group will probably not vote for me, so I won't bother reaching out." With Ranked Choice Voting, candidates think "that group will probably not rank me first, but they might make me their second or third choice, so I better reach out." This has engaged campaigns and advocacy organizations within communities by emphasizing outreach. It has sparked the need for voters to discuss with one another about candidates and their platforms. Finally, it has encouraged candidates to get to know what is most important to community members.
Ranked Choice Voting allows you to have more flexibility and choice in your vote. It differs from the current system because you are able to provide your opinion on more than just your first choice. Since the system's implementation, there has been more diversity within the election process. Additionally, it has granted voters more say in who they would choose as their elected officials.
Twins Cities Habitat for Humanity encourages all of its supporters to take part in the election process. If you live in one of the cities that uses Ranked Choice Voting, learn how it works in your city: