On Saturday, December 13, Twin Cities Habitat was joined by Ecolab representatives, volunteers (especially from our regular crews), board members, and other supporters to dedication the new home of Jowhar Yusuf and Aynia Abdella in Frogtown. As our dedications committee volunteer and emcee Karin O'Connor put it, we were gathered to celebrate the "priceless gifts" we've all contributed toward the home's completion.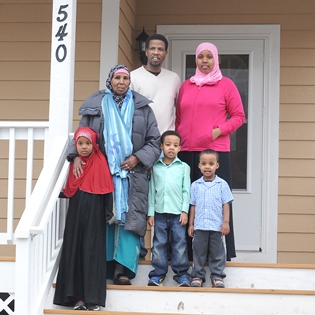 Jowhar and his family were extremely excited to mark this important milestone in their long journey. Originally from Ethiopia, Jowhar first moved to the United States in 1999 and became a U.S. citizen five years later. He returned to his home country in 2007, met and married Aynia, and the couple moved back to Minnesota. They learned about Habitat's homeownership program a few years later, applied, and met the qualifications. The family's application expired after two years, but they kept their spirits up. Jowhar and Aynia, by then parents of three, reapplied and were matched with a home this year.
"Now we are here and I'm so happy," Jowhar said after sharing the story of their journey. They are excited to have their own rooms, a yard, and a basement—all things they didn't have in the one-bedroom apartment where they previously lived. With much enthusiasm, Jowhar extended thanks to Habitat and our donors for the opportunity, to Ecolab for its sponsorship and help with construction, and to his grandmother for all of her support that helped him reach this point in his life.
Melissa Steiner, one of the site supervisors for the home, warmly spoke about her time working with Jowhar. "Families like Jowhar's are the reason I do what I do," Melissa said as she described that Jowhar exceeded his sweat equity requirement and did so with enthusiasm and construction expertise. Read more here about Jowhar's time working on his house and Twin Cities Habitat's efforts in Frogtown through the Neighborhood Revitalization Initiative.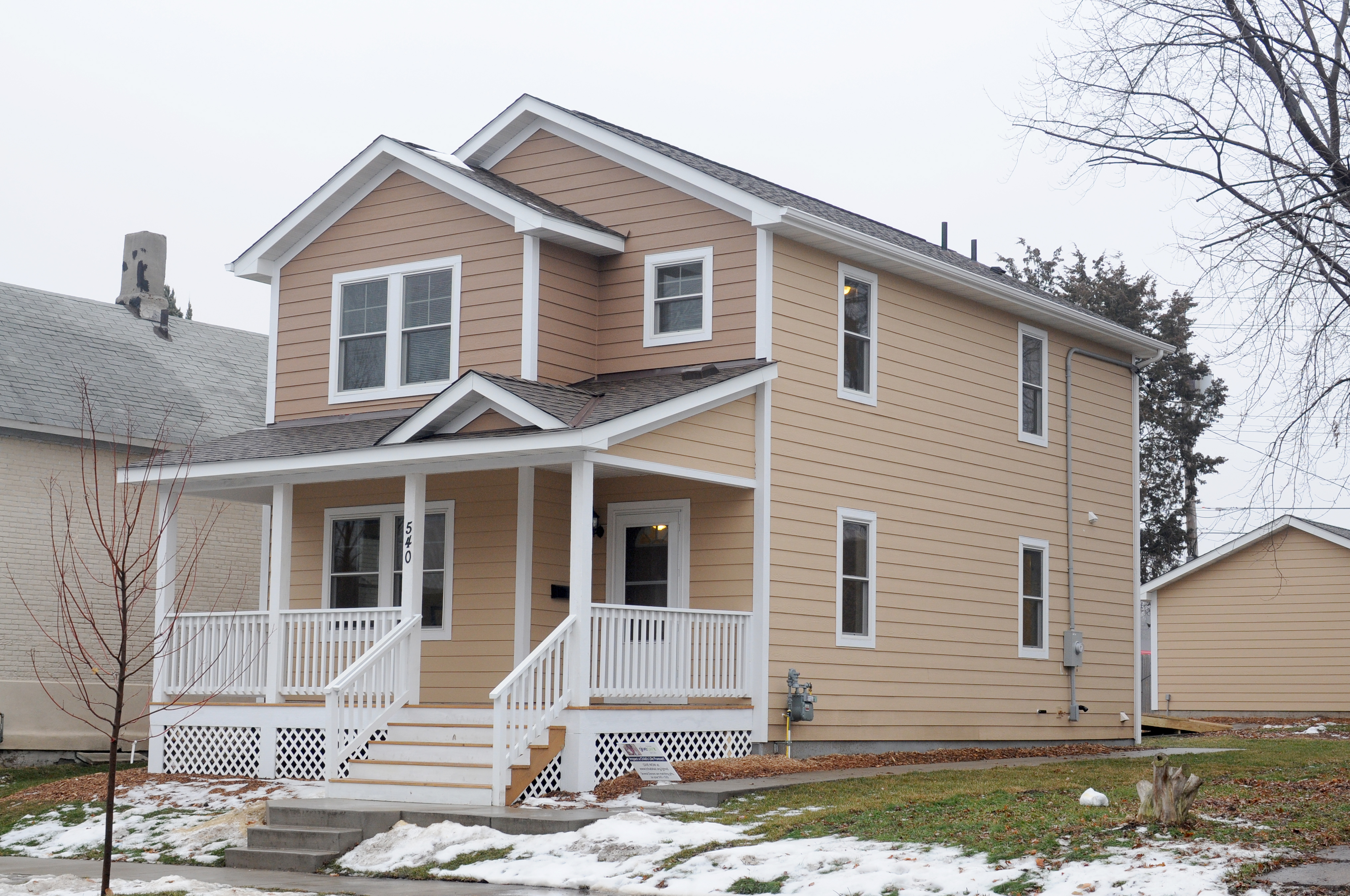 Judy McNamara, a Twin Cities Habitat board member and a VP at Ecolab, welcomed the family to their home and recounted her experiences with Habitat. "I learned a lot on Monday, but later that week I was teaching others," she shared, admitting that she—like most volunteers—came on site with minimal construction background. For Judy, a Habitat home means a safe and quiet place for the kids to do homework, giving them the best chance to succeed and get a great education. We were privileged to be joined by two additional board members, Nancy Merritt and Esther Tsai. Nancy presented the dedication litany and the framed golden rule which signifies the universality of the work we do. Esther offered a blessing upon the family and their new home.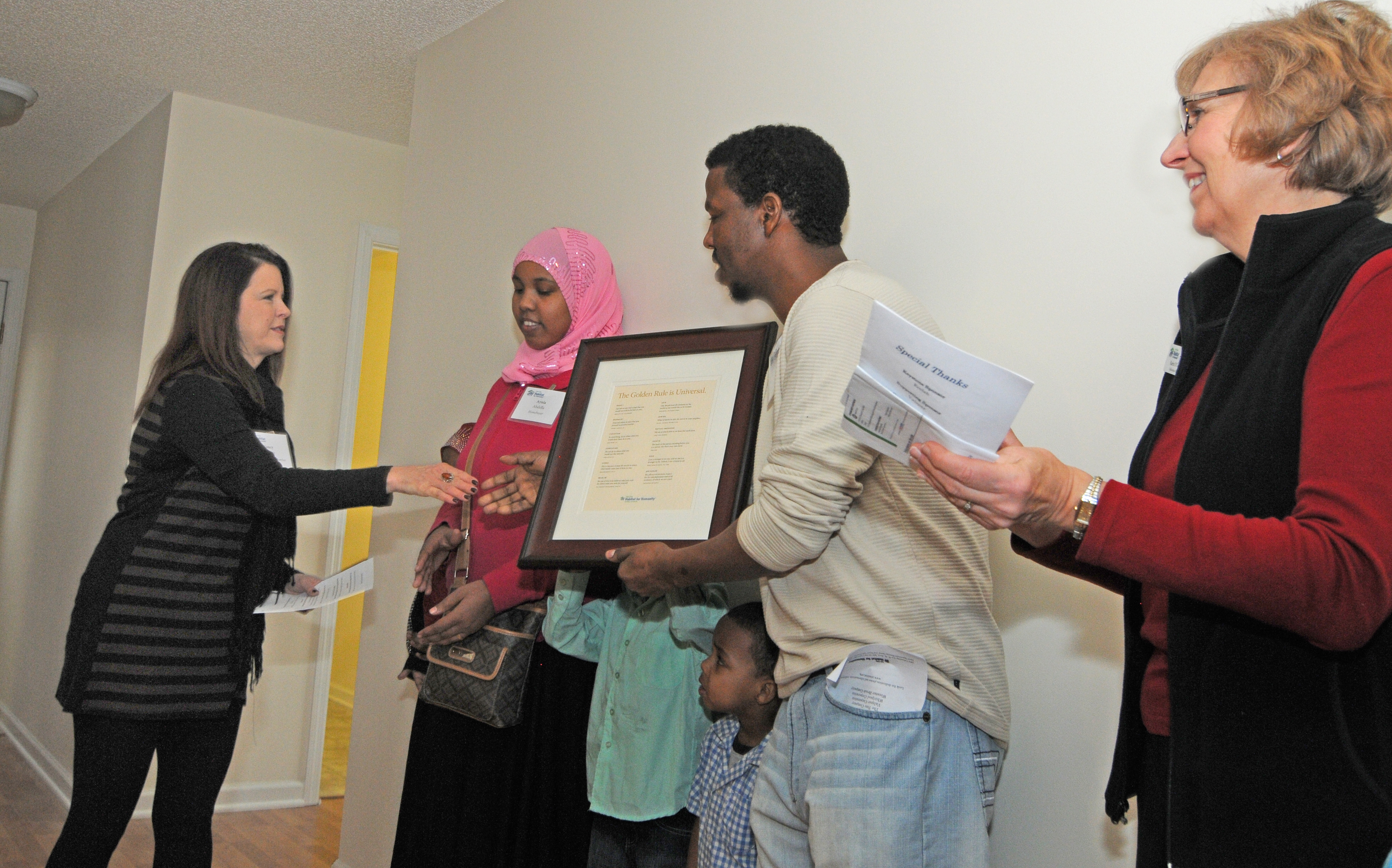 President & CEO of TCHFH, Sue Haigh, offered many thanks to Jowhar and Aynia for sharing their story, to neighbors for tolerating construction and welcoming this family to the community, and to the regular crews on whom Habitat relies greatly to execute detailed and complicated work. "My heart is full thinking about your children growing up on this block in this home and Habitat is blessed to have you as our partners."
Click here to see more photos from this home dedication.