Guest Blog by Stacy Gerondelis and Laura Duque,
AmeriCorps Service Members
Every year, the Twin Cities Habitat for Humanity's AmeriCorps cohort plans a trip with the goal of better understanding service by immersing themselves in another community.
This year, we headed for the warmer weather of Winston-Salem, North Carolina, where we spent a week volunteering at Forsyth County Habitat for Humanity. Here is a recap of our service trip experience!
Days 1-3
We spent the first day of our trip driving, stopping for lunch and dinner on the way from St. Paul, MN to St. Paul, IN. The drive to Indiana took about 14 hours and included stops in WI and KY.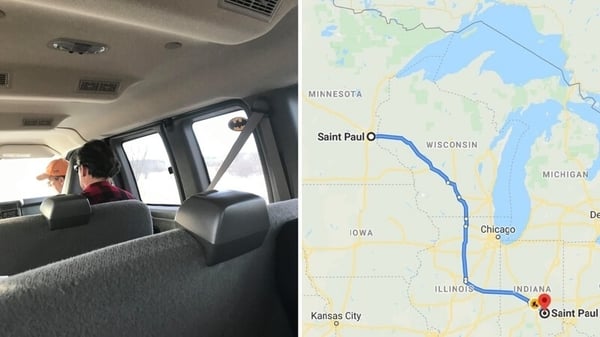 The drive from St. Paul, MN to St. Paul, IN
We arrived at the Flat Rock River YMCA Camp that evening. The next day, we enjoyed a lovely breakfast at the camp and were up and driving again, taking a quick break to see the Sky Bridge in Gatlinburg, TN.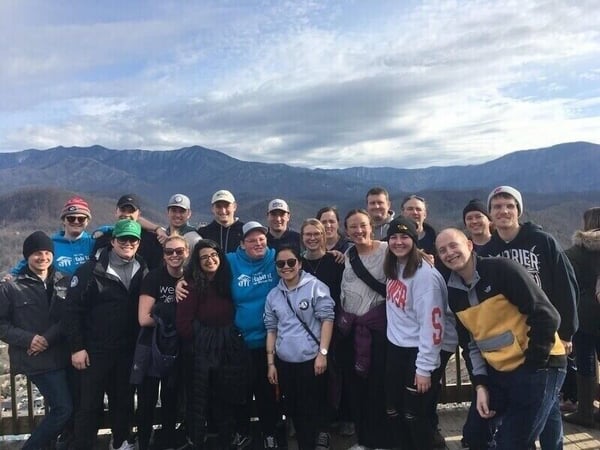 Group photo on the Sky Bridge in Gatlinburg, TN
That first night, we arrived at the Jimmy Johnson Volunteer Lodge, which was built by previous Forsyth County Habitat volunteers. It was a great place to stay! The lodge was very spacious, and its walls were decorated with hard hats signed by previous volunteer groups. We, of course, had to decorate our own hard hat.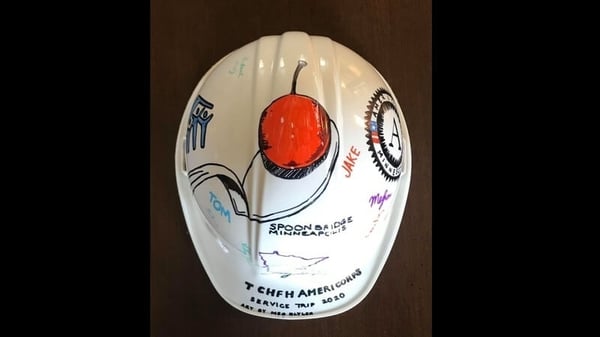 Hard hat art by AmeriCorps member Meg Blyler
Days 3-6
Our next four days were spent volunteering on site, where we worked on 3 homes.
On one home, we finished sheathing the roof, installed the shingles, put up windows and exterior doors. We also set up hurricane ties and backers. We picked up some regional construction terminology and had fun learning that "deadwood" is what we call "backers".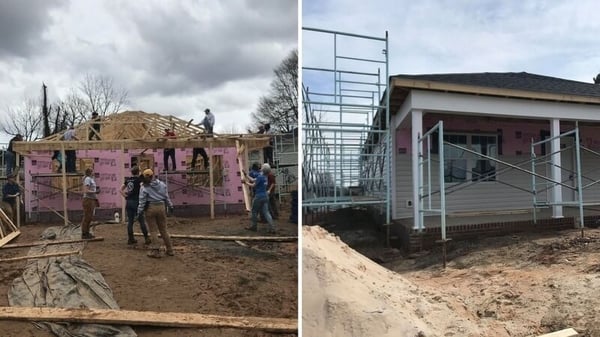 AmeriCorps members #gettingthingsdone in Winston-Salem, NC
On the second home, we set up scaffolding, installed most of the deadwood/backers, built some large beams for the porches, put up the roof trusses, sheathed the roof and covered it with felt paper, and installed hurricane ties.
On the third home, we worked on vinyl siding, which is something we don't get to do on our sites in the Twin Cities. We finished two sides and made good progress on the front & back sides. We also got the chance to meet some of the AmeriCorps there and learn about the work that their affiliate does.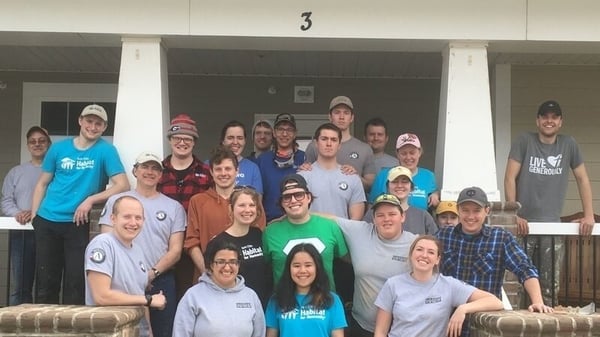 Group photo at the Jimmy Johnson Volunteer Lodge
Just like Twin Cities Habitat, Forsyth County Habitat is working to increase access to affordable homes and tackle the effects of systematic inequality in housing. We learned that they had been building homes since 1985. They build around 20 homes a year and rely heavily on collegiate build challenges, where college groups come and volunteer for a week.
However, the best part was getting to meet Callie, the HabiCat! See pictures below for cuteness overload.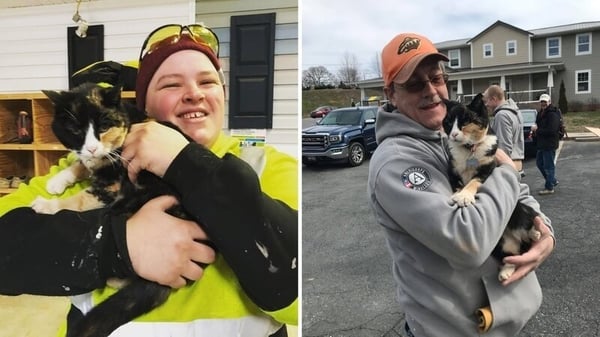 AmeriCorps members Shan Bolen (left) and Jim Bartholomew (right) holding Callie, the HabiCat
Days 7-9
On our final day of volunteering, we finished up a few tasks before grabbing a quick bite to eat and getting back on the road. We made it back to the YMCA camp and settled in so we could get up and spend a day in Indianapolis.
The next morning, we made our way into the city and had lunch together before splitting off to relax and enjoy the day.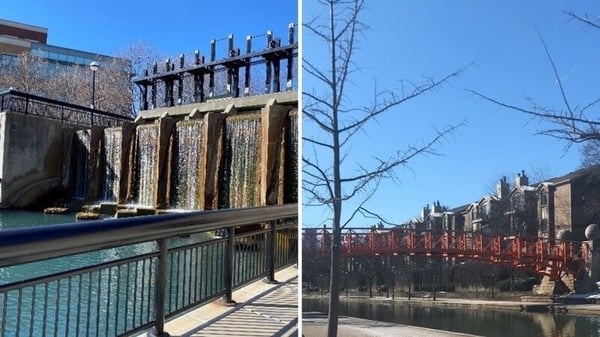 Sightseeing in Indianapolis
On our final day, we drove back to St. Paul, MN (arriving ahead of schedule!). Overall, we all enjoyed the opportunity to volunteer at an affiliate and spend more time with each other, coming back refreshed and ready to #getthingsdone here in the Twin Cities.