"Thinking about your boys in this light-filled house...it touches my heart," said Sharon Mason as volunteers, sponsors, supports & staff stood side-by-side with Twin Cities Habitat for Humanity's newest home-buying family. This home dedication was filled with light. The evening fall glow streamed through the windows on three sides of room and emanated from the people within the room.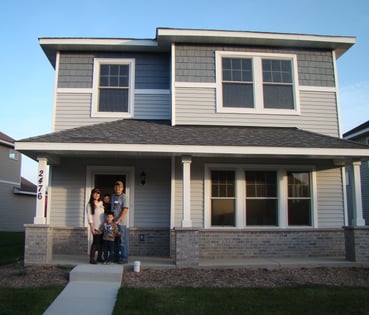 New home-buyers, Kathy & Nhia David's two young boys ran eagerly from room to room, showing off the house to visitors, while volunteers bustled around, just about as excited, pointing out the parts of the house they had helped with.
Adam Teske, Pastor at Shepherd of the Lake Lutheran Church lead the opening prayer. He spoke candidly about watching Kathy pound in her very first nail when they put siding up on the garage.
"The siding that looks really good, that was done by Kathy, the siding that doesn't look so good, that was done by me."
Adam asked for blessings to "pour love and support" into the home for the years ahead.
Kathy & Nhia David spoke of their experience learning about Habitat for Humanity's mission. "We don't know many of you personally but we are so grateful for you. We had a wonderful time getting to know (Habitat staff and volunteers) and the families you help."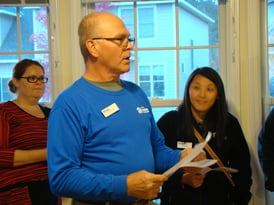 In addition to our incredible sponsors there was a constant presence of individual volunteers on this site.
"We had seven individual volunteers. They were here for seventy percent of the build and put in a total of seventy-nine days on site," David Michaelson, Site Supervisor shared.
David made special mention of TE Connectivity who put in a work-week early on in the build. "They did eight days of work in just five days!"
Chaska City Council Member Greg Boe encouraged the family to get involved. "Reach out, embrace and explore the community. Reach out to your neighbors. Be active on the school board. Get out and explore our parks. Welcome and congratulations on your home!"
Twin Cities Habitat's Stephanie Nelson thanked the community and faith-based groups that partner with Habitat, making our building program possible. "Thank you for your support of Habitat's mission."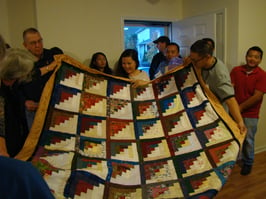 Speaking of her experience volunteering with Twin Cities Habitat for Humanity, Sharon Mason attributed physically building a home together as an investment in each other's futures. "We (volunteers) walk through the space and see the parts we did and feel a little bit of ownership of the place you and your family will live and thrive in."
Pastor Paul Nelson of Immanuel Lutheran Church of Eden Prairie felt the same.
"Standing in this room I have two thoughts. The first is 'when we all do better, we all do better.' The second is about all of the little things volunteer hands have done in this space. I am thinking about all the little prayers, well-wishes and good thoughts that were put into these walls for your family. When we work together, we really do build beautiful things."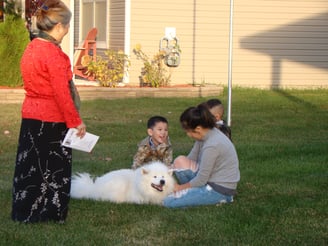 Thank you to all the sponsors and work crews that supported this project: All Saints Lutheran Church; Global Village; Immanuel Lutheran Church of Eden Prairie; Mary, Mother of the Church; Shepherd of the Lake Lutheran Church; TE Connectivity; UnitedHealth Group; Automotive Rentals, Inc.; and Two Harbors Investment Corporation.
We couldn't build safe, affordable places to live without all of you.
For more pictures from the dedication, click here.