We've mentioned our 3MGives Habitat Project before; they are a regular crew of philanthropic-minded 3M retirees seeking to give back to the community, and have been for the last 18 years. This group of experienced volunteers is invaluable to the work we do at Habitat. Having a dedicated (and incredibly knowledgeable) build group makes things easier on us and helps the houses they build go up faster. Their latest project has them working at the Garden Gate site in Woodbury.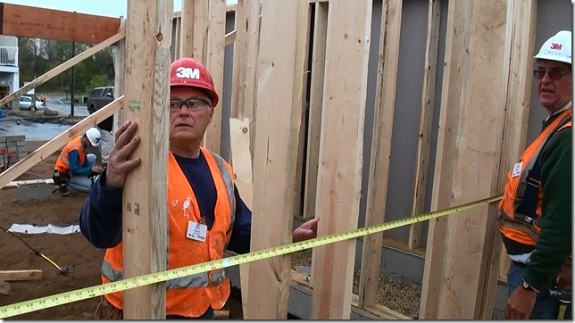 While we have many regular crews that work with Habitat, the 3MGives Habitat Project goes above and beyond just volunteering their time; they also raise a remarkable amount of money for Habitat to fund their own and other build sites. These financial contributions are vital to Habitat as we move forward; building costs and real estate prices are once again rising in the Twin Cities, and we want to continue to help as many people as possible.
One important source of these donations comes from 3M itself. To foster growth and a high quality of life in the areas around where they are located, 3M encourages its employees (both current and retired) to volunteer with non-profits and schools in their communities. It's a great way to help the community, but here's the real kicker: if an employee volunteers 20 or more hours in a calendar year, or a retiree volunteers 25 hours or more, 3M will also give that organization $250 to match the hours of volunteering!
A five-year member of the 3MGives crew, Dr. Ann Norberg calls this matching gift program "wonderful." Having worked at 3M for 19 years before retiring, she says that "3M gives generously to many organizations," but is glad that Habitat can be a main beneficiary because "Habitat programs are fantastic for people with families who need stable homes for their children to grow up in."
To date, 3M has given Twin Cities Habitat for Humanity over $230,000 in matching gifts, a truly incredible amount! In addition to matching volunteer time, 3M will also match donations made to colleges and universities as well.
But 3M is far from the only company that does this. Over 5,000 companies in the U.S. have similar programs which are a vital part of Habitat's funding so that we can continue our work. If you have volunteered or given a gift to us recently, you may already be eligible to have your employer match!
So while working away on site, just think of how that hard work could be doubled by your employer and, ultimately, the impact doubled for our homeowners.
Click below to find out more about the matching gift process and how you can double your impact today!