CertainTeed is headquartered in Valley Forge, Pennsylvania, but has strong Minnesotan ties with a large manufacturing plant in Shakopee. CertainTeed manufactures all types of building materials, including; roofing, siding, trim, sheathing, fences, and of course, several lines of shingles.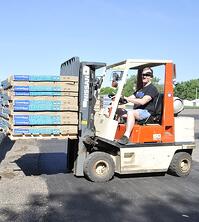 The company has supported Twin Cities Habitat for years. This summer, CertainTeed and Twin Cities Habitat's partnership celebrates a wonderful milestone; with this summer's shingle donation, the company has donated enough shingles for over 100 Habitat homes.
"The quality and quantity of shingles we've received over the years is incredibly generous. It's amazing to be able to serve so many families because of one partnership. Their impact has been great," said Pete Kennelly, Twin Cities Habitat Warehouse Manager.
"Having been here for over 40 years, CertainTeed is a proud member of the Twin Cities community and is pleased to be able to support such a wonderful organization as Twin Cities Habitat help families in our very own backyard," said Graham Foulkes, Plant Manager of CertainTeed's Shakopee facility.
We can't thank CertainTeed enough for their on-going partnership and generosity.