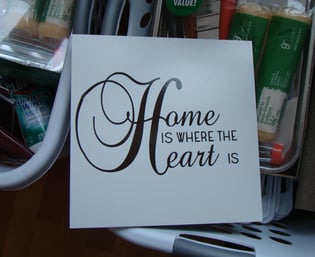 "There are a lot of events when you build a house," said Win Curtiss, Habitat Dedications Committee member, as he spoke to the families, community members, Habitat staff, volunteers, sponsors and neighboring Habitat homeowners at a recent home dedication. " There's the groundbreaking, the foundation, the first wall, the roof, the doors... here is one more, the work is done."
It was a bright Saturday morning on January 30, and everyone was gathered to celebrate the hard work of four families that will soon move into townhouses in a multi-unit building located in Cottage Grove. This is last of three big Habitat builds in the neighborhood.
Cottage Gove was chosen to host 12 Habitat families back in 2012, because of the safety of the area and its proximity to parks, schools and stores. Many of the Habitat homeowners that moved into the two finished multi-unit buildings came out to welcome the new additions.
Matt Timmers, a representative of the Church of St. Joseph, a Contributing Sponsor on this build, volunteered on all three buildings.
"I was lucky enough to work on all three Habitat builds here. I remember (before any building) when everything was just grass." He continued, "St. Joseph has worked with Habitat for around 20 years now. This is the greatest example I've found of sharing your talents & gifts with ones neighbors (as said in the Bible)."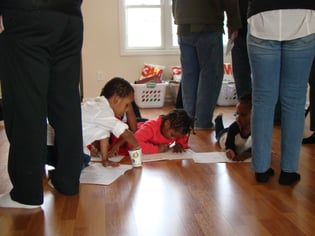 New homeowners Belaynesh, Sisay and Birtukan's children sat on the floor and colored while their parents thanked the volunteers that had worked on their homes. "Your hard work has made our futures bright. Thank you so much," Sisay said. Belaynesh shared that she will now be able to start saving for her daughters to go to college.
Their new neighbors Miftah and Tsige moved to the United States from Ethiopia in the early 2000s. Miftah spoke about being in the U.S. "I am so happy. This is a wonderful neighborhood and country and I am so excited to have the chance to buy a home here."
Kevin, whose new home served as the host site for the dedications, reflected on the importance of having space for himself and his young daughter:
"This is a huge blessing for us. My daughter is excited to have her own room and we look forward to hosting our family here."
The volunteer support on this project was so tremendous that Rhonda Thorson, the Habitat for Humanity Site Supervisor, couldn't believe the timeline.
"In one rare moment of quiet, I thought 'there must be something wrong'; we were moving too fast. But I saw that there were the right number of homes, and they had floors. I looked across the street and they looked similar so it must be alright."
She credited the regular volunteers crews and sponsoring groups like 3Mgives for the fast pace. "There was a lot of turn-over from the other builds."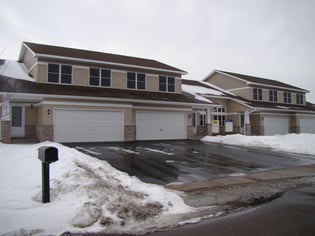 Rhonda gave one more shout-out: "My AmeriCorps Moriah is great. She does all the crazy jobs I give her without complaint."
Cathy Lawrence, VP of Resource Development and Community Engagement at Twin Cities Habitat, wrapped up the morning by sharing what makes home so special to her:
"I have been thinking about home a lot recently. I am selling the house that I raised my children in and it's sad, there are so many memories there. But at the same time, I am so excited for the young family that bought it. I know they will be able to create special memories there with their children, as I did with my own. I am excited for you (Belaynesh, Miftah, Tsige, Sisay, Birtukan, Kevin and your children), to make memories in these homes."
Thank you to Thrivent Financial, Wells Fargo Bank, 3Mgives and the countless other sponsors and volunteers that contributed their energy and support to these homes. We cannot do this work without all of you!
View more pictures from the dedication, or read the South Washington County Bulletin's article about the Cottage Grove dedications.