Twin Cities Habitat for Humanity has a core value of Equity and Inclusion which states: "We promote racial equity and strive to increase diversity, inclusion, and cultural competency in all aspects of our organization." We believe that it's important to learn from our national and local history of racist housing policies as we build for the future. This blog series explores the past, offers solutions for the future, and highlights ways that you can take action.
The Fair Housing Act passed in 1968 required communities to work at undoing systemic racism and segregation in housing. However, for decades political leaders delayed creating the policies and frameworks to measure and ensure progress was being made on this goal (read about that in part 1 of this post).
Finally, in 2015, thanks in part to a Supreme Court ruling, HUD (the Department of Housing and Urban Development, which oversees the Fair Housing Act) took decisive action. HUD said it would require any community that received grant funding to conduct a fair housing assessment and then create a plan to:
"Overcome historic patterns of segregation, achieve truly balanced and integrated living patterns, promote fair housing choice, and foster inclusive communities that are free from discrimination."
As part of this ruling, communities had to consider the idea of disparate impact in their housing plans. That means communities had to account for how a law or policy plays out in real life, not just how it was written.
How some communities combat housing inequalities
Some communities began creating plans to counteract their inequalities in housing. For example, Washington, D.C.'s plan included requiring 20% of new development to be affordable (up from 10%), additional funding for very-low-income renters, and the construction of affordable rentals for large families near high-performing schools.
Portland's plan included "Rebuilding communities impacted by past decisions." Portland, like many cities, has a long history of systemic racism in its housing policies.

The Twin Cities used an existing ad hoc group called the Fair Housing Implementation Council, which represented 13 local entities that received HUD funding, to create a housing plan. But in 2016, a legal complaint was filed against both Minneapolis and St. Paul by the Metropolitan Interfaith Council on Affordable Housing (MICAH) before the plan was finalized.
The complaint alleged the Twin Cities plan glossed over government failures and did not do enough to desegregate local housing. A big part of the complaint centered around spreading affordable housing more evenly throughout the Twin Cities metro region, rather than concentrating it in a few areas. A HUD-endorsed agreement between MICAH and Twin Cities leaders required the new plan must:
Address the distribution of affordable housing in the Twin Cities
Identify how low-income housing tax credits, zoning ordinances, and government activities and policies can address concentration of poverty or segregation
Show how future development will balance revitalization of low-income areas and adding affordable housing in high opportunity areas
Commit the local jurisdictions to taking actions to overcome impediments in the fair housing plan
It was a long time coming, and it was going to take work, but communities were going to be held accountable for truly living up to the intent of the Fair Housing Act.
The 2018 end to Affirmatively Furthering Fair Housing
Then in 2017, the Trump Administration suspended the new requirements from HUD. In January of 2018, HUD Secretary Ben Carson officially terminated it. He said:
"After reviewing thousands of comments on the proposed changes to the Affirmatively Furthering Fair Housing regulation, we found it to be unworkable and ultimately a waste of time for localities to comply with, too often resulting in funds being steered away from communities that need them most."
In July of 2020, HUD unveiled a replacement called Preserving Community and Neighborhood Choice. HUD says:
"With the new rule, a grantee's certification that it has affirmatively furthered fair housing would be deemed sufficient if it proposes to take any action above what is required by statute related to promoting any of the attributes of fair housing."
People who support the changes argue this gives local communities more freedom to decide what to do about their housing needs and shortcomings. People against the changes argue some communities will choose to do as little as possible.
HUD also announced new rules for how it would handle disparate impact. One of the new rules held that algorithm-based lending decisions could not be deemed racist. But studies show even when algorithms are used to set mortgage rates, African-American and Latinx borrowers still pay more than equally qualified White borrowers. (There are plenty of examples of algorithm bias.)
Without HUD or local communities collecting good data on fair housing, we must rely on researchers. A 2015 analysis found Black (27%) and Hispanic (19%) applicants were denied mortgages at much higher rates than White (11%) applicants, and when they did get loans they were more likely to receive high-cost mortgages.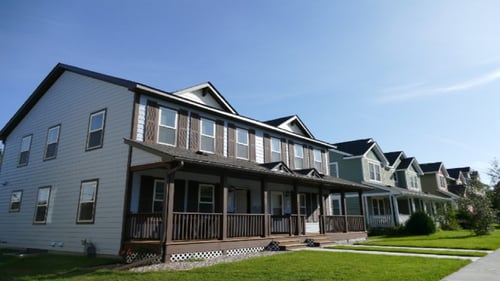 At Twin Cities Habitat, we know that current inequities in wealth, health, homeownership, and education don't exist in a vacuum. They were created by policies with disparate impacts – policies that benefited White Minnesotans and negatively impacted Minnesotans of color. Policy has power and must be created to foster equity.
Habitat for Humanity International's President and CEO, Jonathan Reckford points out each day we wait is another day lost:
"The Affirmatively Furthering Fair Housing rule, which Habitat for Humanity supports, would have begun to follow through on a half-century-old promise made by our government to cut down barriers to equal housing opportunities. The decision to eliminate the rule is a step in the wrong direction.

"Additionally, we are also disturbed and offended by the arguments used by some opponents of the fair housing rule, which appear to be a scare tactic designed to divide the country. Let's be clear: Building new, safe, decent and affordable homes does not threaten anyone's way of life. In fact, the evidence shows that mixed-income communities benefit all who live in them."
If you share our vision of an equitable Twin Cities region where all families have access to the transformational power of homeownership, please join Twin Cities Habitat as a volunteer, advocate, or financial contributor today.