Gratitude and happiness go hand-in-hand. That's a message you may hear a lot, and you may already be determined to bring it into your life. But how can you do that?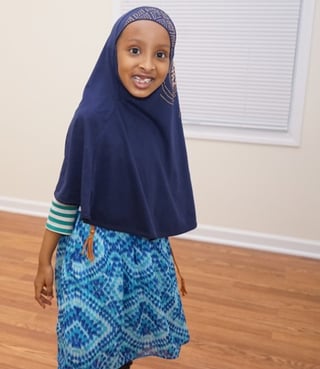 Giving of yourself is one of the best expressions of gratitude. It requires that you take an honest look at your life and ask "Do I have everything I need?"
If you can answer: "No, I have more than I need and I have enough to share," then you have taken a powerful step towards bringing more gratitude into your life.
One of humanity's most basic instincts is to hoard—to hold onto more than we need. Our ancient ancestors passed it down through thousands of generations, as humans literally spent their days accumulating enough food to survive. That's a lot of cognitive pre-conditioning to overcome.
Fortunately, the Twin Cities is blessed with a strong tradition of giving (Charity Navigator ranks us #6 for our philanthropic sector and census data shows Minnesota is the #2 state for volunteering). We're surrounded by good examples to follow. And dozens of those good examples were gathered together to help dedicate a new Habitat home in South Minneapolis on December 8.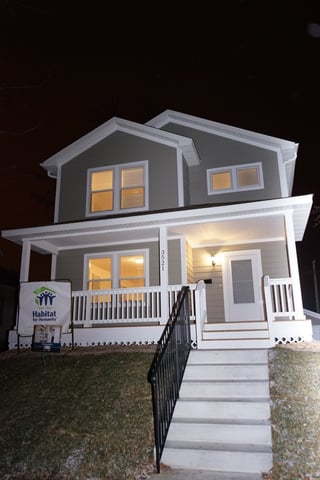 The home was purchased with an affordable mortgage by Ahmed and Ridwan. The outpouring of gratitude, from them and their children, towards all the people who had volunteered and made gifts of support, set the tone for the evening of celebration. Ahmed and Ridwan immigrated from Somalia almost twenty years ago, and are very thankful to now call Minnesota home.
Ridwan's mother greeted everyone at the dedication with repeated "Thank You's" and enthusiastic thumbs up. She offered a heartfelt "God bless America" to everyone there.
Dave, whose family partnered with Ahmed and Ridwan's family on making the home possible, spoke about how grateful he was to his parents who'd sacrificed so that he could have more opportunity in his life. He thanked Ahmed and Ridwan for putting in so much hard work, and sacrificing so their children could have greater opportunity. "Hard work, plus opportunity is the American Dream," Dave said.
It had taken more than two years of putting in sweat equity hours, completing homeowner trainings, and financial coaching before Ahmed and Ridwan were finally ready to close on their home. Ahmed spoke passionately about how it will open doors of opportunity for his entire family.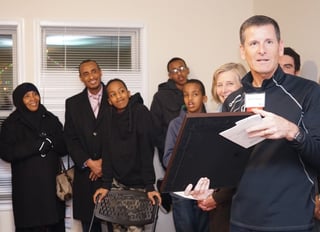 They've got seven children, but the oldest two couldn't attend the dedication because they are enrolled in evening courses at Inver Hills Community College (even though they're still in high school).
As the younger children colored, Craig, the Habitat Site Supervisor who oversaw construction on the home, spoke about how welcoming the neighborhood had been to the family. And after all the kind words (and a few tears), everyone enjoyed a delicious dinner provided by Ahmed and Ridwan.
It was the first of what will hopefully be many years of celebration dinners in the new home, and a final reminder of how giving and gratitude are infectious at Twin Cities Habitat.