Are you ready to create homes from the comfort of yours? Our (virtual) Hard Hat & Black Tie Gala is coming up on Saturday, May 2 at 7:30 p.m.!
You'll
enjoy virtual auctions, a fun program featuring T. Mychael Rambo, an after party with Grammy Award-winning musician Chubby Carrier, and more of your favorites.
If you haven't registered yet, do so now (it's free)!
This virtual event isn't our typical gala, so we've lined up some Frequently Asked Questions to help you have the best night ever.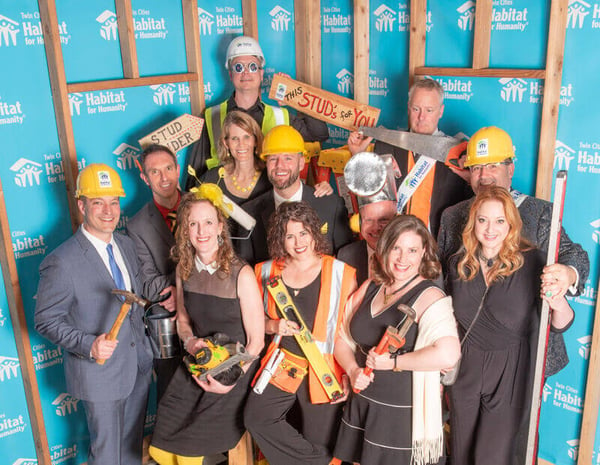 Frequently Asked Questions
How do I attend the event?
You'll be able to access the virtual event from our Hard Hat & Black Tie landing page starting on Thursday, April 30 at 9:00 a.m. The auction bidding and virtual program will be hosted through our partner, Auction Harmony. We will also share it with you through our Facebook event page and reminder emails.
When should I join the event?
Auction bidding opens on Thursday, April 30 at 9:00 a.m. central time. Browse the items and start placing bids on Thursday morning. Then, be sure to log in on Saturday, May 2 at 7:00 p.m. for registration and bidding and get settled for the program to start at 7:30 p.m. sharp. Simply go to our Hard Hat & Black Tie landing page and you'll be able to join the event from there.

Does it cost anything?
Nope, it's free! If you previously purchased a ticket, it has been turned into a 100% tax-deductible donation.
Who is this for?
Everyone! This family-friendly virtual party is great for ages 0-112.
What do my gifts go to?
Your gifts support our At Home Fund to protect homeowners and multiply Habitat homeownership opportunities during this COVID-19 crisis. Please give your most generous gift at the gala.
I can't tune in—how can I give now?
Thanks for asking! You can give online here.
How can I multiply my impact?
You can set up your own fundraising page in mere minutes and encourage your friends to give. It's super simple but will make a big difference for local families in need of a stable, affordable home right now. Go here and click "Fundraise."
When I tune in, will others be able to see me?
Nope. This is a one-way viewing experience.
I logged in to Auction Harmony and I can see the video, but when I click the buttons in the top menu it seems like nothing happens?
Just scroll down on the page. On some screens, especially smaller ones like iPads, you might not see the buttons below the video for Auction, Make a Donation, Checkout, and Learn More. Scroll down on the page and you should see them.
How do I complete my auction purchase and/or donation?
You'll be prompted to enter your credit card information when you bid on an auction item or make a donation. But you'll need to finalize your purchase(s) by clicking the "checkout" button after the auction closes (or whenever you're done if you're not bidding on anything). There, you'll see your total, including all auction items you won and your donation. Once you complete your purchase, you'll be emailed a receipt. If you pay by credit card, your card will be charged on Monday, May 4.
What if I want to pay for my donation and auction items with something other than a credit card?
No problem! You'll still have to enter a credit card to bid or donate, but when you get to Checkout, just select "I want to pay a different way." Then specify your payment request and we'll contact you to process the payment. You can pay by check, stock, or a gift vehicle like a donor-advised fund. You can also split your payment and pay for just your auction items with your credit card and your donation another way. Just add it in the notes section.
How will I receive my auction items?
Auction items will come with instructions for how to receive them. Basically, if it's a certificate, you'll receive it in the mail. If it's a larger item, there will be times for you to do curbside pickup from our headquarters in St. Paul. If you can't do curbside pickup, let us know and we'll figure out a solution. There are some items that cannot be shipped or delivered outside of the Twin Cities - these are noted in the auction descriptions.
Will this be as boring as my other virtual meetings?
No way! Our emcee, T. Mychael Rambo, will bring tons of energy to your screen. You hear fun songs, inspiring stories, and even a video conference with one of our amazing Habitat homeowners. The auction is packed with fun items, so bid high and bid often. Plus, you can get groovy at our live After Party with New Orleans music legend Chubby Carrier.
What's the hashtag?
Look at you being all social-media savvy! It is #HardHatGala. Please share your construction couture photos. This year you can even get your kids and pets in on the act!
What's construction couture?
It's all in the name: Hard Hat & Black Tie. You can wear that suit or that cocktail dress you might wear to some other gala—but then add in a hard hat and tool belt and voila, construction couture! Check out some of our favorite looks from past years.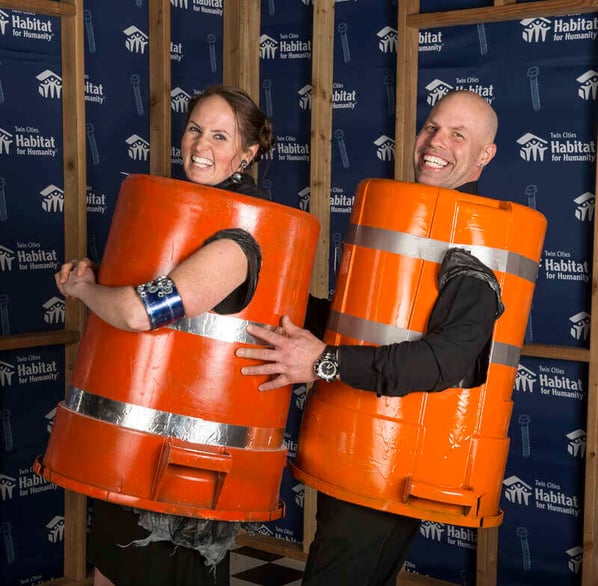 Can your "construction couture" top Site Supervisor Ashley Rose (left) and her husband?
If you have a question that wasn't answered, please ask in the comments below and we'll respond!
Special thanks to our Hard Hat & Black Tie Sponsors: