At Twin Cities Habitat, our staff is driven to make affordable homeownership a reality for all. Guiding us on that mission is our Habitat leadership team. They are the ones who help bring our mission to life and create effective ways to do so through their strategic planning efforts and leadership.
Robyn Bipes-Timm is no stranger to working with the leadership team. Since she first joined Habitat in 2016, Robyn has served as president of our nonprofit mortgage lending subsidiary TCHFH Lending Inc., a Community Development Financial Institution (CDFI). She has also led Habitat's Programs and Services, Human Resources, and Facilities as Chief Operating Officer. In addition, she will now be leading Habitat's strategic priorities and initiatives in her new role as Chief Strategy Officer.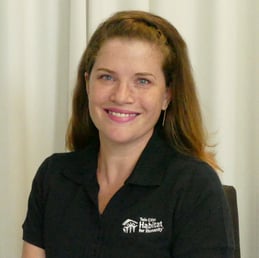 Prior to working at Habitat, Robyn had been working in affordable housing for 10 years. She was the Director of Programs & Lending at the
Greater Minnesota Housing Fund
(GMHF), where she led statewide rental and homeownership programs. One of her priorities was to stabilize and preserve federally funded affordable rental housing in rural parts of the state.
Robyn's experience at GMHF grounded her for her work at Twin Cities Habitat. When she first joined Habitat, she led our plan to double the number of families we serve by changing Habitat's approach to financing homeownership.
"I was brought in to see how we might approach homeownership differently by partnering with banks to help fund the mortgages for our families and to expand our homeownership program to the open market," Robyn shared.
Robyn led Habitat's new approach to homeownership, establishing a major $90+ million partnership with Bremer Bank which continues today. This new approach also involved expanding Habitat's affordable mortgage financing to the open market, where Habitat homebuyers working with a Realtor use Habitat's affordable mortgage financing to buy their first home anywhere in the Twin Cities metro. This expands what Habitat does beyond building and rehabbing homes with volunteers. Robyn also created Habitat's own subsidiary, TCHFH Lending Inc., and helped it become a certified CDFI.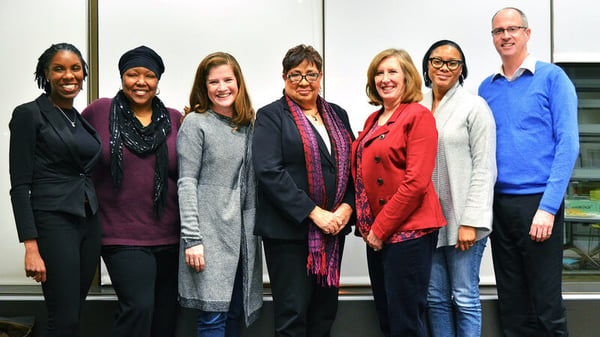 Our CDFI Advisory Council, pictured above, provides program and policy feedback to identify opportunities and community impact for Habitat's homeownership program and mortgage lending.
These efforts have allowed Twin Cities Habitat to meet our goal of partnering with 100+ first-time homebuyers this fiscal year, just as we did during the 2018-2019 fiscal year. It's something that Robyn is excited Habitat will continue to do in the coming years.
In doing so, Habitat can continue to work with families that would not have access to affordable housing without Habitat or who have faced systemic barriers to homeownership. Habitat has a long history of making homeownership possible, especially for households of color who represent 80% of Habitat's homebuyers. Within that success, Habitat is focusing on how to partner with and support foundational Black American homebuyers who have disproportionately and historically been subject to housing discrimination and racist housing policies.
"We want to be an access point and partner for foundational Black families, as well as immigrant families and others who may not typically trust normal banking systems or have been able to access homeownership that way," Robyn said.
In her new role as Chief Strategy Officer, Robyn is continuing this work by establishing external partnerships that can increase the scale of homeownership opportunities Habitat provides each year. She leads a new strategy team made up of Habitat staff from across different departments. The Strategy Team acts like an internal consulting group across the organization. The team focuses on making data-informed decisions and evaluations to help move strategic projects forward. It's helping Habitat teams figure out how to do their work in the best way possible.
"What excites me most about this role is the opportunity to work with other departments, help them move great ideas and strategies forward, and to broker important external relationships that can make a meaningful impact for how many families we can partner with each year."
Needless to say, we are lucky to have Robyn as our Chief Strategy Officer and appreciate her work at Habitat.