After George Floyd was killed by Minneapolis police on May 25, protests against racism and police brutality swept the country. The Black Lives Matter movement is being called the largest protest movement in U.S. history—tens of millions have participated in demonstrations this year, and protests continue to this day. But while the need for change is clear, many are asking: what now? What's the path forward?
The good news is today's movement for Black Lives is built on decades – centuries – of activists fighting for a more just world. From ending slavery to resisting Jim Crow laws to expanding the right to vote to demanding police accountability, each generation of activists brings us a few steps closer to racial equity. Then they pass the baton to the next generation.
Accepting the baton from her grandmother, Dr. Josie Johnson, is one of today's leaders in the fight for racial justice: Josie Duffy Rice.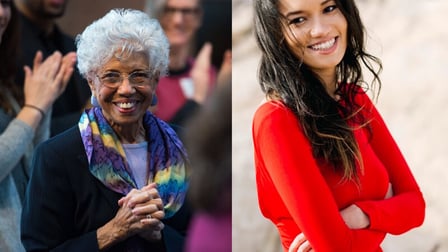 Dr. Josie Johnson (left) and her granddaughter Josie Duffy Rice (right).
You'll have a unique opportunity to see a conversation with Dr. Josie Johnson and Josie Duffy Rice at our Virtual Women of Habitat Hope Builders Luncheon on Thursday, October 22. Sign up here to save your place! They will be joined by moderator Sharon Sayles Belton, the first Black person and first woman elected Mayor of Minneapolis. These three inspiring, wise women will discuss the intersection of housing, racial equity, and criminal justice. You won't want to miss it.
Generations of Josies
As a lawyer and journalist, Josie Duffy Rice illuminates issues in the criminal justice system and helps us envision how we could transform public safety so it works for everyone. But before we dive into her current work, let's take a step back and look at the generations who came before her and formed her. Specifically, the generations of Josies.
You maybe wondered if Josie Duffy Rice was named after her grandmother, Dr. Josie Johnson, who has been a civil rights leader in Minnesota for seven decades. But it goes back even farther than that.
Josie gave birth to her second child in September, a daughter who she named Josie Araminta. Here's a bit of what she shared online about why she named her daughter Josie:
We share a name—I'm the 5th Josie in my family, she's the 6th—but she is not named after me. She is named, as I am, for Josies 1-4, two passed and two living, women from whom I'm lucky to be descended. The first Josie was born in 1890. She lived in Texas, the child of a slave. After her came 4 other women, one a generation. These women, by virtue of our shared name, have always guided me.

She is especially named for one of those Josies: my grandmother, Josie 3, who turns 90 next month. I admire so much about her—her brilliance, her wisdom, her strength, her kindness. But mostly I admire her persistence. My grandmother was born in Jim Crow Texas, during the Great Depression. At 15 she went door to door, trying to get people to sign a petition against the poll tax. In the years since, up to this very minute, she has never stopped fighting.

I wavered on naming her Josie. I always had complicated feelings about having a family name when I was growing up. I never felt quite like my name was mine. But I learned a lesson I hope she'll learn too—that it is our obligation to confront our history as much as our future, that we are shaped by the trauma and triumphs and struggles and joy of those who came before us, and that carving our own path requires understanding where we came from. All those years I was right. My name is not just mine. That's been much more of a blessing than a burden.
Josie's Criminal Justice Work
Just like her grandmother and other generations before her, Josie Duffy Rice took the baton of racial justice work and ran with it. In recent years she's established herself as a leading expert in criminal justice reform and other related issues.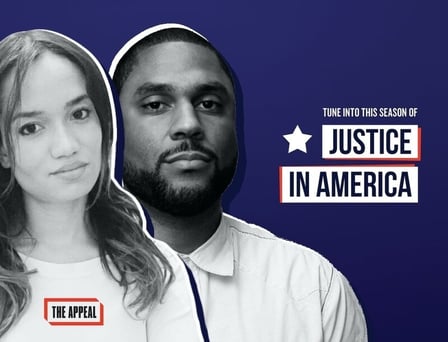 Josie Duffy Rice hosts the Justice in America podcast with a series of co-hosts. Each episode explores a criminal justice issue with experts and advocates.
Josie earned an undergraduate degree in political science from Columbia University and a law degree from Harvard Law School. Like her grandmother who went door-to-door collecting signatures to oppose a poll tax, Josie worked on voting rights and criminal justice policy as a staff attorney at the Center for Popular Democracy. But she's mostly been focused on criminal justice reform, working for other reform organizations like The Bronx Defenders, Advancement Project, and the Justice Collaborative.
When Josie joined the Daily Kos as a staff writer in 2015, she was one of the first nationwide journalists focused primarily on prosecutors, prisons, and other criminal justice issues. Today, she's President of The Appeal, which "produces original journalism on how policy, politics, and the legal system impact America's most vulnerable people." She's also cohost of the podcast Justice in America. Josie's work has been featured in The New York Times, Vanity Fair, The New Yorker, The Atlantic, Slate, and others. (I'd like to add that she's also a brilliant essayist!)
In the wake of the uprisings for racial justice sparked by the killing of George Floyd, Josie has become a sought-after speaker and news show guest on topics like police defunding and abolition, and envisioning how public safety can work for everyone. Her recent piece in Vanity Fair about the abolition movement covers the history and present-day state of policing in America, and explores how public safety could be reconfigured to meet the needs of everyone in society. A key component of better public safety for all is more access to stable, affordable housing—a connection Josie Duffy Rice and Dr. Josie Johnson will explore together at the luncheon.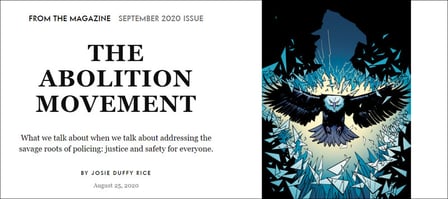 Josie Duffy Rice contributed "The Abolition Movement" to the September 2020 issue of Vanity Fair, which was guest-edited by Ta-Nehisi Coates.
We're so excited to have Josie Duffy Rice in conversation with Dr. Josie Johnson and Sharon Sayles Belton at the Virtual Women of Habitat Luncheon at noon on October 22! We hope you'll join us for what's sure to be a captivating, illuminating, and inspiring conversation among these three phenomenal women. It's free to sign up—learn more and register here.