For centuries, people of color in the United States have been intentionally and systematically blocked from accessing our country's primary wealth-building tool—homeownership. There are countless laws and systems designed to maintain racial segregation and inequity, such as:
And many, many more. But all along the way, every system designed to uphold white supremacy was met with resistance from civil rights activists and leaders. One of those leaders is Dr. Josie Johnson.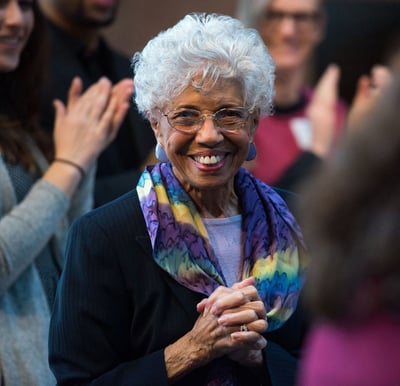 You have a unique opportunity to hear directly from Josie Johnson at our Virtual Women of Habitat Hope Builders Luncheon on Thursday, October 22. Sign up here to see an engaging conversation between Josie Johnson, her granddaughter and activist Josie Duffy Rice, and former Minneapolis Mayor Sharon Sayles Belton. These three inspiring, wise women will discuss the intersection of housing, racial equity, and criminal justice. You won't want to miss it.
Today's blog focuses on Dr. Johnson's background; look for other blogs soon about Josie Duffy Rice and Sharon Sayles Belton.
Happy Birthday Josie!
Before I dive in, let me say this—today, October 7, is Josie Johnson's birthday! She's been fighting for civil rights for more than seven decades and, as she turns 90 years young, she isn't done yet. When I talked with Josie recently, she said "I keep on keeping on, as my father would say… I worry about my grands and great-grands."
But it's not worry that motivates Josie; it's hope.
"Our ancestors did it. Our slave ancestors believed that things would get better. We just have to keep hoping."
Hope has fueled Josie's fire for 90 years and, even during the challenges we face in 2020, she maintains hope that things will get better.
As we celebrate this milestone birthday with Josie, let's allow hope to be our guide and our fuel. If you're craving hope and inspiration, join the Hope Builders Luncheon on October 22.
Josie Johnson and Minnesota's Fair Housing Bill
Josie Johnson must have countless stories to share and wisdom we would be lucky to learn from. I'm sure she'll share some at our luncheon on October 22. But there's one story I've read that I can't get out of my head.
It was 1961. Josie had relocated to Minnesota five years earlier after growing up in Texas and graduating from Fisk University in Tennessee. She had quickly learned that the North had its own brand of racism, different from the South's, but similarly harmful.
The North's version of Jim Crow came in many forms, including codified housing discrimination and segregation (for more on that, watch TPT's Jim Crow of the North and read our Race and Housing series). Josie Johnson was lobbying to change that. She was a leader among a broad, grassroots coalition of advocates pushing for a fair housing bill at the state legislature. Fair housing was a contentious issue that had failed in multiple previous legislative sessions and Josie worried it might fail again in the Senate Judiciary Committee.
But Josie Johnson doesn't stop at worrying; she hopes and she acts.
So in April 1961, Josie went to the State Capitol to meet with the newly elected Governor Elmer Andersen. The Governor had been a supporter of civil rights efforts in the past and had endorsed fair housing in his inaugural address a few months earlier. Josie told the Governor the bill was in trouble; she asked for his help to get it out of committee and to the Senate floor for a vote.
In that moment with Josie still in his office, Governor Andersen pulled out stationary and penned personal notes to every member of the Senate Judiciary Committee urging them to bring the bill to the full Senate for a vote. The next day, the bill was voted out of committee. A week later, after procedural challenges and controversy, the Senate passed the bill. Finally, after years of community organizing and applying pressure to elected leaders, Josie made the dream of a fair housing bill for Minnesota come true.
Josie's conversation with Governor Andersen that spring morning turned the fate of Minnesota's fair housing bill, which became the first of its kind nationwide. When Walter Mondale penned the federal Fair Housing Act seven years later, Minnesota's bill was undoubtedly a reference point and inspiration. (Mondale and Johnson worked together throughout their careers. Here's a great interview with the pair.)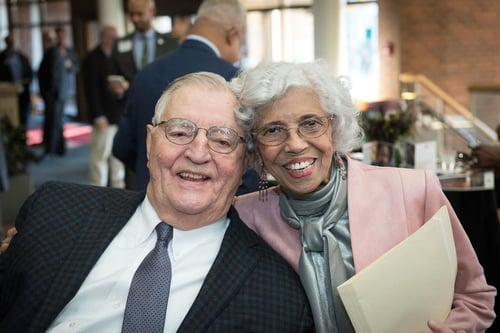 Vice President Walter Mondale and Dr. Josie Johnson worked together on many civil rights issues throughout their careers. Photo via University of Minnesota's Humphrey School of Public Affairs, 2018.
Think about Josie Johnson's relentless hope. She was a Black woman in her early thirties living in a state that was almost 99% White at the time. Racism was deeply embedded in every system and policy around her.
But Josie believed in a better future. She hoped and she acted.
More about Josie Johnson
If Josie Johnson had stopped after that successful lobbying effort in 1961, she should be considered a hero and icon of civil rights in Minnesota. But of course, that's just one of many, many stories about Josie's work over her lifetime that left a mark on our community and country. I'll do my best to highlight some of her accomplishments here and you can learn a whole lot more in her memoir, Hope in the Struggle.
Josie first got engaged in civil rights activism as a teenager. She recalls working with her father at 14 years old to gather signatures on a petition opposing the poll tax in her home state of Texas. Both her parents were active in the community and inspired her lifelong value of education.
After graduating from Fisk University with a B.A. in Sociology, Josie and her husband moved to Minnesota. She soon joined the League of Women Voters and the Board of the Minneapolis NAACP and began her work as a community organizer for the Minneapolis Urban League—all while raising three daughters.
In 1963, Josie marched on Washington and heard Martin Luther King Jr.'s iconic "I Have a Dream" speech. The following year, she joined Wednesdays in Mississippi, a movement of Northern women who supported Southern civil rights activists and Black families facing animus and violence. It was dangerous work—a Mississippi school that Josie visited was bombed later that same day.
In 1967 and 1968, Josie served as acting director for the Minneapolis Urban League and began to turn her attention toward education. In the late 1960s and early 70s, Josie was involved in creating the African American Studies department at the University of Minnesota and served as one of its first faculty members. In 1971, she became the first African American to serve on the University's Board of Regents.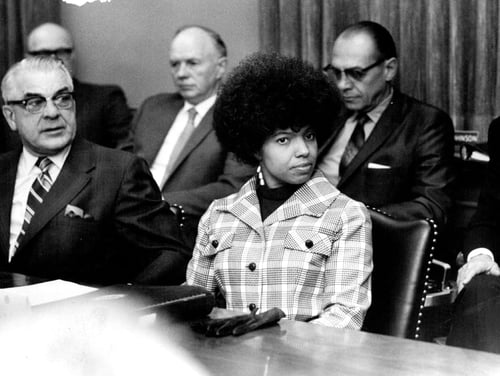 In 1971, Josie Johnson, center, was the first Black woman appointed to serve on the University of Minnesota's Board of Regents. Photo credit: Donald Black, Minneapolis Star Tribune 1971
Josie went on to serve multiple political campaigns and public officials, including as campaign manager for George Brown, the first African American lieutenant governor of Colorado. She also worked on Jimmy Carter's 1980 Presidential campaign as deputy campaign manager in Tennessee and Kentucky.
After earning her M.A. and Ed.D. at the University of Massachusetts, Amherst, Josie (now Dr. Johnson), returned to the University of Minnesota. She served as faculty in the College of Education and a senior fellow at the Hubert H. Humphrey Institute of Public Affairs and later helped create the Office of the Associate Vice-President for Academic Affairs. She went on to serve four years in this position.
Josie retired from the University in 1996, but, as you might guess, her work didn't stop. She continues to serve our community and fight for racial equity and justice.
Learn more about Josie Johnson at our virtual Women of Habitat Hope Builders Luncheon on Thursday, October 22. It's free to sign up. Learn more and register here.
Sources and additional reading