"It shouldn't take a crisis to show how important housing is."
-Juanita, Habitat homeowner since 1995
In 1995, Juanita, Jacques, and their family moved out of a cramped fourplex and into their Habitat home. It's one of thousands of homes across the Twin Cities built or preserved thanks to your support.
For 25 years, that home has been a safe harbor for the family. Today, it's where they're weathering the health and economic crises brought by COVID-19.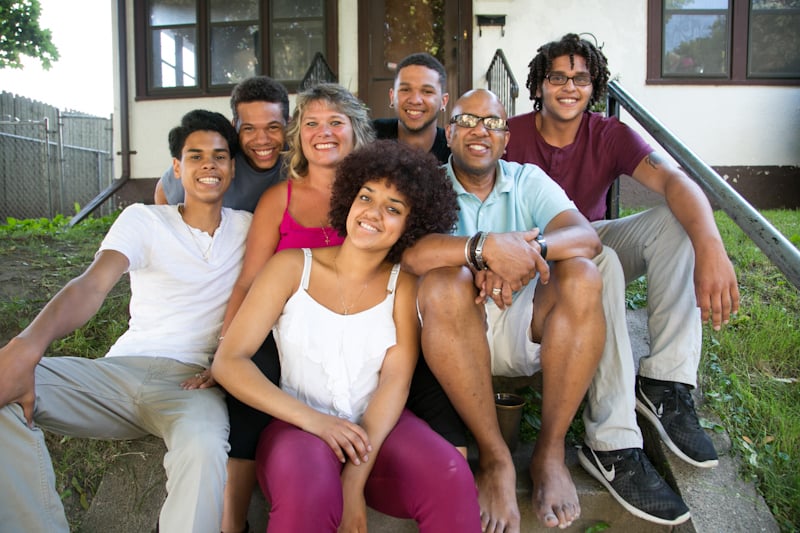 Juanita and her family in 2016.
In the early 2000s, Juanita went back to school to earn her bachelor's degree. Now she's working as an Administrative Assistant for the Center for Pediatric Obesity Medicine at the University of Minnesota. Her oldest son also works in research at the U of M. They're both able to continue their important work remotely. Juanita's very grateful for a stable, safe home where she can set up her home office.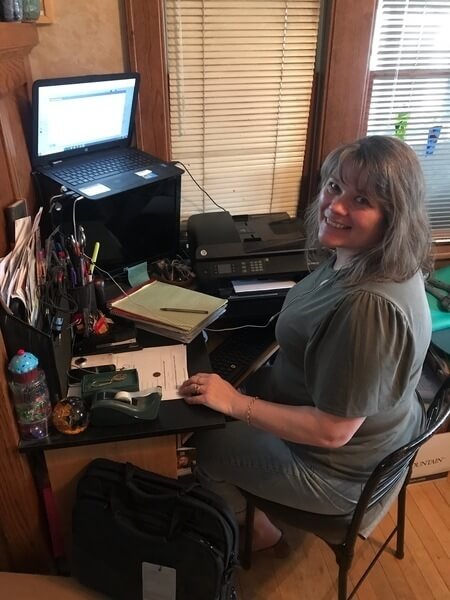 Juanita's home office setup during COVID-19.
But others in her family are unable to work from home.
"Our family has two 'essential workers' who work in healthcare," Juanita shares. Her husband, Jacques, works at the Minnesota Veteran's Home. Since the Veteran's Home isn't allowing visitors, healthcare workers like Jacques provide the only in-person comfort for patients going through a tough time—on top of their essential duties.
Juanita's youngest son works at North Memorial Hospital in Environmental Services, and he's busier than ever.
"Everyone is healthy at this time. Between my son and my husband, I'm always praying for them."
That's two frontline healthcare workers under one Habitat roof. Juanita's glad they have a stable home where they can find much-needed rest and respite when they're off the clock.
But it's not only healthcare workers on the front lines. One of Juanita's sons works at SuperValu. He normally works the night shift and now he's adding tons of overtime. And social distancing presents new problems. His home used to be quiet during the daytime for needed sleep. But with his roommates working from home, and a little child now present, it's harder to get good rest.
Juanita's daughter lives in Chicago and is suddenly dealing with an upended job search due to COVID-19.
Despite all the unknowns, one thing is certain: they have a safe, stable home. It's a big relief.
"My home is open to anyone in my family who needs a place. It's always here."
If her daughter needs to move back for a while, or her son needs a quiet room to sleep during the day, Juanita's Habitat home is there for them.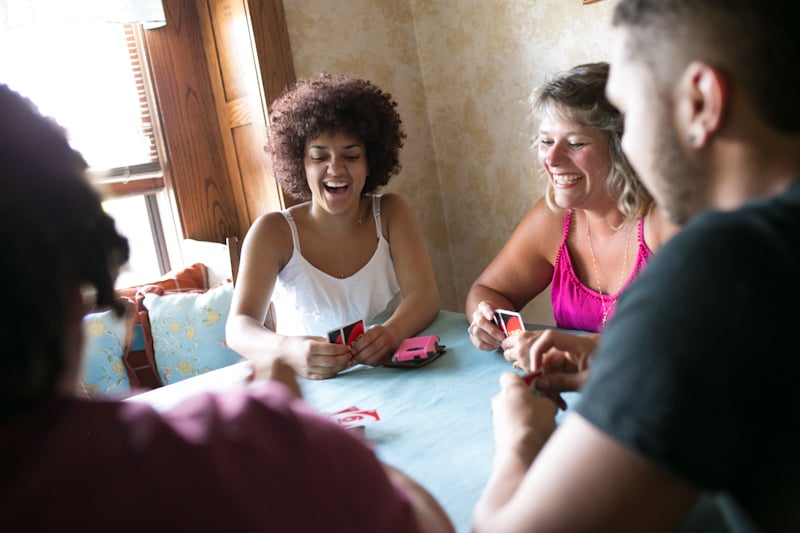 Juanita's family playing cards at home in 2016.
"That comfort, that security, that reliability, knowing that this is still home no matter what—it's huge. It's a safe place. We have our roof over our head, we're safe from the elements, we have food in the refrigerator, we can still do things to help others."
Like you, Juanita believes in supporting her community and paying it forward. She urges you and the rest of our community to help more families experience what she has—the firm foundation of a stable, affordable home.
"It shouldn't take a crisis to show how important an affordable home is for the ability of a family to grow and thrive. The necessity is greater now than ever. We need to make our voices that much louder for affordable housing."