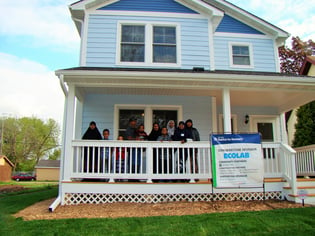 Last week, Twin Cities Habitat sponsors, supporters, neighbors, and staff gathered with three families to celebrate the completion of the work on their homes. Though it was a rainy week, as guests and family members arrived, the sun shone brightly through the clouds.
There was excitement in the air as the younger children ran happily through the house opening closets and planning where they would watch movies. Volunteers and neighbors walked around remembering what the house had looked like in various stages of the build. There was an incredible amount of volunteer support on these three new homes.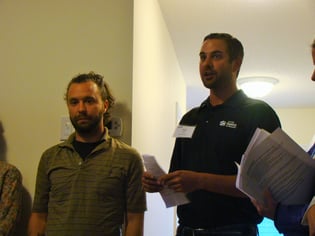 Zack Zoul is a Habitat's Site Supervisor who oversees each home build and organizes the volunteers on site. He recalled the regular crews that came out to build frequently on the St. Paul homes. "I am grateful for the 3M Gives, St. Andrew's, and St. Paul Regular Crews. They are fun to be around and seem to always have a lot of fun on site. The determination from these groups to see each home build through to the end is inspiring."
One of the homes celebrated that evening was sponsored by Ecolab. Twin Cities Habitat has been partnering with Ecolab since 2002, and this is the 14th Habitat home they have built. Work will begin on their 15th home this August.
Zack also spoke about working with the homebuyers on their homes. He said of Musa, "we were putting the roof together. He had never hammered before and I didn't think he would want to be up that high, but Musa immediately volunteered to climb up to the roof and hammer. That moment of courage really won me over. Musa, I am so proud to have you connected to this home."
Twin Cities Habitat's Chief Operating Officer, Mary Schumacher, also recognized the families, thanking them for investing in their futures. "All of the parents in this room are amazing. It is not easy to build your home while taking care of and providing for your families. All of your journeys are different but each of them led you here. It is amazing what you have done for your families."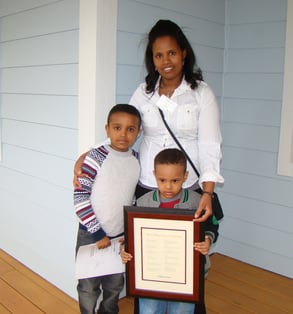 Each homebuyer spoke, sharing how much this home means to their families. Trhas said "this is a dream for my family." "We will proudly call the house our own for many years to come," said Nakita.
Musa shared the joy this home brought to his family:
"With a large family, my children will now have the opportunity to have their own space. They will be able to make lasting memories here, and for that we are forever grateful. The Habitat for Humanity organization has given our family a new start in life. We will always remember the hard work, time, and dedication that was given by so many wonderful volunteers and staff members, and we will think of them often as our family grows into our new space. We promise to take care of this house and enjoy it for many, many, many years to come!"
Special thank you to Avionte, Church of St. Genevieve, H.B. Fuller, and St. Timothy Lutheran- St. Christopher's Episcopal Coalition for their tremendous contributions.