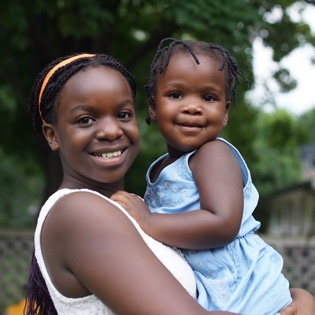 "We're home!" 10-year-old Nadine and her 3-year-old sister Nama shout as they pull up to their Habitat home in Brooklyn Park. Their mother, Rosemary, smiles at the girls' excitement – even after several months in the home. Their journey to homeownership covered 8,600 miles and almost five years – so the joy is understandable.
Rosemary, her husband Wycliffe, and their daughters are celebrating their first Christmas since buying their home in July. "In August, Nadine started digging out the Christmas decorations," Rosemary said. "They want to make sure we are ready for Santa to come down the chimney."
The family left their native Kenya to give their young daughter a better life. When they arrived in Minnesota they first lived with relatives, sharing a one-bedroom apartment. Soon they found jobs and a small place of their own. Wycliffe remembers it as shabby and almost uninhabitable. They dedicated themselves to saving money and building connections to their new community.
After a friend told them about Habitat they applied to buy a home. But so many families apply that it took a year to get a home interview. It took most of another year to finally be matched to a home. And that's when the real work began.
They started their sweat equity hours. "I learned to become a painter," Rosemary said. "My first day I painted a whole room." They completed 23 hours of homeowner training classes, which they say "prepared us for all of the challenges of being homeowners."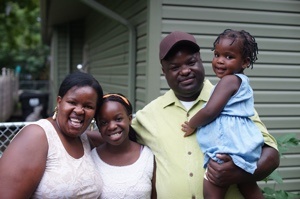 Ironically, as Rosemary and Wycliffe worked to improve their living situation in their shabby apartment, their income rose and bumped up against the top of Habitat's eligibility guidelines. Fortunately, they still qualified for a new pilot financing program made possible by a $1 million program-related investment from the Otto Bremer Foundation. In this program, qualified Habitat families can buy a home with an affordable, interest-bearing mortgage through the Minnesota Housing Finance Agency.
"We're delighted to support this expansion of the Habitat model, knowing that many families struggle to find affordable homes. We've been impressed with the success record of Twin Cities Habitat and are excited to see how this new program develops, " said Brian Lipschultz, Co-CEO and Trustee at Otto Bremer Foundation.
"It's a dream for all of us to have a home of our own on Christmas," Wycliffe said. He gets serious for a moment. "I really want to thank all the volunteers and the staff at Habitat, and all the sponsors. They all worked so hard to make this possible. The stability we always wanted is now a reality. The girls have room to play and room to grow. They have friends over for sleepovers. . . . It's all wonderful."
Rosemary flashes one more smile. "We're settling in and getting to know our neighbors and our community. There are no words to describe what having that stability, that place to call your own, means."
Judging by the smiles on the faces of Nadine and Nama, it will be a very joyful Christmas, and an even brighter New Year.