When Angel and Patrick's kids open presents in their Twin Cities Habitat for Humanity home this Christmas it will be a dream made true through two years of hard work. Back in December 2012, when the family came to Twin Cities Habitat, they were spending more than half their income on rent each month. They were just scraping by and knew something had to change in order for them to give their four daughters the future they wanted to.
Their journey to buying a rehabbed Habitat for Humanity home in Brooklyn Park wasn't easy. Patrick often works nights, so he squeezed in the hundreds of required sweat equity hours whenever he could. Chad, the Twin Cities Habitat Site Supervisor who oversaw the rehab of their home, says Patrick worked as hard as any homebuyer he'd ever encountered. "You could just see how much they wanted it and how much they were willing to do for it."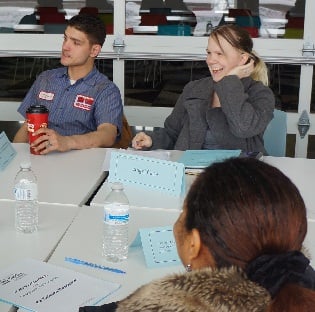 Here's what Angel says about the process. "This has always been our dream. I was fortunate enough that my parents owned their house but my husband's family never has so he is just elated to have this blessing. You can definitely see the difference of owning vs renting. Owning provides so much more stability and happiness, whereas renting you just don't know what's going to happen in the next year to come. It is much more stressful and we are just throwing my husband's hard earned money away towards rent rather than putting it towards a home we could call our own. We are just over the moon and feel like we're in a dream because truly our dreams have come true and this house will be in the family forever passed from generation to generation. We just can't thank habitat enough for making those dreams come true and the Lord as well for blessing us so tremendously."
With Habitat for Humanity, wanting a home isn't enough. It really is a partnership that requires hard work and sacrifice. To complete Habitat's required homebuyer classes, Angel would get help with childcare and Patrick would come straight from his overnight job to the morning sessions. They downed coffee as they learned what you need to know to succeed as a homeowner: family budgeting, home maintenance, how to be a good neighbor.
The paperwork, the sweat equity, the homeowner training, it all paid off when they finally signed their mortgage and got the keys. Now, each mortgage payment they make will help Twin Cities Habitat build more homes and help them build a brighter future for their five children (Patrick Jr. was born while the family was going through the home buying process).

Patrick and Angel were doing everything right before they came to Twin Cities Habitat, but they just couldn't get ahead. Now, thanks to a mortgage that is affordable, there will be a few hundred dollars more each month that can go toward things like health care, school supplies, college savings, nutritious food, and Christmas presents.
The opportunity to own your own home is perhaps the best way to start a young family on the lifelong path of wealth accumulation. Angel has it exactly right when she says they were throwing her husband's hard earned money away on rent. Now, they can see their monthly mortgage payment as an investment in their family and in the future they want to provide for their children.