The saying goes that a lot of things in life happen by chance. Just pure luck. And if you applied that to Isabel and her family owning a Habitat for Humanity home—you'd be right. Well, sort of…
"I literally overheard a coworker and a friend talking about Habitat's homeownership program, having a conversation that had nothing to do with me, and thought to myself, 'hey, I should call them'," Isabel laughed.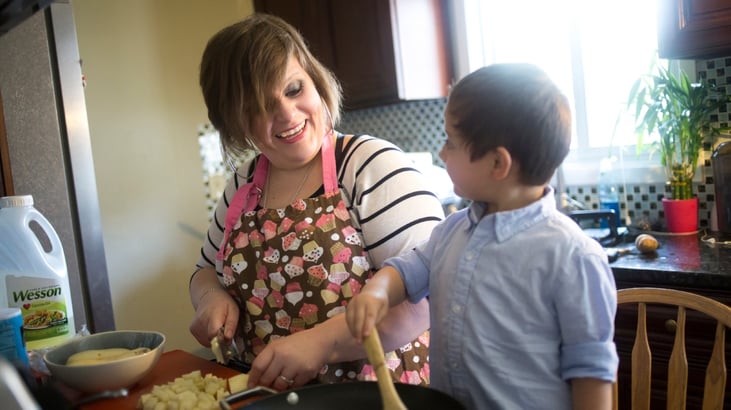 Isabel says she called Habitat that very same day and put her name on a waitlist. After she got the call with her scheduled orientation time, Isabel completed her formal application to the homeownership program, and jumped into the homebuyer education and sweat equity elements of the program.
"Everything I learned has been very beneficial for me, as a homeowner. I took notes in all of my classes, and learned about water, electrical, and everything that goes into owning a home. I really enjoyed every part of it."
Isabel and her husband logged a majority of their sweat equity hours building Habitat homes in the city of Hugo, where they learned a lot about building the frames of the multi-unit buildings.
"It was a really great experience," Isabel said. "Now, if something breaks in my house, I know how to fix it."
Isabel worked with Habitat to improve her credit, and focused on growing and maintaining her family's savings, which she feels are common barriers to homeownership for many Twin Cities families. For Isabel, partnering with Twin Cities Habitat showed her that owning a home was no longer a dream—it was a real possibility. She still vividly remembers the day (almost three years ago now) that she received the keys to her new home.
"I was so excited, I cried!" Isabel said. "I never thought that I would own a home—but Habitat showed me that it was possible that even someone like me could own a home."
Isabel says that her family, which includes her husband and their three boys, have grown closer since moving into their Habitat home in Brooklyn Center.
"We love the area," Isabel said. "And I also love that our home has two bathrooms. That was a must-have for me. We looked at a home in northeast Minneapolis before we bought this home, and it was beautiful, I loved it. But it only had one bathroom. For the number of people that live in my home, it was going to be impossible (or incredibly unpleasant) for us to have only one bathroom!"
A bathroom may seem like a small thing to some, but it puts into perspective just how important finding and being able to purchase a home can be. After growing up in a family of renters in a small town in Washington, and then moving to Minnesota and renting with her own family, Isabel is incredibly proud to have achieved her family's dream of owning a home.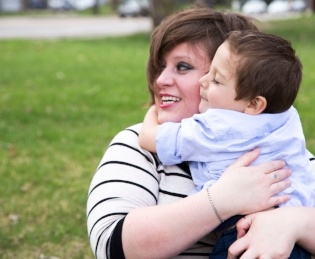 "It's my house. If we want to paint the walls tie-dye colors, we can. If I want to host a family get-together, I can. I don't have to ask permission. Owning a home is so freeing, and at the same time, an amazing responsibility. I enjoy my house. This is my home."
Isabel is already starting to make her family's home more their own—they plan on adding a fence in the coming months, and exploring additional ways to connect with neighbors and their local community.
For Isabel and her family, a little luck (and good hearing), mixed with a lot of determination, hard work, and strong support, led them to become proud first-time homebuyers.
And Isabel has some encouraging words for families exploring the possibility of homeownership with Habitat:
"I was one of those people that thought they would never own a home. And yet, here I am, a homeowner. Habitat made that possible."