Nothing compliments a gorgeous Saturday morning better than a Habitat Home Dedication.
On Saturday, June 3, three families gathered to celebrate closing on their Habitat Homes. The families arrived early to greet the dedications committee and set up a traditional Ethiopian Tea Ceremony. The room began to smell like roasting coffee beans as guests arrived. Everyone could see that the home was beautiful, with a large living room and a spacious backyard.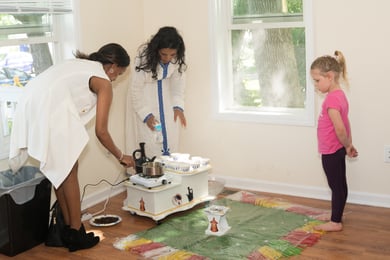 Karin O'Connor from the dedications committee welcomed the large circle to the ceremony, saying "It is my honor to be with you today." She opened with a story that reminded all in the room about the importance of getting to know someone and honoring where they come from.
The family moving into the home, Endireas and Hulunayesh, prepared some incredibly generous words for the crowd: "Thank you very much. I'd like to extend my thanks and gratitude to Habitat and my friends. Our kids now have the freedom to play and that is amazing. We didn't have any idea how to buy a house, but I had a lot of training and learned a lot of skills. Now I can paint my house!"
Endireas went on to congratulate the other homeowners on their success and ended his speech with the words we all want to hear, "We feel more belonging to the community."
The two other homeowners thanked Habitat for helping achieve their goal of homeownership. Homeowner Tekalign said, "We are so excited to move, we are excited to upgrade. This is such a big opportunity and I'd like to thank Habitat for the training and answering our questions."
Everyone in the room was thrilled for the families to start new chapters, especially Rachel Waylander from Travelers Insurance. Travelers was the legacy sponsor of Endireas and Hulunayesh's home, and Rachel came to share their experience and celebrate with the families.
"On behalf of Travelers," Rachel began, "thank you for letting us be a part of your story. It was so touching for us and a bonding experience. To see you guys in this home..." Rachel paused, becoming overwhelmed with emotion. "Thank you so much." There was not a dry eye in the room. To look around and see three families with children, accomplishing their goals, was absolutely heartwarming.
The dedication was a celebration for the homeowners, but it was also a celebration for the woman who made it all possible—Audrey.
Director of Land Development at Twin Cities Habitat, Mike Nelson, said, "We are here because of one special lady. If it wasn't for her— this space would be a parking lot."
Mike shared that Audrey contacted Habitat back in 2014 saying she purchased a vacant lot that was owned by the bank. With phone calls, negotiations, and persistence — Audrey was able to donate the land to Habitat. Audrey was thrilled to watch the progress of the Habitat build, but sadly she passed in February at the age of 89. This remarkable woman was honored at the home dedication with the presence of two dear friends and neighbors of Audrey, Patty and Michael.
Michael, looking around at the home, said, "Audrey would be very proud."
It is extremely beautiful to be in a space that is filled with gratitude. The celebration continued with delicious food, real coffee, and children playing in the backyard.
The only way to complete this recap is to offer thanks: Thank you to Audrey for fighting for this home, thank you to Travelers for the hard work and time spent building the home, thank you to all the hands that went to building alongside the three families, and finally, thank you to the three families for sharing food, tradition, and kind words with those gathered.
For more photos from the dedication, check out our Twin Cities Habitat Flickr page! https://www.flickr.com/photos/twincitieshabitat/