Guest blog by Brianna Murphy
Events & Communications Associate
Habitat for Humanity of Minnesota
In the words of Governor Tim Walz, "Minnesotans need access to affordable housing and homeownership and lawmakers need to hear from you. Please, keep reaching out to advocate for an equitable and safer future for families."
Last week, Housing Heroes from across the state did just that. Friday, April 29 was Virtual Hill Day, and advocates gathered online to hear from housing experts, learn what's happening in their community, hear solutions to address the housing crisis across Minnesota, and take action to support our state legislative priorities by meeting with their representatives.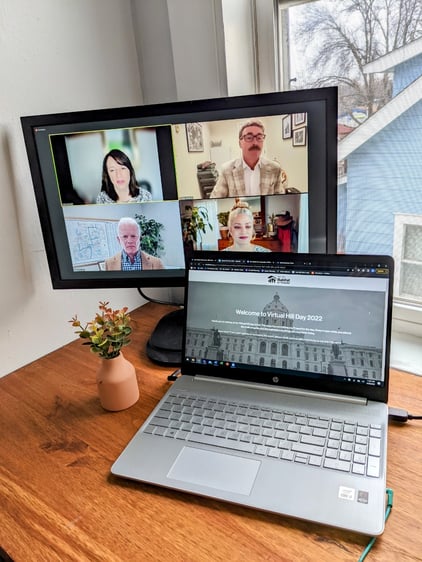 Our legislative agenda is centered on production, preservation, and preparation. "It's an important time to advocate. All of our bills are still alive, and now our lawmakers need to keep hearing the message that affordable homeownership needs to be a top priority for them this session," said Chris Coleman, President & CEO of Twin Cities Habitat for Humanity.
This is the third year Minnesota's Hill Day has been virtual, and for many that means increased accessibility to the event. Cristen Incitti, President & CEO of Habitat Minnesota, helped kick off Friday's program by recognizing the organization's far reach: "Habitat for Humanity reaches nearly every corner of the state of Minnesota; it's wonderful that so many of you can join us from various communities today. There are 25 Habitat organizations around the state serving 64 of the 87 counties in Minnesota. Collectively, we served more than 260 families last year through homeownership production and preservation programs."
"And yet," Incitti continued, "we all know there is so much more work to do. One in nine households is paying more than 50% of their income on housing. Which means they may have to decide between buying groceries, paying for medical care, or their children's school supplies when they have to pay housing bills like that. Additionally, our state has one of the nation's worst racial gaps in homeownership which leads to several other racial inequities in wealth, health, and educational outcomes."
We were also joined by Mayor Ben Schierer of Fergus Falls, Mayor Maria Regan Gonzalez of Richfield, and Mayor Brad Wiersum of Minnetonka. The three Mayors answered questions about affordable homeownership in their communities during a panel led by Cathy Bennet, a consultant who has worked with mayors on housing tools and policies since 2008. They spoke about their desire to provide security for their residents, different programs centered on production, preservation, and preparation, and shared stories from within their communities. "I've seen the impact Habitat has on multiple people in my community, so thank you for all that you do," said Mayor Ben Schierer.
Next, members of Habitat's advocacy team went over our three main asks this legislative session and why they will make a difference for families searching for stable, affordable homeownership. Our asks are:
Workforce & Affordable Homeownership Program

Funds $15M per year for the next three years
Supports the production of 450-600 new units
Specifically creates new affordable homeownership



First Generation Homebuyers Down Payment Assistance Fund


Invests $170M in down payment assistance to support 5,000 homebuyers over three years
Targets first-generation homebuyers who do not have access to generational wealth
Provides 10% of the purchase price of a home up to $30,000 through community-based lenders



Homeownership Education, Counseling, and Training (HECAT) Program


Increases HECAT funding to $3M over two years
Supports financial coaching, pre-purchase counseling, and homebuyer education
Provides foreclosure prevention assistance to homeowners statewide
Find more information about our asks and other resources at our Virtual Hill Day landing page.
Virtual Hill Day 2022 may be over, but the work continues, and we still need your support! If you're interested in becoming a Housing Hero, consider these ways of getting involved:
Sign up for Advocacy Action Alerts
Action alerts from the Habitat Advocacy Team offer opportunities to amplify your voice through actions like signing a petition or emailing a lawmaker. We'll need all the help we can get to advance our priorities in the coming weeks!


Watch the recorded Virtual Hill Day program
You'll see everything mentioned above, plus a lawmaker meeting demo with Habitat Executive Directors!


Check out our full legislative agenda
Find our agenda and other resources on our Virtual Hill Day landing page.