In October, the Twin Cities Habitat for Humanity AmeriCorps members went on a retreat to North St. Louis County in Virginia, Minnesota to focus on service, team building, and learning about each other's leadership styles.
The retreat was the first milestone in their year of service, both tied to their program at Habitat and outside the organization as well. As service members dedicated to bettering our community, they have a chance to grow both as individuals and as a group through activities like this.
After their arrival on Wednesday, the group soon got to work, helping to construct houses in the area as well as learning how to lay concrete for sidewalks.
After volunteering during the day, members spent their evenings together in an Airbnb close to the build site. The nights were filled with a variety of card games and spirited bouts of Super Smash Bros, ultimately bringing the group closer together.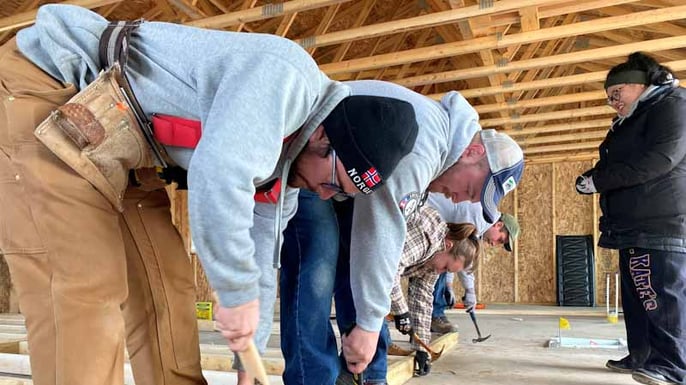 The retreat offered an in-depth experience of what working onsite is like for the office AmeriCorps members and a unique experience for the site members to work with more of their cohort as well.
During the five days, members helped construct wall frames, hammer and remove nails, and gain a better understanding of the homebuilding process. Some of the volunteers that helped out with the build were potential Habitat Homeowners, so members got a chance to fully appreciate the impact of their service.
Overall, the group deepened their collective understanding of the homebuilding process and of each person's sensibilities. If you are considering joining the AmeriCorps program or volunteering on a build site, both come highly recommended by the Twin Cities Habitat for Humanity AmeriCorps members.