Summer AmeriCorps members may serve a shorter term than our full-year members, but they have just as much of an impact on Twin Cities Habitat for Humanity, our mission, and our volunteers and clients.
Emma is a Summer Construction Volunteer Facilitator who's returning post-graduation for her second year of service! Between her junior and senior years in the summer of 2021, she needed something to do, since COVID-19 was limiting her options. Joining AmeriCorps at Twin Cities Habitat provided her with the opportunity to "try out adulting" – the experience of being more independent and having a job without necessarily having to choose a direction to settle into.
As a political science and Spanish major, Emma has a strong passion for helping others and engaging with the community. She had thought about being an educator, but wasn't particularly comfortable speaking to large groups or being in a leadership role. Her experiences as a Construction Volunteer Facilitator, however, provided the chance to develop her personal and interpersonal skills. Being in charge of groups of volunteers – particularly older men – who are more typically in positions of authority gave her a big confidence boost!
In addition to learning to talk to people, one of the biggest things Emma learned was how to establish trust and build relationships within a short period of time – frequently less than eight hours! Building relationships was important so that when volunteers had questions, they could come to her first. This ensured the site supervisor wasn't fielding 100% of the questions. While Emma learned a lot of new construction skills on site, being in a leadership role and learning to be confident in such a role was extremely helpful to her.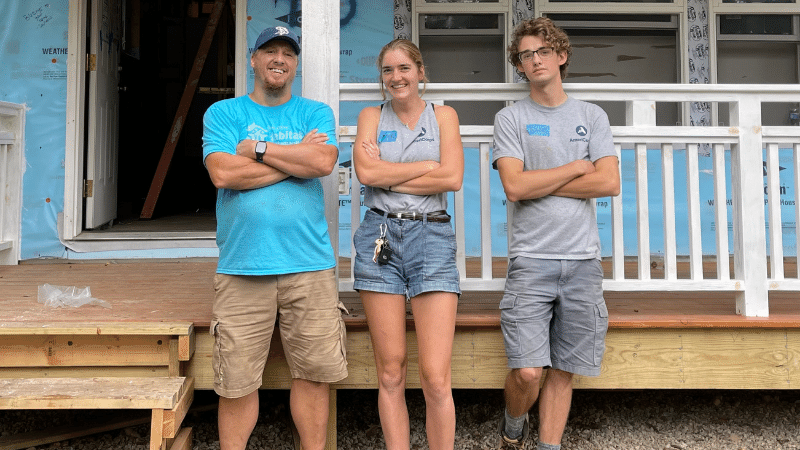 Regular Volunteer Corey, Emma, and Nick on a build site.
"Every day I came away knowing something, knowing a lot more about individual volunteers than I expected," Emma says. "It's so much easier to get to know people now – I'm able to learn communication styles and preferences within the first 20 minutes of talking to someone!"
Emma spent most of her building time last year on a site in Hastings with site supervisor Beth and Regular Volunteer Corey. One of her most memorable moments was when Beth asked the volunteers to shovel rocks and expected that nobody would want to do such a job, but everyone jumped on board and enthusiastically participated even though it was hot and sweaty work.
"Every day [on the Hastings site] was a delight! I can't remember a day I got home and felt bad – everything I did was fantastic," Emma recalls. "The work was interesting, the people were great, and I loved seeing the look of excitement on volunteers' faces when they learn to do something new. There was always some 'best' part of the day."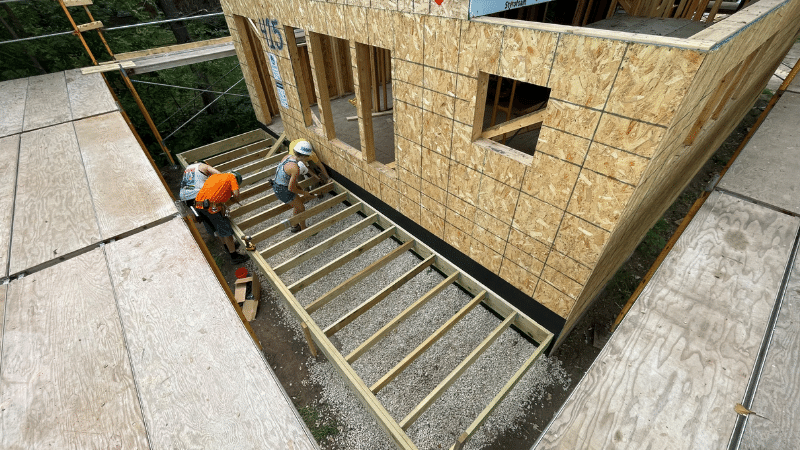 Emma and two volunteers building a wall on site.
The impact of an AmeriCorps member can't be overstated. When Emma volunteered in Hastings last fall for a 3M build day, the regular volunteers were surprised and thrilled that she was there! Knowing she's standing out to the volunteers she's worked with is a special kind of feeling that will stay with her for years to come.
Now that this year's summer term has started up, Emma is excited to return to something she knows she enjoys, and she's planning to use that time to figure out the next steps in her life. While she ended up in AmeriCorps on a whim, her experiences have been incredibly meaningful, and she has recommended the program to several people in her life.
If you'd like to join the program yourself, or simply learn more, check out our AmeriCorps webpage for more information. The 2022-2023 cohort starts on Monday, September 5!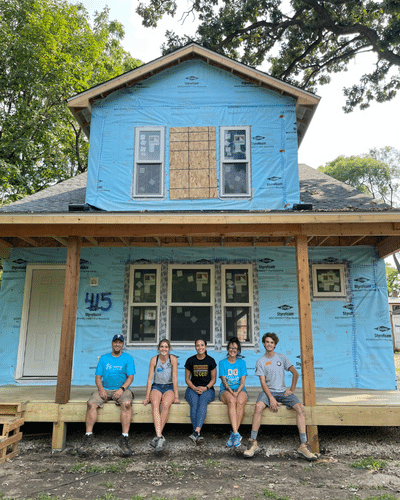 Corey, Emma, two volunteers, and Nick on the porch of a home they're building.