Have you been wondering how a service term with AmeriCorps could help your career? We spoke with Heather Englander, a Twin Cities Habitat AmeriCorps alumni, to find out!
Heather first heard about AmeriCorps from her older sister, who had served in the program before. She wanted to study architecture in graduate school, but also liked the idea of serving her community before getting a "real job." She wound up choosing Twin Cities Habitat so she could learn more applied construction skills that would complement her architecture degree and give her a better understanding of the industry beyond theory and design.
So she signed up right out of college, and the journey began.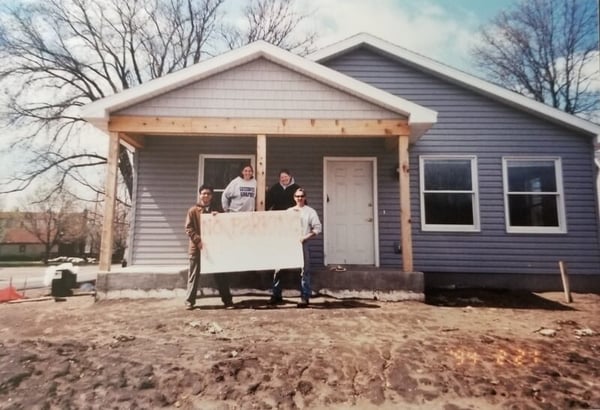 Heather (top left) with fellow AmeriCorps Carrie, and their two supervisors in 2003.
Moving from small-town Minnesota to St. Paul was a big change, but one that Heather embraced wholeheartedly. She loved that there were so many things to do, and that she got to meet so many different kinds of people throughout her service term. One particularly memorable experience was working with a group of men from Sentencing to Service. This is a program in which instead of serving time in jail or paying a fine, low-risk adults and young adults complete community and restoration projects. This provides them with new skills and connections in the community.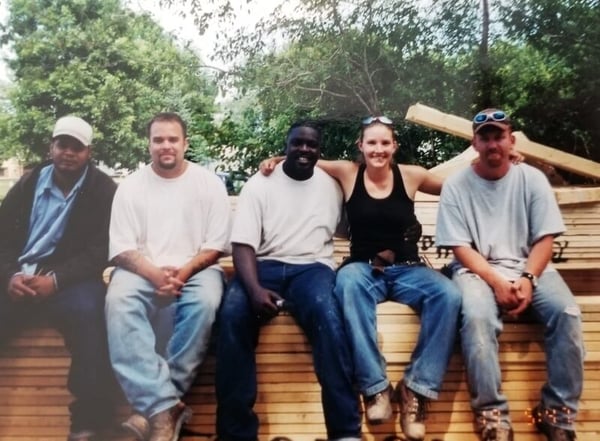 Heather with a few Sentencing to Service participants.
She also made long-lasting friendships. She said that there's something about the AmeriCorps experience that really sticks with you. Even after 15 years, she still feels connected to several people from her cohort.
After finishing up with Twin Cities Habitat, Heather moved to Ohio and served a term with AmeriCorps VISTA through Wayne County Habitat for Humanity.
The skills Heather learned through her service terms allowed her to work construction-related side jobs while going back to school. Her specialty becoming installing tile. Even though it wasn't something she learned through Habitat, her general skills learned through framing houses provided her with the groundwork to expand into other skill sets. She's also used her construction skills to remodel three of her own homes, and three investment properties.
Heather credits Habitat with helping to grow her confidence in knowing that she can learn something completely new.
Her work with groups of volunteers is something she feels has directly affected her current position with Business Volunteers Unlimited, a nonprofit in Cleveland, Ohio that offers consulting services for other nonprofits, and works with businesses to keep their engagement strong.
"It's helped me navigate the fine line between impact and volunteer experience."
When she's not helping businesses arrange to send their employees to volunteer sites, Heather enjoys exploring the theatres, museums, and natural features of the city with her two sons, who are 5 and 8 years old.
Thinking back on her time with AmeriCorps, Heather had this insight to offer those that might consider a service term:
"One of the best parts of the AmeriCorps program is that it extends beyond your service site. I learned about the inter-connectedness of social issues and the complexity involved when trying to make institutional change. AmeriCorps taught me about a world that I hadn't been exposed to yet and gave me the tools to make an impact no matter what "real job" I decided to pick in the future."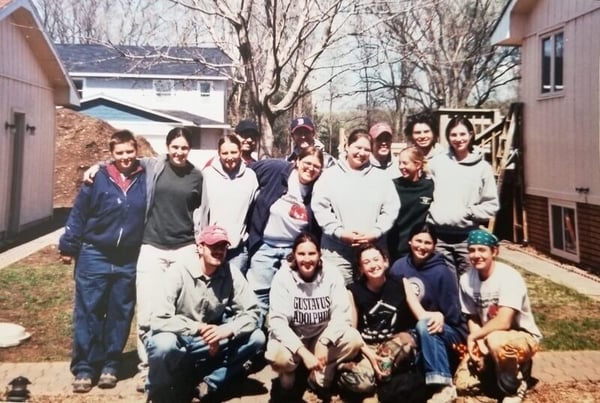 Heather and her AmeriCorps cohort.
You or someone you know could be the perfect fit for Habitat's AmeriCorps program! Learn more.