Rarely in life are you presented with an opportunity that can both change you forever as a person and, at the same time, allow you to have a significant positive impact on our community. Serving as an AmeriCorps Member at Twin Cities Habitat is an opportunity like that.
AmeriCorps is a network of national service programs focused on strengthening communities and fostering civic engagement. As part of ServeMinnesota, the AmeriCorps program at Twin Cities Habitat is one of 16 AmeriCorps programs helping to address critical needs in Minnesota.
At Habitat, most AmeriCorps members hold the position of Construction Volunteer Facilitator. They're the ones working directly with the volunteers, homebuyer families, staff, and professional subcontractors who build Habitat homes across the seven-county metro area.
While serving at Twin Cities Habitat, AmeriCorps members gain knowledge both on the technical requirements that go into building high-quality homes and the leadership qualities necessary to orchestrate the volunteer crews to get the job done.
Right now, Twin Cities Habitat is recruiting people for summer and full-year AmeriCorps openings. Some of the benefits include:
Living allowance of $3,350 (summer) and $15,000 (full year)
Segal Education Award of $1,566 (summer) and $6,095 (full year)
Loan forbearance on most qualified student loans
Interest accrued on qualifying student loans may be reimbursed by federal government
Health Insurance
Affordable housing (limited availability)
Boot/clothing/tool allowance of $100 (summer) and $200 (full year)
$35/month for cell phone allowance
Extensive training and professional development opportunities
Childcare reimbursement (for those who qualify)
20 days off for personal leave, holidays, and sick days
Jim, who is an AmeriCorps Construction Volunteer Facilitator at Twin Cities Habitat, says the best part of his experience has been "getting to work with a diverse group of volunteers and contributing to our community."
Before becoming an AmeriCorps member, Jim worked on education issues at the state level in both Minnesota and Wisconsin. After having worked for 23 years as the Education Policy Director for the Minnesota Business Partnership, he was looking to gain some new work experiences and help people in a meaningful way.
Having previously heard about other AmeriCorps programs from his work in education policy, Jim was immediately drawn to the AmeriCorps program at Twin Cities Habitat.
Now, almost five months into his service term, Jim says the AmeriCorps program at Twin Cities Habitat has met all of his expectations. He's especially appreciated the support he's received from Habitat staff and site supervisor, Skip.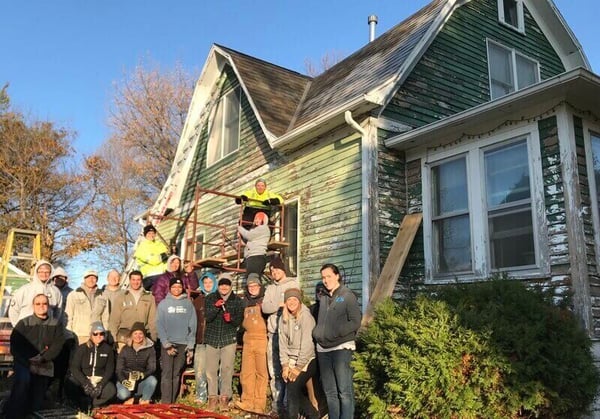 Jim (front lower left) at the AmeriCorps fall service trip
Jim recommends the Twin Cities AmeriCorps program to anyone who has a willingness to learn new skills and make a difference in their community.
These are some of the other characteristics we're looking for in AmeriCorps applicants:
dedication to the missions of AmeriCorps and Habitat for Humanity
enthusiasm about joining a team that promotes service
commitment to addressing the area's affordable housing crisis
ability to handle a high level of responsibility
What's required?
Applicants must be 18 years of age or older
A U.S. Citizen or U.S. National or a lawful permanent resident
A high school graduate or GED holder
A valid driver's license with a good driving record (for field staff positions)
Successfully pass background, sex offender and FBI fingerprint checks
Must have access to reliable transportation
Along with building new homes, some AmeriCorps members at Twin Cities Habitat serve by painting and repairing homes through our A Brush with Kindness and Age in Place programs. Others serve at Habitat's offices and gain experience assisting families, volunteers, and staff.
Hundreds of people have served at Twin Cities Habitat as AmeriCorps members over the past 25 years. It's a tight-knit group and some come back each year to volunteer during an AmeriCorps alumni build.
If you are interested in a position that is a fun, meaningful challenge, AmeriCorps with Twin Cities Habitat might just be the perfect fit.