Throughout January, we're showering gratitude on all the Twin Cities Habitat for Humanity supporters who make our mission possible. We call it "Thankuary." In our blog this month, you'll see stories about generosity in action from members of the Habitat community. Read this blog to see how your gift impacts one family's life.
---
Guest Post by Lucinda Winter

Angel cannot name any single moment when she remembers being most grateful for becoming a Habitat homeowner. "It's like all the time," she said. "I'm always thinking about it. I thank God for opening this door in our lives."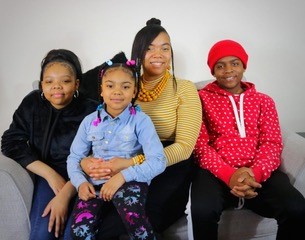 Angel and her three children.
Angel is an office manager and special projects associate at a Twin Cities nonprofit. Before buying her Habitat home in the fall of 2019 she shared a two-bedroom apartment in North Minneapolis with her three children, Don, Aja, and Zyana. The apartment complex was noisy and there was very little privacy in their small space. And Angel had safety concerns because of the number of apartment fires that occurred in their complex.
As she recalls it, "One day I was sitting in my apartment, and I thought, OK, I'm spending a lot on rent. And this money could actually be going towards owning a home."
Once Angel made the decision to buy a house, Habitat was her first call. "I knew I needed help, because I didn't understand the whole home-buying process, and I knew Habitat was a good resource."
Angel worked with a homeownership advisor who helped her understand the loan requirements and create a plan so she could get her finances in shape to be approved. "I followed the plan, and it took about a year for me to get where I needed to be."
Once Angel was approved for a loan, she found a home she loved right away. It was a Brooklyn Park Habitat remodel with bedrooms for each of her kids, a bedroom and bath for her, an extra family room, and a big backyard. They moved in and got busy.
"We started with the kids' rooms," Angel said. "They shared their vision with me and I helped them turn their rooms into their own. That was my biggest highlight – seeing their faces and how happy they were."
Angel and her kids have created many new routines in their new home. The one that she loves the most is family dinners. "When we were in the apartment, our kitchen was super small. We ate in the living room on the floor or in our rooms. But since we've had the house, we eat together every night. We come together at the dinner table to eat, and it's great."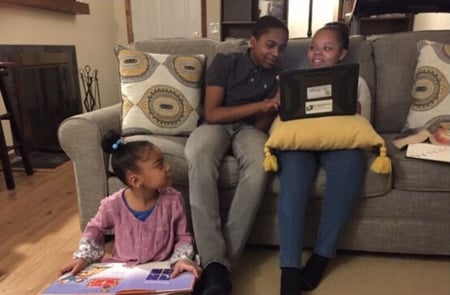 Angel's son Don submitted this photo as part of a Habitat photo contest last year!
Read this story here.
Since the COVID-19 closedown in March, Angel has been splitting her work week between home and the office. Having a home has been a blessing, because there's plenty of space for her kids to spread out and study, and for her to work from her computer. When Angel contracted COVID-19 in April, she was able to quarantine in her bedroom/bath suite while her mother cared for the kids. "I'm not sure what we would have done if we were still in our tiny apartment," Angel said.
Angel believes that for her kids, the biggest benefit of having their own home is that they're able to open up more and be themselves. "Now that they're in their own space, I see more and more who they are," Angel said, "and we're learning more and more about each other, because we're in a quiet space without so many disruptions."
A year and a half after moving into their Brooklyn Park home, Angel has noticed other positive changes in her children that she hadn't anticipated.
"At the apartment I never really heard them talk much about their goals," she said. "Now that we're in the house they're already talking about different businesses they're going to be opening up and wow — I think it motivates them."
And her son Don, now 14, surprised her recently by asking if he could open a savings account. Angel credits Don's interest in saving money to seeing his mother set a goal of owning a home and doing the financial management work to make it happen.
Now that they have a home, Angel and her kids are dreaming of getting a dog. But Angel is determined that a fence for their back yard comes first. "We want the dog to be able to run around freely outside."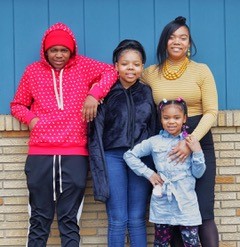 ---
Read more stories like Angel's in our 2020 Annual Report. You'll also see all the ways you make a difference when you support Twin Cities Habitat for Humanity.