We continue to process the pain and hope of our nation's uprising for racial justice amid a global health crisis. You can see our recent statements on the uprising here, our COVID-19 web page here, and our Race & Housing resource center here. Expanding homeownership is a key component of racial equity and health, so our mission has never been more important—and we'll continue to share the stories of Habitat's work.
---
We recently held a Photo Contest where we asked Twin Cities Habitat homeowners to submit a photo and caption that answered the question: "How has your home impacted your education?"
Don (13), the son of Habitat homeowner Angel, submitted this photo with this caption: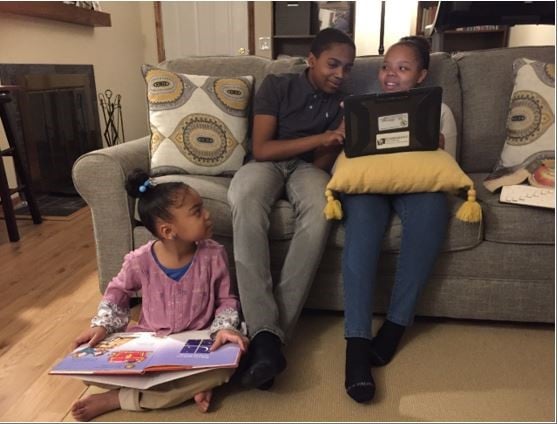 "My name is Don Patterson, the brother of two sisters Aja and Zyana. Like displayed in the photo above, I like to help my sisters with homework and reading during study hour in our new home. Before moving into a new home, it was hard to study because we lived in a very loud apartment building. Having our own home has created a quiet environment for my sisters and me to concentrate on our studies. My grades have since improved."
Angel and her three children moved into their Habitat home in September of 2019. When they first moved in, Angel was initially surprised by how quiet everything was in their new home.
In their old neighborhood, there was always a lot of outside noise. Music would blast at all hours of the day. Sometimes you would hear yelling and fighting. This made it difficult for Don and his sisters to get their homework done.
In their new home, Don and his sisters have a quiet space where they can focus on their homework and help each other with their studies. This has been a blessing during the COVID-19 pandemic given that school and work is now done from home.
Angel actually contracted COVID-19 at the beginning of April. However, during this difficult time, Angel was able to socially distance herself from her children and still be in her home.
She stayed in her bedroom, which thankfully has its own bathroom, and didn't step out until she was healed. Meanwhile, her mother was able to take care of the kids in the rest of the home. It's something they couldn't have done in their old two-bedroom apartment.
Now that Angel has recovered, she and her kids have been able to come together and make the best out of the current situation. They are especially grateful to have a yard of their own where they can be outside and barbeque.
The kids have a bouncy house and a pool that was set-up for them in the backyard. They also have their own bedrooms which they've had fun decorating.
Aja, Angel's middle daughter, decorated one of her walls with glitter and sparkles. It was a messy project and they'll be cleaning up sparkles for a while, but it's one of Angel's favorite memories in their home.
Angel believes that God led her to Habitat, and she is thankful for all those that helped her achieve homeownership.
"Habitat was there for me throughout the whole process… Now I have something that is ours, something that I can pass on to my children and my grandchildren, God willing."
For more stories from our Homeownership Photo Contest, check out Brittany's Story.