This past Saturday, four Habitat families celebrated new beginnings with the friends, family, sponsors, staff and volunteers that helped build their new homes.
The four families welcomed a crowd of supporters to their new homes in the Mississippi Dunes townhome community in Cottage Grove.
"It's a dream come true," said Tajudin.
Cottage Grove Mayor, Myron Bailey, also attended Saturday's event.
"This is Habitat's first project in Cottage Grove, and we're glad to have [Habitat] homeowners be a part of the Cottage Grove Community," said Bailey.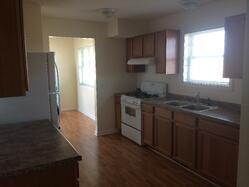 During the ceremony, staff, volunteers, and supporters spoke about the building of the home, and the work the family put in during their homeownership training.
"The real heroes are the families," said Mary Schumacher, Chief Operating Officer of Twin Cities Habitat for Humanity. "These families worked so hard. Their journey has been long. Three hundred to five hundred hours of sweat equity, and twenty-two hours of homeowner training programs."
These four units are just the beginning of Habitat's work in the Cottage Grove community. Over the next three years, volunteers will complete three more multi-unit attached townhomes.