On Saturday, October 11, two families gathered in White Bear Lake to dedicate their new Habitat homes. Khadijo Ali and Abdirizak Mohamud, Mohamed Omar and Fardosa Ibrahim, and their families celebrated together the beginning of a new chapter in their lives. Nearly 60 people assembled on the cool, autumn morning to share in the festivities.
The Families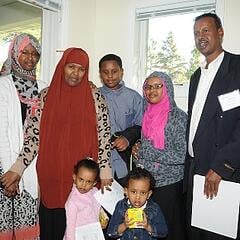 Khadijo and Abdirizak want to be good examples for their 5 children: Nawaal (14 yrs), Mohamed (13 yrs), Farhiya (10 yrs), and twins, Suha & Salma (3 yrs). They believe that having stable housing, a good education, and a job are essential parts of life. After moving into their Habitat house, they know these options will become reality for their children. Originally from Somalia, the couple moved to the United States in the late 90s. They speak 3 languages: Swahili, Arabic, and English. Abdirizak has been a social worker for the past 15 years and Khadijo is finishing up her 3rd year as a medical student. Their goal for the future is to save enough money for their family to take their first vacation out of the country to Italy. The family is looking forward to getting to know their neighbors and becoming part of the White Bear Lake community.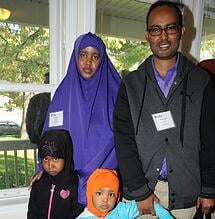 Mohamed and Fardosa moved to the United States from Somalia seeking political asylum and never thought owning a home would be possible. They thanked the volunteers who helped build their house. The couple has 3 children: Ilhan (5 yrs), Nasteho (2 yrs), and Abdulqatar (1 yr). The family enjoys going out to eat and spending time together. Their future goals are to pay off their mortgage, continue their current employment, and enjoy life. Mohamed and Fardosa's family will move into their home in Woodbury at the end of October.
The Dedication
Pastor Cindy Senarighi of St. Andrew's Lutheran Church, one of the sponsoring congregations, led the group in a prayer to open the dedication. The homebuyers spoke of their journeys to reach this momentous point in their lives, expressed gratitude for the sponsors and supporters, and shared their excitement to continue striving for their dreams.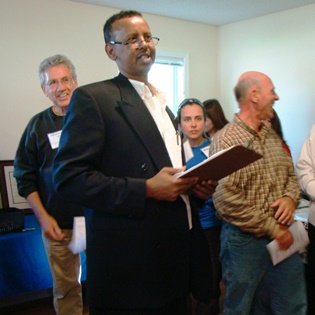 The crowd was delighted to be joined by Jo Emerson, Mayor of White Bear Lake, who extended a warm welcome to the families and expressed enthusiasm for continued partnership with Twin Cities Habitat.
The site supervisor, Katie Ulwelling, spoke of her time working on site with volunteers from St. Andrew's and with the homebuyers. She mentioned their positive attitudes and commitment throughout the completion of their sweat equity hours.
Win Curtiss, a member of the Dedications Committee and of St. Andrew's Lutheran Church, was the MC for the event. He also spoke about his congregation's sponsorship and volunteer partnership that helped make the home possible.
Deqa Essa, Director of HR at Twin Cities Habitat, recognized the families' tremendous strength and perseverance required to reach this point. She praised their hard work and acknowledged the numerous challenges they have faced. Deqa also presented each family with a Golden Rule to signify Habitat's values of faith in action and interfaith work.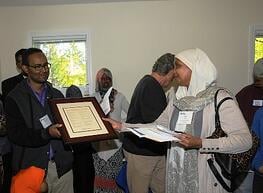 Randy Johnson of the Episcopal Church of St. John in the Wilderness, a member of the St. Croix Valley Coalition of Churches, led the closing prayer. However, he chose not to call it a closing prayer, but an opening one as acknowledgement that this event marks the beginning of a new journey.
The Keystone Sponsors for the home in White Bear Lake are: Don and Becky Johnson Estate, First Lutheran Church of White Bear Lake, St. Andrew's Lutheran Church, St. Croix Valley Coalition of Churches, Roof Raisers, and White Bear Lake United Methodist Church. We thank our sponsors for all of their support and commitment that make building affordable housing possible!
A special thank you to Larry Turner for sharing his photos of this home's construction and dedication.