Meet Jim: 3M retiree, neighborhood family partner, construction veteran and flooring installer extraordinaire. After 15 years of building, Jim's tool belt is held together by duct tape. He belongs to a coalition of 14 area churches that has worked in partnership with Habitat all that time. These supporters know that a house, like faith, is built with care from the ground up: a foundation, solid walls, windows that allow the light, sturdy crossbeams holding the whole thing together.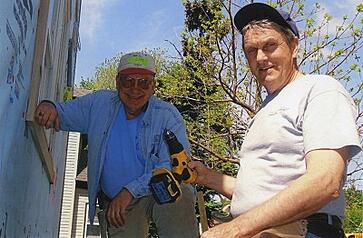 "We've helped build houses for 19 families. When you look a new Habitat homeowner in the
eye, the issue of affording a home becomes real. A dad and mom who want the best for their kids. And I've seen them haul lumber and hang drywall to get it. The leap of faith is real. When you really believe, everything changes." (Pictured are Dale Kennen on the right, Jim on the left)
That interaction with our partner families is what keeps bringing Jim back to the build site. He fondly recalls volunteering alongside St. Paul homeowner Redi and the work ethic he brought with him every day.
"Redi would come build with us all day then go to work in the middle of the night and be up to take his twin boys to school in the morning," says Jim. "He was so determined to provide a better life for his family than the one he had."
For years, Redi and his family bounced around from apartment to apartment with the kids constantly switching schools. The family lived in a neighborhood plagued with crime. There wasn't room for the children to play inside and playing outside was unthinkable.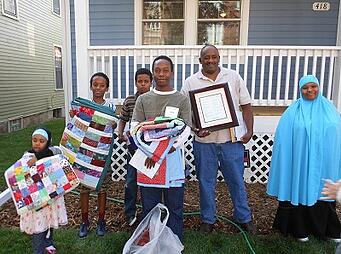 "I worked two jobs just to afford our run-down apartment," Redi says. "I hardly ever saw my children. Now, I only need one job to pay our mortgage and I'll have more time at home. Soccer in our own back yard. It seems almost unreal."
No longer worrying about the safety of their living situation, the family's thoughts turn to a bright future for their children. Abdi, a junior in high school, is a handyman like his father. He has been visiting area technical schools and plans to make a decision on his post-high school education shortly. Twin brothers Murata and Jacob are sports-crazed, constantly playing basketball and touch football with the neighbors. And five year-old daughter,Iftuu, is enrolled in kindergarten across the street from the family's home. She will benefit immensely being able to stay in the same school district through twelfth grade.