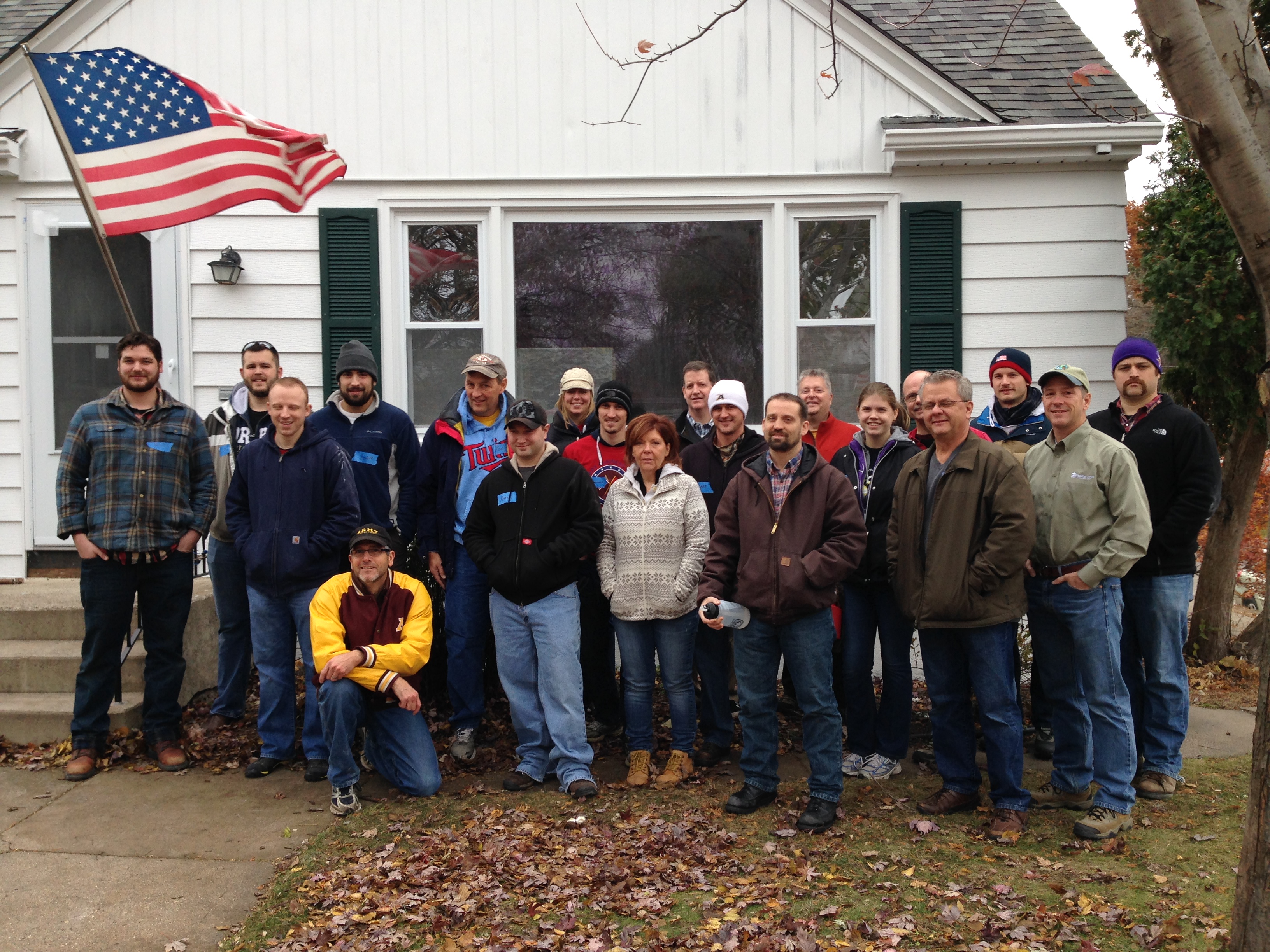 Gene, a Vietnam and Afghanistan Veteran, was struggling to stay in his home due to a failing heating system. With the biting Minnesota winter at his door, he was in great need of a replacement HVAC unit.
As part of Twin Cities Habitat for Humanity's Veterans Initiative, A Brush with Kindness provided a new heating system thanks to partner Pronto Heating and Air Conditioning.
"The Veterans Initiative mission is to intentionally and thoughtfully engage Veterans because they are an asset to our communities that we should take care of," said Alex Schueller, our Veterans Outreach Coordinator.
The Veterans Initiative began in 2012, and has already made a difference in the lives of many Veterans and service members like Gene.
"We have made strides toward making our outreach to Veterans more robust this past year," Alex said. "Our name is out in the community much more in terms of Veteran issues."
There are over 20 million Veterans in the United States, many of whom need assistance finding safe, stable and affordable housing.
Homeownership
Over the 2014 fiscal year (July 2014 - June 2014), Twin Cities Habitat for Humanity's Veterans Initiative sold three homes to local service men and women.
One of these new homeowners was Farrah, an active member of the Minnesota National Guard. It was a challenge for the young mother of four to raise her children on an annual income of $35,000 - in a cramped apartment.
So, Habitat's Veterans Initiative lent her a hand. Farrah put in hundreds of hours of sweat equity, alongside volunteers and members of her own Guard unit, helping to build her Habitat home in Crystal. She completed 11 homebuyer training courses and she and her family were snuggled into their new home by Christmas.
"Just knowing that these types of people are supporting me means the world to me because I haven't had that in a long time and I'm very appreciative of it," Farrah said. "Being able to have something to call my own, and don't ever had to worry about us going year to year, moving to moving, this is what I need and this is what we need as a family to be able to complete our journey."
A Brush with Kindness
Along with building homes, Habitat also helped nine Veterans through our A Brush with Kindness home repair program this past year.
Richard, a member of the Army National Guard and father of two, was struggling to keep up with home repairs because of his busy parenting, military and graduate school schedules. A Brush with Kindness stepped up to help make the repairs.
Richard was a fantastic family partner and was very eager to learn how to do the work. As you can see from the photo, he wasn't shy about getting his hands dirty and enjoyed scrapping the trim around his windows to prepare for a fresh coat of paint.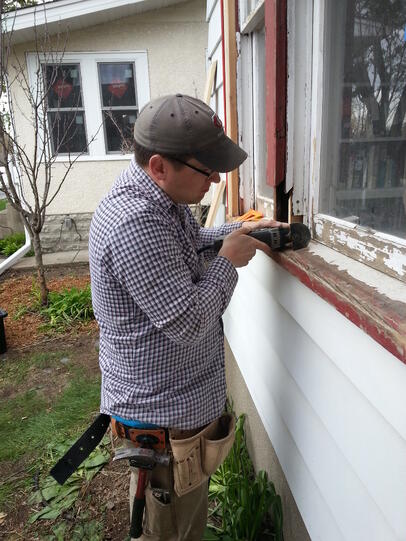 Preventing foreclosure
In the past fiscal year, the Veterans Initiative also took on eight Veterans through our Mortgage Foreclosure Prevention Program. So far, Habitat has fulfilled five cases through resolution or referral to Minnesota Assistance Council for Veterans or Veterans Affairs.
Habitat's Veterans Initiative also has been in contact with over 50 Veterans seeking some other form of help, and has either connected them to our programs or referred them to the appropriate channel for their needs.
Alex is happy to have helped all those who inquired about Habitat programs, adding the number of inquiries is what he'd expect for this early on in the Initiative.
"I hope in the future that the number increases," he said.
Veteran volunteers
Aside from assisting Veterans with their homeowner needs, Habitat's Veterans Initiative also encouraged military men and women to continue to serve by pushing up their sleeves at three builds this past year. Target Military Business Council and the Wounded Warrior Project joined in on the builds, providing extra hands and camaraderie.
"These builds are ways for Veterans to connect with other Veterans while helping the community," said Alex. "I want to create a relaxed environment where they can build camaraderie that they may have lost after separating from the military."
In all, we have had over 1,000 Veterans volunteer over the past year!
More to come
Habitat's Veterans Initiative had a busy schedule this past year, attending about 60 outreach events. Plus, upcoming events include a Veterans Homeownership Exploration Session on July 16, the Veteran Steering/Action Committee on July 23, and the MAC-V Stand Down at Ft. Snelling Aug. 5 and Aug. 6.
This past year was filled with successes and the Veterans Initiative aims to keep up the good work. Twin Cities Habitat for Humanity has created a Veteran Steering/Action Committee that is in its building stages. Veterans who are interested in helping are encouraged to join in on the outreach and expansion.
With the help of the committee, Habitat's Veterans Initiative will continue the good work and expand its efforts.
"We want to continue to help as many Veterans as we can through support from all of our programs," Alex said of the next year's goals.
Habitat's Veterans Initiative is seeking to increase the number of Veterans served through our programs, so if you know anyone who fits the bill please send them our way. Please call Alex at (612) 305-7117 if you have any Veteran-related questions or to find out more about the Veterans Initiative.