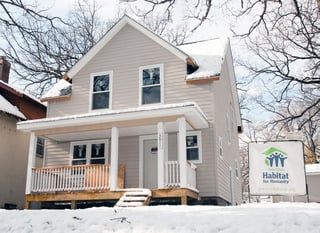 Are you wondering what one month's rent could get you in the homeowner's world?
You're not alone. For some renters-turned-homeowners, the money they were spending on rent turned into additional square footage, an extra bedroom or bathroom, or even a backyard.
If any of those added home benefits sound appealing to you, check out these 8 signs you may be ready to buy a house.
You have some money saved and you make your monthly payment
When renters buy a home, they typically take on a mortgage payment that is close to their lease payment. One of the bigger challenges tends to be covering a down payment. Many mortgages require down payments between 10 and 20 percent of the purchase price of the home, though loans for eligible first-time buyers through the Federal Housing Administration (FHA) require 3.5 percent of the purchase price.
TCHFH Lending, Inc. offers a mortgage product that doesn't require a down payment, only closing costs and some savings. Additionally, monthly mortgage payments are kept affordable – at or below 30 percent of your household income.
You have a credit score of at least 580
When considering applying for a mortgage, checking your credit score should be one of your first steps. This number tells lenders about your "credibility" – essentially, whether or not you're reliable in making payments and managing current debt. Though a credit score of 580 is an acceptable score for some lenders' mortgage products, a score of 620 would likely get you an even better mortgage rate in the traditional mortgage market.
The preferred credit score for a mortgage with TCHFH Lending, Inc. is 620, however, credit scores between 580-620 or invisible/no credit are acceptable with alternative credit documentation.
Your "financial house" is in order
You'll need to show proof of steady employment to qualify for a mortgage. And while you won't be able to calculate closing costs, property taxes, utilities and other costs related to buying and living in a home just yet, you shouldn't be spending more than you can afford on your housing payments. Things like vehicle loans, student loans, credit card debt, etc. can add up. It's important to keep these in mind as you consider taking on an additional loan.
To qualify for a mortgage with TCHFH Lending, Inc., monthly debt payments must be no more than 15 percent of your gross monthly income.
Some financial advisers recommend saving aside a fund that can cover three months of expenses, but six months of savings would be even more ideal for those unexpected costs. This may also provide greater peace of mind, should an unforeseen event like a job layoff occur.
You may also run into unexpected "up-keep" expenses, like fixing broken appliances. Having some savings will come in handy if and when those unpredictable home maintenance projects happen.
You're ready to put down roots
Plans change, of course, but to make all of the costs associated with taking out a mortgage worthwhile, it makes most financial sense to plan to stay in a home for a few, even several, years. First time homebuyers typically stay in their first home at least five-to-seven years and Twin Cities Habitat homeowners stay in the homes nearly 30 years on average.
You have concerns about rent prices and stability
Renters don't always know how long they'll be able to "secure" a spot and remain in their current unit down the road. Since the rented space is managed by an outside party, they often have the right to ask you to leave, or worse, kick you out. Owning a home will give you a sense of stability knowing that you're in charge of your length of stay. Payment consistency is another benefit of buying a home, you never know if/when rent prices could increase.
The TCHFH Lending, Inc. mortgage product payment is set for 30 years. You may see increases in homeowners' insurance and property taxes, but your mortgage payment won't change.
You've identified the type of house or neighborhood you want to live in
This is one of the major indicators that you're ready to consider homeownership. Picturing yourself in a home with your family can help you see the future and motivate you to work actively toward achieving it. Even when renters aren't sure about where to move, they can often pinpoint what they want in their buying vs. renting debate. Topping many lists: extra bathrooms and bedrooms, a larger kitchen and a backyard.
You're willing to skip additional spending for a few months
You may not have to make different financial choices, but it's wise to prepare for them. Moving into a house usually requires a host of planned and unforeseen expenses including the need to purchase cleaning supplies, tools, paint, window treatments, rugs, and many other things you'll find during frequent trips to the local home improvement store.
Often times, new homeowners will find they have to temporarily give up some things they've become accustomed to or cut back on other expenditures for at least a few months until they settle into their new home.
You're ready to spend time to research your best mortgage option
The internet has transformed the mortgage industry, as it has many other industries. But this transformation has also resulted in a deluge of information for consumers to wade through as they contemplate buying vs. renting.
Instead of feeling overwhelmed, listen to the recommendations of people who have found the lending options and wise counsel they were looking for through the Twin Cities Habitat for Humanity Homeownership Program. Their positive, encouraging words could be the strongest sign of all on your buying vs. renting list.