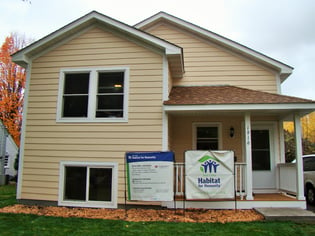 "It was a volunteer experience I've never seen!" site supervisor Zack Zoul spoke of the incredible 200+ volunteers that worked to build Mimi Birhanu's beautiful new home.
The home dedication for this house was filled to the rafters with love as volunteers, congregation sponsors, neighbors, supporters and Habitat staff spoke of the impacts of the build for the family, their community and their own lives. Mike Carlson, Pastor for St. Andrew's Lutheran Church (a Keystone Sponsor with Twin Cities Habitat for Humanity) thanked Mimi for her friendship. "Thank you for what you give to our congregation. You bring more to us than we bring to you and we thank you deeply."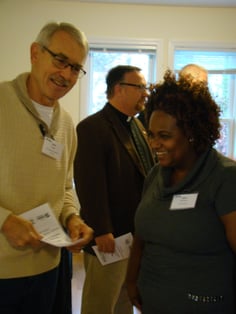 Mimi returned these heartfelt sentiments as she thanked St. Andrew's for their contribution to her life through the build and through general support. "I didn't make this happen. I didn't bring everyone together. God made this day happen. You all made this happen. Now my dreams are coming true, thank you and God bless you."
Dave Engh, a volunteer construction member with St. Andrew's that was present every day of the build and often one of the first people to arrive, spoke for the volunteers. He recognized the Habitat site leadership, thanking Zack Zoul and Colin Martin, the AmeriCorps Service Member. "You've both been an inspiration." He listed off all the crews of volunteers that gave their time to the build, including sponsoring groups: Thrivent Financial, St. Andrew's, St. Croix Valley Coalition of Churches Roof Raisers.
Zack quickly added "This group of volunteers gave more to this project than most people give to their jobs. It was a volunteer experience I have never seen! They were calling each other and planning out each day, arriving very early and leaving late. I've worked with Habitat for a while now and I try to give everyday but I have never given like this. I've never seen it given like this! Thank you."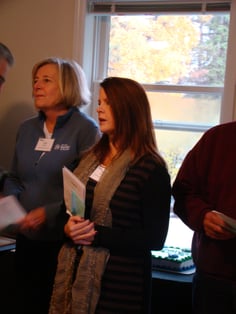 St. Andrew's volunteers presented Mimi with a tool box of tools, including some that were used to build her home. "Not that anything is going to break here, but just in case!" They had a gift for Mimi's children too: a piggy bank shaped like a house. "Maybe one day when this is full, you can help someone else get a home."
Thrivent Financial's Mikeya Griffin spoke about Thrivent's partnership with Twin Cities Habitat. "We are proud to help give families a home. Today is your day, Mimi. Thank you for going the extra mile."
White Bear Lake's Mayor Jo Emerson recognizing the special importance of having Habitat families part of the community. "Here in White Bear Lake we continue to try and make spaces for Habitat for Humanity homes. We are very fortunate to have so many community members that volunteer to give up so much of their time. My only question now is: when is the next one?"
Twin Cities Habitat for Humanity's CEO and President Sue Haigh was also grateful for the volunteer support. "We are nothing without our dedicated volunteers. Habitat may be the glue but you all make it happen. Thank you for working with us to allow God's love to shine out through this work."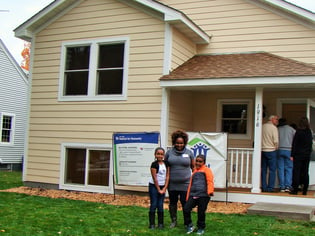 Twin Cities Habitat Board Member Nancy Merritt recognized the stability having a home creates for families. "The ability for your children to have a home and a safe place to grow and thrive is so special."
As Reverend Randy Johnson of St. John in the Wilderness Church said "we thank you for the many hands that build this home." We truly couldn't do this work without our incredible volunteer base. For more pictures from this home dedication follow these links: Twin Cities Habitat for Humanity and St. Andrew's Lutheran Church.